As a pet-care business owner, your schedule is probably jam-packed. Between managing your staff, keeping track of customer appointments, maintaining your facility, and tending to all of the pets in your care, you might feel like you're being hounded with new tasks every day.
But what if keeping track of all of the activities on your calendar — and getting to everything else on your to-do list — could be a lot easier? That's where pet-care software comes in. Pet-care software will help with streamlining your day-to-day activities, generating more interest in your business, and creating a better environment for your customers and employees.
Managing a small business is no easy feat, and with so much helpful technology at your disposal, why not make the most of it? At Gingr, our software is designed for business owners like you. Using the many features of pet-care software, you can:
Promote your business.
Engage with customers.
Stay organized.
Improve your customer experience.
Manage your employees.
You started your business not because you wanted to spend your days rifling through paperwork or managing schedules. You started it because you wanted to bond with the animals placed in your care. Incorporating software into your business can help you get back to doing what you love.
Do I need pet-care software?
Before we start looking at the benefits of pet-care software, let's see if it's something that you actually need for your business. Whether you're a growing business or you're well-established in your community, incorporating pet-care software into your company can help you to satisfy your customers and free up time for other activities.
Nowadays, businesses of all sizes need professional organizational and data-tracking tools to grow sustainably. Without this foundation, it is difficult to keep track of customers, profits, employees, and other important financial and logistical information. Staying organized and being able to monitor your revenue month-to-month can help you make smarter business decisions to maximize your growth over time.
Additionally, you can re-invest the time you've saved by automating some of your management tasks into other activities, like marketing your business and connecting with customers.
Now, let's take a closer look at some of the more specific benefits of investing in software for your pet-care business!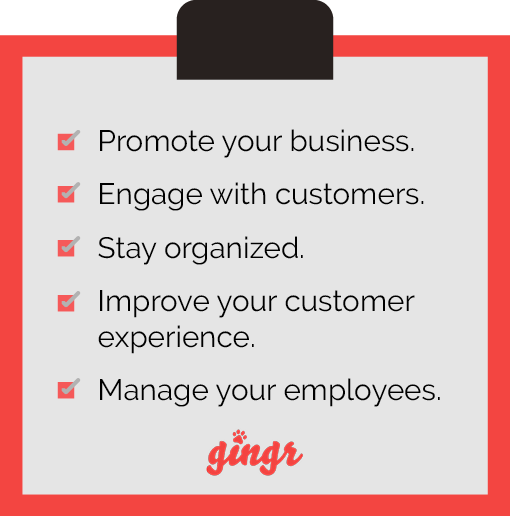 Promote your business.
With your busy daily schedule, you might be too short on time to put a lot of effort into advertising your business. However, promoting your pet-care services is crucial for long-term growth and sustainability. Marketing can help you acquire more customers, develop lasting relationships, and even build partnerships with other businesses in your community. Because it has so many benefits, you don't want to neglect the promotional side of running your business.
Using pet-care software can make marketing your business quick and easy. With a vast suite of tools, you can design marketing campaigns that reflect your business' brand to attract new clients and build customer loyalty. By using pet-care software to promote your business, you can:
Send emails and text messages: Have a hard time keeping track of your customers' email addresses and phone numbers? Pet-care software can store all of this personal information in its database so it's easily accessible and safe.
Segment your customers: Pet-care software allows you to segment your customers based on shared characteristics. This makes it easier for you to tailor your messaging to different audiences.
Customize your marketing materials: Customizing the messages you send out to your customers helps you build your business' brand and gives your materials a personal touch. Use your own letterhead, add unique images to your emails, and include your logo on all of your marketing materials.
Consolidating your client information and your different branding materials in one place helps you keep your marketing strategy organized and effective. This way, you can easily promote your business to continue growing without wasting time sifting through spreadsheets or old logos.
Engage with customers.
Developing meaningful relationships with your customers is essential to sustain your business, but taking the time to truly connect with every one of them would be very difficult if not impossible. Still, customer engagement helps your business grow, so it's not something to neglect.
Customer engagement also goes beyond making conversation. Your customers might want to know how their furry friend is doing throughout the day or might need reminders about pick-up time. These aspects of customer engagement require some form of contact between you and your animal-loving clientele.
Pet-case software makes it easy to manage appointments and implement creative ways for customers to feel connected to their pets. With pet-care software, you can improve your customer engagement by:
Offering to set up repeat appointments: Got a loyal customer? Propose the idea of setting up a recurring appointment so your customer can get their pet the care they need without having to repeatedly call to make an appointment. And don't worry — your software can automatically send a reminder.
Sending updates and reminders: Stay in touch with your customers before, during, and after their appointment by sending quick updates and reminders.
Creating pet report cards: Does your customer want to know how their pet is doing? With Gingr's software, you can add pet updates, videos, and pictures throughout the day to send to customers during or after they pick up their pet. This way, your customer hasn't missed a thing by the time the day is over.
Just as pet-care software can make it easier to market your business, it can also help you engage with your customers more meaningfully, but without taking up too much of your valuable time. This extra engagement can help you ensure that your customers stick around.
Stay organized.
Let's say you have another busy day at your business. In the morning, you're busy checking in customers and getting every pet settled. One of your customers leaves a toy with their pet to keep them company throughout the day. You make a mental note of it, but as the day goes on, it slips your mind.
This customer returns to pick up their furry friend and asks about the toy, but you can't seem to find where it ended up. The customer leaves unsatisfied and they do not make a reappearance at your business.
It's easy to lose track of toys, collars, leashes, and all of the other accessories that customers might leave with their pets. Between all of the other tasks that you're managing throughout the day, it's hard to remember which toy belonged to which pet by the time that customers arrive at pick-up time.
But with pet-care software, it's easier than ever to keep track of all kinds of important information you might need to reference throughout the day. From essential medicines to each pet's favorite toy, you need some way to keep track of it all. With everything in one place, you can rest assured that nothing will fall through the cracks.
Improve your customer experience.
With everyone's hectic schedules these days, your customers are likely just as busy as you. As a result, you and your customers will both appreciate time-saving processes. By making their interactions with your business as efficient as possible, customers will likely have a better experience with your services.
Pet-care software can go a long way to improve your customer experience, from quickening previously lengthy interactions to giving customers the ability to complete necessary tasks on their own time. Some of the customer-oriented features of pet-care software include:
Easy check-in and check out: Your customers have somewhere to be in the morning and are eager to see their pets in the evening. A quick turnaround for check-in and check-out ensures that your customers get exactly what they need when they need it. Gingr's software clearly highlights a customer's payment total and any other relevant information so the process is a walk in the park.
Quick payments: Just as your customers don't want to spend a lot of time waiting around to check-in, they also want to make their payment and hit the road. Your pet-care software can make paying hassle-free by allowing for online payments and permitting customers to make their tips directly.
Customer portal: Have you ever wanted to allow your customers to pay bills, fill out forms, and make appointments easily, conveniently, and on their own time? With pet-care software they can. Gingr's customer portal allows customers to complete necessary tasks all in one place.
Taking the time to improve your customer experience is a great way to establish trust in your brand, build customer loyalty, and ensure that your customers are happy with your services.
Manage your employees.
Just as you want to provide a positive and organized experience for your customers, you want to do the same for your employees. After all, your employees are the ones who keep your business running, so ensuring that they know your expectations, their hours, and more can create a better work environment for all.
Your employees will appreciate your attention to detail and will feel valued in the workplace. And, by prioritizing the needs of your employees, you will likely reduce your turnover rate, which means you'll have to spend less time onboarding new hires.
With pet-care software, you can do more than just improve your customer experience — you can also be a more effective manager.
Conclusion
Professional tools like business software can take your company to the next level. Why? Because, in addition to all of these other benefits, using pet-care software has one more advantage: it saves you time. By investing in pet-care software, you are investing in your business for the long term. Not only will you improve your customer's experience by consolidating everything they need in one convenient place, but you will also free yourself up to return to doing what you love.
If you want to learn more about pet-care software, we've got you covered. Check out these additional resources: