Introducing the Customer Portal 2.0
We are excited to announce that our brand new Customer Portal 2.0 is now available!
Based on your feedback, the Gingr pack has been hard at work rebuilding the Customer Portal to introduce an all-new and improved user experience for pet parents.
Improved Booking Workflow & User Interface
The new user interface was designed with the pet parent in mind, with a revamped booking workflow that leads them through each step, gives real-time alerts for missing requirements along the way, and promotes the upsell of your service offerings. This new booking workflow creates an opportunity for higher conversion rates and fewer phone calls for your staff to manage.
New Features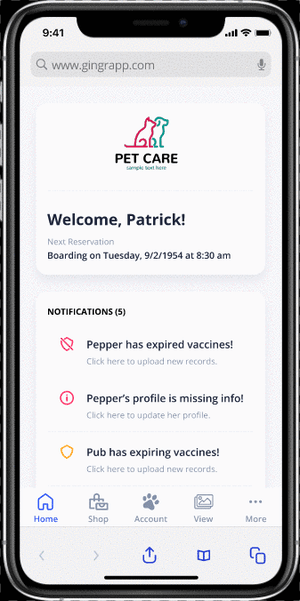 In addition to everything that is possible in the current portal, Customer Portal 2.0 includes several additional feature enhancements:
Improved Display for Variable Pricing
Eliminate incorrect expectations around variably priced services like grooming services. For services where the 'Auto Charge Last Time' setting is enabled in Gingr, the price will be shown as "Price Varies" rather than $0.00.
More Customization & Control
Show your customers only the content of the portal you want them to see. Don't sell retail? Turn it off in the portal. More points of customization for your business give you a greater focus on your branding and better control of the client experience.
Virtual Shopping Cart
Streamlined shopping and payment experiences make buying from your business online a delight. The checkout and payment process functions like a shopping cart similar to other e-commerce sites, allowing pet parents to more easily shop for packages and retail at the same time.
Notification Center
Let your customers know if an important action is needed before it's too late. The all-new notification center easily alerts pet parents of expiring vaccines, unpaid deposits, and unpaid invoices based on your Gingr configuration.
Track Conversions
Unlock deep insights into your product and service conversions to help your business grow. Each workflow has a dedicated 'success' page, allowing your business to track conversions using tools like Google Analytics.
Opt-In Experience
Beginning on December 1, your business will have the opportunity to explore the new portal and fine-tune your customizations first. From there you can choose the right time to launch it with your clients.
All-New Mobile App
Customer Portal 2.0 was developed mobile-first, and we are excited to offer a FREE mobile app that pet parents can download from the Apple App Store and Google Play Store. Just tell them to search for "Gingr for Pet Parents."
This exciting new tool allows your customers to easily make bookings, manage their accounts, and more while on the go.
In order for clients to access your customer portal through the mobile app, you need to opt-in to the new portal 2.0 and provide a unique invite code for your facility. Instructions for identifying your invite code and tips for communicating with your customers are available in our help article that outlines How to Go Live with the New Customer Portal 2.0.
Resources for a Successful Launch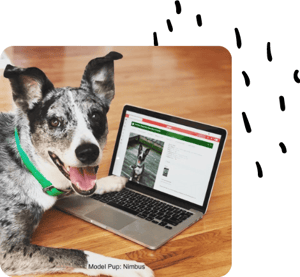 Your success is important to us, and we've put together some helpful resources to assist you through a successful launch of the new portal with your clients.
This comprehensive help article outlines everything you need to know about going live with the new portal. In addition to details on how to enable the new portal on the business side, we've provided valuable tools for communicating with your customers, including:
An email marketing campaign template.
A pet parent help article with a video tutorial.

A 1-page sheet that can be customized for your location and shared with pet parents.
Additional supporting articles are available in our help center for details on the new portal customization and functionality.
Check out this video for highlights on the all-new and improved customer portal!