It's not easy for pet parents to part with their furbabies at a dog daycare, groomer, or boarding facility—even if it's only for a short time. Plus, it takes a lot of trust for pet parents to leave their beloved animals with strangers.
Picture this: A pet parent drops their dog Fido off at daycare for the first time. Fido has a great day playing with new friends and behaves well. But when Fido's owner comes to pick him up, you only have time to mention in passing how good Fido's experience was. Fido's owner might be satisfied with the care you provided during the day, but they just don't have any details to reassure them that you're the right business to entrust Fido with. In the end, they don't choose your daycare service again because their impression of your business was only so-so.
This story illustrates why it's important for you to keep pet parents updated on the status of the pets while they're apart. You need a streamlined system for updating your customers because it will secure greater trust with them and encourage them to continue choosing your services.
So, what's the best way to keep pet parents updated on their pets' time in your care? Pet report cards!
Create and Send Pet Report Cards With Gingr
Providing pet parents with a report card is an effective way to keep them in the loop when it comes to their pet's care. They offer an easy-to-understand summary of everything pet parents might have missed while separated from their furry friend, like what they need to know about their pet's behavior.
With Gingr's report card feature, pet business owners can:
Leave comments and updates throughout the day. This feature allows you to make notes about each pet's health, behavior, and general demeanor.
Attach photos and videos. Give pet parents an inside look at their pets' experience throughout the day. Plus, they'll love any cute moments that you capture and will feel like they were right there with their pet!
Send report cards via email or SMS. You can connect with pet owners on multiple platforms. Send the reports card individually or en masse. You can also create and send a report card even after a pet has been checked out.
Check out this article for more information about getting started with Gingr's report cards feature.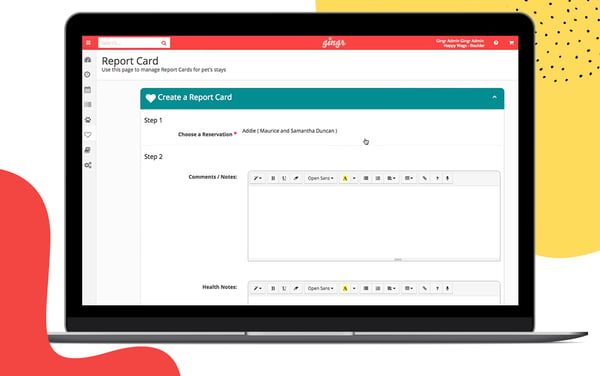 Why Use Pet Report Cards?
Pet report cards can benefit your business by strengthening your relationship with your customers. Specifically, pet report cards:
Enhance customer experience and trust. When your customers see proof of their pet having a great time at your facility, they'll see how much you care about their furbaby. This will make it more likely that they'll choose your services again and recommend you to their friends and family.
Keep track of past pet experiences. Report cards help you keep a record of any past incidents or anything you or your staff should keep in mind while working with each animal, such as personality quirks, favorite treats or toys, health concerns, anxieties or fears, etc.
Differentiate your business from competitors. Pet businesses are notoriously busy places, and not everyone uses their time to enhance the customer experience, especially when an animal is checking out. Pet report cards can add a unique element to your customers' experience, setting you apart from other daycare or grooming facilities.
Explore Gingr's Additional Comprehensive Customer Engagement Tools
The best part about choosing to create pet report cards through Gingr is the many other customer engagement tools you'll gain access to.
When you partner with Gingr for your pet business software, you'll get features such as:
Online booking.

Gingr's online portal makes it easy for customers to register for an account, request appointments, select packages and add-ons, and pay. Plus, you can brand it to reflect your business's unique style.

Quick check-ins and check-outs.

Our check-in/check-out process is fast and easy. Now you can avoid some of the chaos that comes with lots of pets coming and going all at once!

Cash drawer and receipt printer support.

Manage payment processing all in one place by connecting to your cash drawer and receipt printer.

Reservation and appointment reminders. Don't let anything fall through the cracks for you and your customers. Remind customers about their appointments with emails and SMS with the help of pre-loaded and customizable templates.
Digital agreements. Customers can quickly and easily sign agreements on any device. Plus—no paper!
Automated pricing. Automated pricing tools and invoices reduce payment mistakes. You'll get paid correctly for all the hard work you and your staff are doing for your furry friends. You can also accept credit cards online and on-site.
Loyalty rewards. Enhance the customer experience by offering loyalty rewards. Customers get points for every dollar they spend, which can be redeemed at your business.
Employee management. Keep your business running efficiently! Set up staff scheduling, to-do lists, time-clock tracking, and daily checklists.
Prepaid packages. Entice your customers to keep coming back by offering multiple reservations at once and discounting bulk reservations.
With Gingr, you get all this and more. And you can manage all of these functions under one roof, leading to a more streamlined system for both your staff and customers. When you make the customer experience more convenient and enjoyable, you'll boost your retention and enhance your reputation.
Contact Gingr Today to Get Started
You care about your customers and creating a great experience for their pets. With pet report cards, you can go above and beyond, giving pet parents a chance to be part of their pets' lives even when they're away.
Are you ready to get started creating pet report cards and using Gingr's other great features? Contact us today to learn more.