As the owner of a dog daycare, your days are filled with furry friends heading in and out of your business in a flurry of barks and wagging tails. Whether you're just starting up your dog daycare business or have been running your operations for a little while now, you know how hectic your schedule can get and how important it is to stay organized.
That's why investing in dog daycare software is critical. Your dog daycare software will take care of a large chunk of the daily stress and hassle of managing your business, so you can spend more time with the animals placed in your care.
However, as a responsible business owner, you want to make sure you're not barking up the wrong tree when it comes to choosing the right software for your doggy daycare. It's important to invest in the right solution early on and incorporate the software into your pet daycare business plan to store and maintain access to all your data in one centralized location from the start.
This guide will provide a rundown of the most important considerations for choosing the right dog daycare software for your business. We'll explore the basics of dog daycare software through the following elements:
Understanding the basics of doggy daycare software
How to choose the right dog daycare software
7 essential features to look for
By the end of this guide, you should have a thorough understanding of the fundamentals of dog daycare software and the next steps to take to choose the right platform for your business. Let's jump in!
Understanding the Basics
What is dog daycare software?
Dog daycare software is a digital management system that's specifically designed to handle the business needs unique to dog daycares. Some of the features necessary to meet these needs include scheduling, payment processing, managing check-ins and check-outs, tracking vaccination records and other pet-specific notes, and employee management tools.
What are the benefits of using dog daycare software?
There are numerous advantages of incorporating this type of software into your business operations. Investing in the right dog daycare software will help you:
Save time. Dog daycare software is designed for convenience and ease of use, giving you back more of your time during the day to spend interacting with pets and your staff.
Go paperless. Transferring your data and management systems online will help you not only cut down on your carbon footprint but also prevent piles upon piles of papers from stacking up in your office.
Attract customers. Customers appreciate dealing with a business that has an organized and predictable system for billing and scheduling.
Manage your staff. Dog daycare software isn't just for managing canine associates—you can manage staff schedules and communications under the same roof.
We'll describe these features in detail later on in the guide.
What's the difference between dog boarding software and daycare software?
As a dog daycare business, you care for pets during the day, when their owners are off at work or otherwise busy. Your business will have different considerations as compared to a more general dog boarding business where pets stay for a longer time period, and the software system you choose should reflect that difference.
For example, dog daycares see a high volume of daily check-ins and check-outs as many dogs come through during the week. A software system that's specifically designed for dog daycares can account for and manage this high turnover rate.
Additionally, dog daycare software offers a system for managing package credits. Say your dog daycare business offers several packages to choose from, or flexible packages depending on the customers' needs. For example, a dog owner might want to bring her pet into your daycare for half-days, three times a week. Dog daycare software can keep track of these flexible packages and automatically charge customers based on their package levels.
How to Choose Dog Daycare Software
Determine your pet business's unique needs.
No two pet-care businesses are exactly alike, so take time to identify the unique features of your doggy daycare to inform your software decision.
You might consider aspects such as staff size—how many employees work for your business that need to be accounted for in your dog daycare software? You'll want to investigate if any software providers place limits on the number of staff members that can be tracked in the system.
Further, COVID-19 restrictions may have altered your daily functions and inspired the need for contactless operations at your dog daycare. Can the software system handle contactless payments and changes in scheduling to conduct socially-distanced drop-offs and pick-ups?
Make a list of your business's unique needs before you start your search. From there, you can explore your options and ensure you choose a solution that offers everything you need.
Consider doggie daycare software pricing.
Before you dive into the search for an effective software solution, establish a budget for how much you're willing to devote to dog daycare software costs.
When creating your budget, keep in mind that while some software may advertise itself as free, you can never expect to stay at this level for long. Generally, "free" software isn't as secure as some of its paid alternatives. Or, it doesn't offer everything you need to succeed.
Additionally, when you invest in any software, you should make sure it will serve your needs both now and in the future. Your business goals include growth opportunities, so make sure your software can grow with you as you scale up in size. Scaling pricing models ensure you only pay for what you need and always have the option to expand as your business grows.
Read dog daycare software reviews.
Read up on what people are saying about each dog daycare software system. Check out testimonials on each software system's website, or investigate the Google or Facebook reviews and ratings for each provider.
Obviously, you want to go with a solution that has mostly positive reviews, but pay attention to the specific features that reviewers are praising within each system. Positive reviews for dog daycare software usually mention that the software is:
Efficient and convenient
Time-saving
Customizable
Intuitive and simple
In addition, many users value responsiveness and helpfulness from the software provider team to have guidance in implementing and using the software. So, keep an eye out for reviews that specifically discuss customer service. Assess the reviews for each of your software options to discover if reviewers are mentioning these positive assets.
The good news is, investing in quality dog daycare software now will allow your business to reap the benefits of using the software such as saving you time and simplifying your customer relations, and can even attract more customers to your business due to a more streamlined customer approach.
Choose a vendor that provides software support.
You shouldn't have to be a tech wizard to understand how your dog daycare software works, and your software won't be helpful if you're clueless about how to use it. Be sure to choose a vendor that provides software support at all stages of the process.
First, your vendor should open lines of communication from day one, starting with the onboarding process. Choose a supplier that offers implementation guides and one-on-one support meetings to help you get started. Your vendor should also offer ongoing customer service in case any issues arise down the line. Lastly, your vendor should prioritize keeping your data safe by offering high-level security and system monitoring.
Overall, you want to choose a vendor that's just as invested in the success of your business as you are.
7 Essential Features to Look For In Dog Daycare Software
Premier dog daycare software should offer a multitude of features aimed at simplifying your processes and ultimately placing all of your business's functions in one central location. Be on the lookout for these key features when making your decision of which software to use:
Track key pet and customer information
Your dog daycare software should house all relevant customer-specific information for both pets and their owners. The software should keep track of vaccination information and any special health needs of each dog. Also, staff members can leave notes from pet temperament tests to provide background on any behavioral issues that need to be monitored.
For example, Gingr's specialized dog daycare software uses informative icons to be able to quickly identify any special pet or client needs. Your customers will appreciate the special care and attention paid to their beloved pets when staff members use and act on information gathered from these notes.

Provide a convenient customer portal
Your customer portal is your clients' online hub for everything they need to know about their engagement with your dog daycare. Customers should be able to access and sign necessary forms and waivers, purchase packages, pay their bills, and easily communicate with you, all in one convenient location. Your customer portal streamlines the process for clients, inspiring greater customer satisfaction and retention.
Facilitate quick check-in and check-out
Your customers don't want to spend an extended amount of time dropping off or picking up their dogs, so the ability to have a quick turnaround time for check-ins and check-outs is crucial. COVID-19-related social distancing regulations also influence the need for speedier check-ins and check-outs. Your doggie daycare software should assist in this task by allowing you to quickly see exactly how much a customer owes and flag any relevant pet health or behavior updates to give your customers before they head out.
Enable recurring reservations
Your dog daycare software should have a mechanism to allow clients to set schedules for repeat visits for their pets. Additionally, your software should take into account any customer "punch cards" for frequent customers that allow them to eventually receive a discount after a certain number of visits. Automating these repeat payments will take the hassle of billing customers off your hands.
Provide pet updates
Much like a baby monitor allows parents to keep an eye on their kids when they're left with a babysitter, dog owners appreciate being able to receive updates or live views of their cherished pets throughout the day.
Even if you don't have kennel webcams installed in your dog daycare, you should still be able to provide pet updates through your daycare software. For instance, Gingr offers pet report cards with photos and videos of customers' beloved pets to strengthen trust and foster goodwill.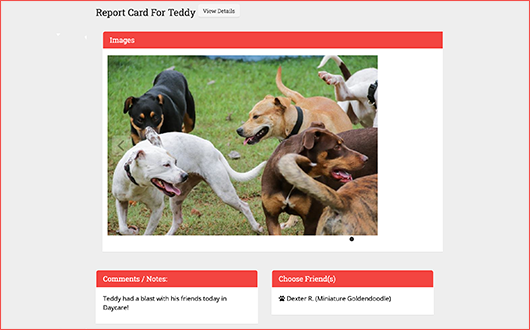 Manage employees effectively
The best dog daycare software doesn't just provide management tools for furry friends—it also helps you manage your staff members to keep your team all on the same page.
Seek out a dog daycare software package that allows you to create employee schedules and to-do lists and allows staff members to log their hours and track tips.
Market your dog daycare business
A doggie daycare software option that provides tools for marketing your business allows you to go above and beyond in your efforts to engage customers and expand your operations. These tools include the ability to send pre-drafted email and text messages to clients with content such as reservation confirmations and reminders, surveys, pet updates, and more.
Additionally, powerful pet-care business software offers the ability to segment customer groups to personalize communications and save successful communication templates to use in future campaigns. For example, if you only want to communicate with lapsed customers who haven't used your services for a while, you can create a segment to send marketing messages to only these customers and offer them promotions or coupons.
The ability to draft and segment customer communications can help you create a more deliberate, effective marketing plan for your business.
Don't underestimate the importance of conducting marketing campaigns through your dog daycare software—this feature will set your business apart in the local marketplace.
Wrapping Up
Integrating quality dog daycare software into your daily operations is an investment in the longevity and success of your business. Ultimately, your dog daycare software will free up your time and energy and allow you to do more of what you love—interacting with animal friends and empowering your staff to perform at the highest level.
Your choice in software is an important decision, so if you're interested in receiving more information, please contact us here at Gingr with any questions.
If you'd like additional information on more dog daycare best business practices, check out the following resources:
COVID-19 and Pet-Care Businesses: The Essential Guide

. The pandemic has disrupted and shifted the operations of dog daycares and other pet-care businesses. Learn what these changes mean for your business with this guide.

Pet Business Insurance: Covering the Basics

. In addition to investing in dog daycare software, your business might be looking to shore up your risk management strategies. This guide provides an overview of everything you need to know about pet business insurance.
10 Pet Industry Trends to Know for 2021

. Keep all aspects of your business up-to-date by staying knowledgeable on this year's most important pet industry trends. Learn more about these trends with this guide.