The best dog daycare software software is packed with features to help you operate your dog daycare business. At Gingr, our focus is you, the dog daycare business owner. That's why we offer the best user-friendly dog daycare software that make running your pet care business easier. With automation, customization, and personalization, Gingr simplifies your daily tasks while improving your staff and customer experience.
Check out our customers' favorite time- and money-saving features.

Dog Daycare Customer Portal
The online customer portal provides an engaging and useful experience your dog dayare customers will love. The well-designed and functional portal can be branded with your dog daycare's logo and style while offering powerful features customers crave.
Make your customers' lives easier by offering online booking! Robust form customization makes it easy to gather information and accept bookings. Customers get easy access to self-register, request appointments, select service add-ons, purchase packages, amd pay.
Detailed Customer Profiles
A convenient dashboard, reservation views, calendars, and reports ensure you always have the information you need to give dog daycare customers and dogs the best experience possible, including:
Contact information
Immunizations
Breed
Age
Gender
Reservations
Appointments
Invoices
Employee notes
Package history
Incidents
Care information
Quick Dog Daycare Check-in
Most dog daycare customers drop off their dogs in a hurry on the way to work. Ease their stress with fast and easy check-in. Not only will your pet parents love you for making drop off a breeze, but our software makes your life easier by ensuring proper care and accurate billing.
Features for a quick and safe check-in include:
Red flags for missing or outdated vaccination records

Red flags for missing or incomplete agreements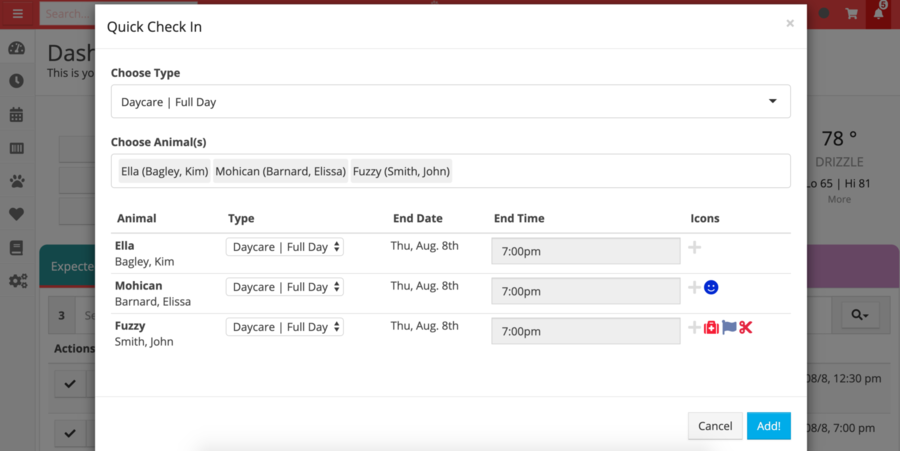 Recurring Reservations
Drop ins are great customer service and provide convenience for dog owners, but they are hard to plan for. You may under-staff—providing lower service levels while possibly violating state or local-laws, or over-staff—reducing your profitability.
Recurring reservations make it easy for your dog daycare customers to plan ahead, giving you a good sense of what to expect. If reservations are down, knowing ahead of time alerts you to amp up marketing.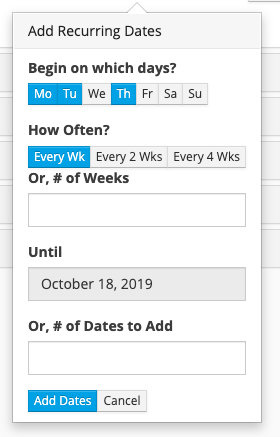 Payment Processing
Multiple dogs? Promotional rates? Service add-ons? Fast and easy payment processing is crucial to customer service and profitability of your dog daycare business.
Automated pricing and invoicing ensure you get paid the right amount for every reservation. Your staff never has to do the math. Integrated payment processing allows you to accept credit card payments online and on-site, eliminating payment errors and saving staff time. Your income gets a boost, payroll costs go down, and your staff gets their hard-earned tips and commissions right through Gingr.
Integrated credit card processing speeds up an error-free check-out, making your customers happy and reduce the risk of dogs crowding the lobby. Online payments make it easy for customers to purchase packages and pay invoices.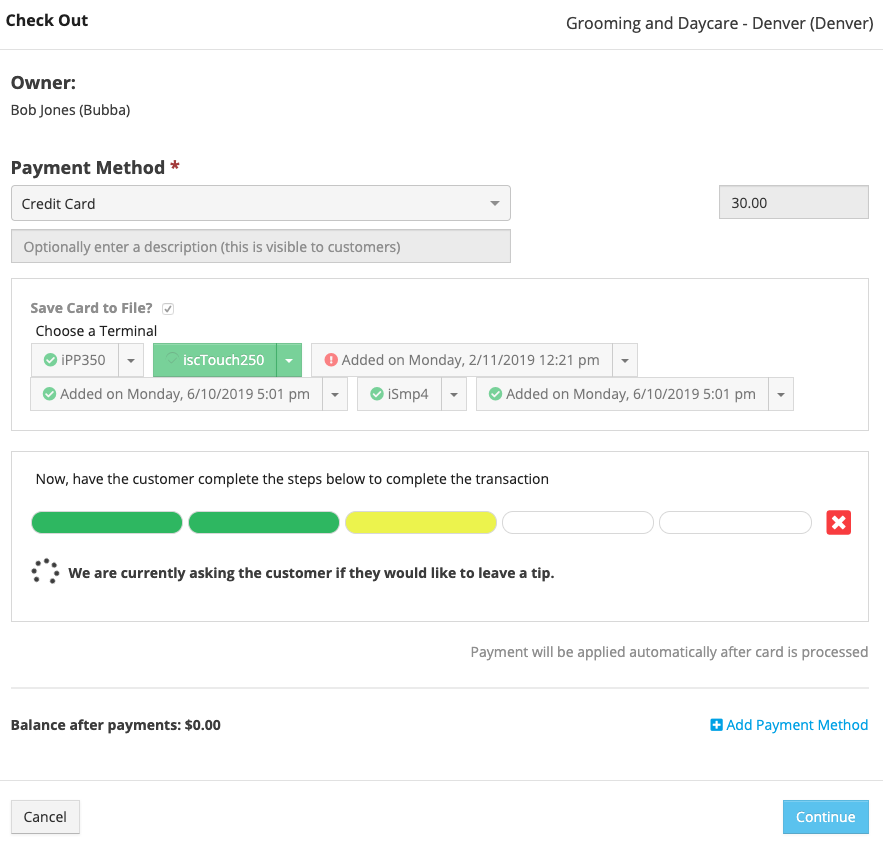 Notes and Icons
Provide exceptional customer service while tracking customer information. Easy note-taking and custom icon settings help your staff respond appropriately to health, behavioral, or customer-care needs.
Custom icons and pop-up warnings ensure you never miss critical information. System icons pop up automatically for things like expired vaccinations, and custom icons can be used for playgroup assignments, behavior alerts, and medical alerts.

Employee Management Tools
Engage and empower your employees with staff scheduling, time-clock tracking, daily checklists, to-do lists, notification groups and advanced user permissions settings. Individual user settings enable your staff to customize certain workflows for maximum efficiency.
Dog Daycare Marketing Tools
Get in touch with your dog daycare customers right from Gingr. Our software bundles marketing tools together into one powerhouse marketing machine. Here are just a few examples of what you can do:
Send pre-loaded email and SMS templates for confirmations, reminders, surveys, waitlist notifications, and more.
Customize your messages and rest easy, knowing you'll get optimal delivery rates every time.
Use premade or custom filters to segment your customers into target groups.
Use and save custom HTML templates for engaging content that keeps your customers coming back.
Run campaigns to anyone with pending or current expirations.
Contact us now to learn more about dog daycare software!