Payment processing technologies are constantly changing and improving. If your pet-care business has had an established presence in the community for a while now, you've likely experienced this firsthand. Established businesses around the world have seen their payment processes evolve from cash, checks, and manual credit card swiping to digital payments and digital wallets. In fact, if you told a pet-care business owner fifteen years ago that they would be able to collect payments from a mobile phone, they would have thought you were crazy!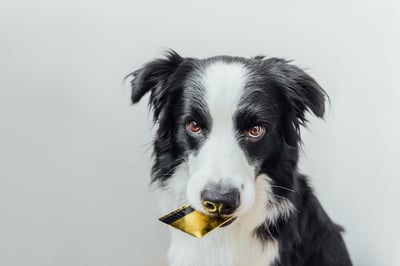 The world of pet care and the tools pet-care businesses use to serve their customers have changed. If you haven't taken the leap and invested in a pet-care software that also has integrated payment processing capabilities, now is the time to take a second look at this behind the scenes at this crucially important component of your business.
Using an all-in-one platform won't just improve your overall operations, it will increase your ability to collect valuable data insights, engage customers and strengthen your business operations at once.
In this helpful guide, we will dig into:
What is Payment Processing and Why Does It Matter?
Key Benefits of Gingr Payments
Payment Processing Strategies for Pet-Care Businesses
Pet-Care Payment Processing Software to Look Out For
What is Payment Processing and Why Does It Matter?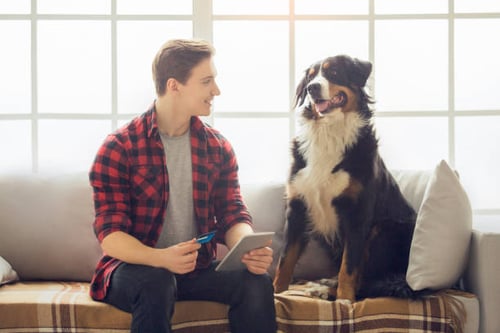 A payment processor is a system that enables financial transactions between a merchant and a customer. These transactions occur via debit and credit cards, digital wallets and bank accounts. For business owners who operate businesses like kennels, dog daycares or grooming enterprises, this means that every time pet owners pay in person, or log onto your website and pay for your services, add money to a gift card, or put down a deposit for future services, they're using your payment processor.
There are a number of reasons why pet-care businesses need effective, secure payment processing systems. Among other things, these systems:
Protect sensitive personal and financial information
Increase revenue by facilitating a smooth, accessible payment process
Save and organize important customer data in your CRM/data records
Embed into your website to keep customers from being redirected to third-party platforms to pay
There's a good chance your business has been accepting online payments for a while now. But, what many pet-care businesses may not realize, is that their default payment processing tool may be lacking some crucial capabilities. And, in order to gain a competitive advantage, and increase customer conversion, business owners should bring their payment processing in-house rather than by redirecting to third-party platforms.
Key Benefits of Gingr Payments
Gingr Payments allow you to accept credit card payments online and on-site, eliminating payment errors and saving precious staff time. Your income gets a boost, your payroll costs go down, and your staff gets their hard-earned tips and commissions right through Gingr.
Integrated payment support for US and international customers.
Hassle-free terminal payments for US and Canadian customers.

Store multiple cards on file.

Reconcile payments in Gingr.

Online payments for invoices, packages, tips, and more.

Tip selection:

Increase tips by presenting tip options during checkout.

Pre-pay deposits.

Fast & secure: N

ever worry about data security with PCI-compliant, point-to-point encryption.

Mobile payments: Co

llect payments on the go with wireless card readers and paperless receipts.
Stop running between vendors for support between your business management solution and your payment processor—let Gingr do it all.
Payment Processing Strategies for Pet-Care Businesses
Consider the following strategies to look out for as pet-care professionals search for payment processing tools that will drive their businesses toward success:
Enable tipping options
Using pet-care software (like Gingr) that automatically presents customers with tipping options during checkout is a feature every trusted pet business should have. Tipping not only personalizes the customer experience, but also boosts staff morale, and encourages each team member to produce the best work pawsible!
Enabling tipping for your pet professionals also eliminates placing the customer in an awkward situation where they aren't sure if or when they can give gratuities to their favorite groomer or daycare attendant.
Ensure your tool is mobile-friendly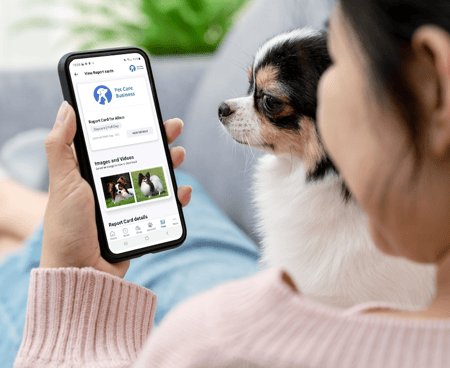 These days, most people navigate the world from their mobile phones. Pet parents want the option to view their pup's boarding report card, upload vaccine records, and pay for products and services with wireless card readers. Not only that, but the mobile world has let businesses move on from paper receipts, which are often quickly discarded.
Collecting payments from your customers while they're on the go, and using a pet-business software like Gingr that facilitates those transactions, is essential for modern boarding, grooming and daycare businesses.
Take steps to prevent fraud
Whether you serve a dozen dogs a week or have a cattery with thousands of feline clients, fraud is a concern for all business owners. All it takes is a single credit card phishing expedition to tarnish a company's reputation for years.
Protect your reputation, revenue, and customer data with anti-fraud measures like the ones included in Gingr's all-in-one pet-care platform. Gingr is PCI compliant and has point-to-point encryption, so you never have to worry about data security.
Repeat customers can safely keep encrypted payment options on file to increase convenience while allowing you to maintain a secure payment processing system.
Integrate the processor into your website
Integrating a pet-care business payment processing platform has the benefit of:
Preserving the design/layout of your payment page and website.
Reducing payment abandonment by ensuring that customers aren't redirected. to unfamiliar third-party payment websites
Streamlining and quickening the entire payment process.
Customers like consistency. Bouncing a customer from your site to another site in order to purchase goods and services creates confusion, and disrupts the design of your website.
While your customers trust you and your staff to care for their pets, they may not trust a third-party payment platform they have no pre-existing relationship with. Integrating a payment processor on your website, by using an all-in-one software solution, makes the customer experience seamless.
Simplify checkout procedures
Ensure that customers can quickly and easily complete their payments how they'd like to by implementing:
Card on-file capabilities

Co

llect payments on the go with wireless card readers and paperless receipts
Automatic digital receipts
Each segment of your sales funnel is important, but the piece that seals the deal is the customer checkout. Simplifying this process so that your customers complete all necessary steps in the sales process will increase customer conversion, and give the pet parents who frequent your business something else to love about the way you do business.
Multiple card on-file capabilities, mobile card readers and paperless receipts are just some of the ways that Gingr does the work for you to simplify the checkout process!
Pet-Care Payment Processing Software to Look Out For
For pet-care businesses that operate across multiple locations or just one always-busy location, it's important to use a payment processing system in order to reduce human errors and save your staff and customers time when they want to purchase your products or services.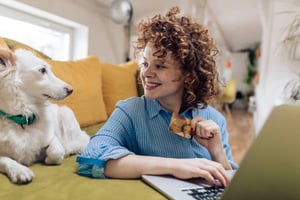 With Gingr, your online transactions will be:
Fast
Safe
Convenient
Easy
Error-free
Offering packaged grooming, daycare or boarding bundles is a breeze, and setting up recurring subscriptions is a walk in the (dog) park. And, make no bones about it, Gingr's credit card processing was built just for pet businesses like yours, so whenever you need help troubleshooting, the Gingr support team will understand your business's unique needs and be able to assist immediately.
Summing Things Up
Running a busy pet-care empire requires the right software platform, and integrating a safe, effective payment processing system into your existing website. Using outdated, third-party tools means your business could be missing out on opportunities to strengthen your sales funnel, reduce transaction time, and collect data that will improve the customer experience.
Gingr was designed to make reconciliation fast by automatically batching reports, and its payment processing tools integrate directly into your dashboard to allow your staff to instantly find the information they need. Encrypted security and a team of dedicated Gingr specialists mean you never have to worry about safely accepting credit cards on-site or online, and your staff won't be bogged down by time-consuming bookkeeping tasks.
If you're already a Gingr customer, switching to Gingr Payments is easy. Just get in touch to get started!
To streamline your operations from nose to tail, and effectively organize your customer data, you need Gingr!
Additional Resources
Continue to learn more about other forms of pet-care software, how to streamline your operations, and strategies for enhancing the customer experience with these valuable resources: