The safety regulations of the pandemic have led to more of us working remotely. Although you need to be in your facility when you're caring for pets, you might have started handling administrative tasks at home. But the hassle of ensuring you have all the information you need might lead to extra hours at your facility to catch up on the day's tasks.
However, with pet-care software, you can avoid working late nights because you'll have access to everything you need from any device. Gingr's pet-care software makes it easy to review appointments, set your employees' hours, and more, just like if you were at your facility. Using pet-care technology solutions, you can also:
Easily market your business.
Facilitate online bookings.
Manage employees.
Send appointment or reservation reminders.
Access everything from the cloud.
These tools help boost productivity at home and allow you to stay in touch with your business even when you can't be physically present. In the long run, keeping everything you need accessible will help you remain organized so that you can focus on providing the best customer and pet experience possible.
With hybrid or remote work here to stay, let's take a closer look at all of the ways that pet-care software can help you work from anywhere!
Easily market your business.
Marketing your business might feel like having another full-time job. If you aren't marketing your business properly, it becomes challenging to attract new customers and remind your current ones to stop by. However, the pressure to consistently send out marketing materials can be overwhelming, especially if you're already juggling all of your other day-to-day tasks.
Pet-care software makes marketing your business easy, whether you're at home, in your facility, or even on vacation. With a wide variety of marketing features, you can send both text messages and emails, and you can customize them to fit your business' brand. Plus, you can automate these messages, so you don't have to worry about pressing send at the perfect time.
Segmenting your customer base is also simpler and quicker than ever. Incorporating customer segmentation into your marketing strategy is one of the most effective ways to build more personalized relationships. For example, let's say you run a grooming business and you divide your marketing materials between dog owners and cat owners. Then, you can send relevant discounts and information that align with each pet's needs.
Be sure to send regular marketing materials, but don't crowd your customers' inboxes! Doing so might annoy your customers and could increase the chances that they delete your messages. Luckily, your pet-care business software can help you keep track of how frequently you have sent marketing materials so that you can space them out.
Facilitate online bookings.
Your customers want to book their appointments or reservations at the time that is most convenient for them. With busy work and school schedules, it's likely that customers will make their appointments after your normal business hours.
Rather than requiring your customers to call to make an appointment — which might cause you to lose business if you aren't open when someone calls — you can give the option to book online. With pet-care software, managing these online appointments is a breeze, even if you aren't in your facility. You won't have to worry about losing track of online appointments or accidentally double booking a time slot because all of your scheduling information is available in one dashboard.
Regardless of where you are, you can manage these online bookings and make sure your staff is ready for the week. See a clear calendar of what's happening that day or reminders of who is coming in tomorrow. Here's a look at Gingr's scheduling feature, which allows you to keep track of your daily appointments: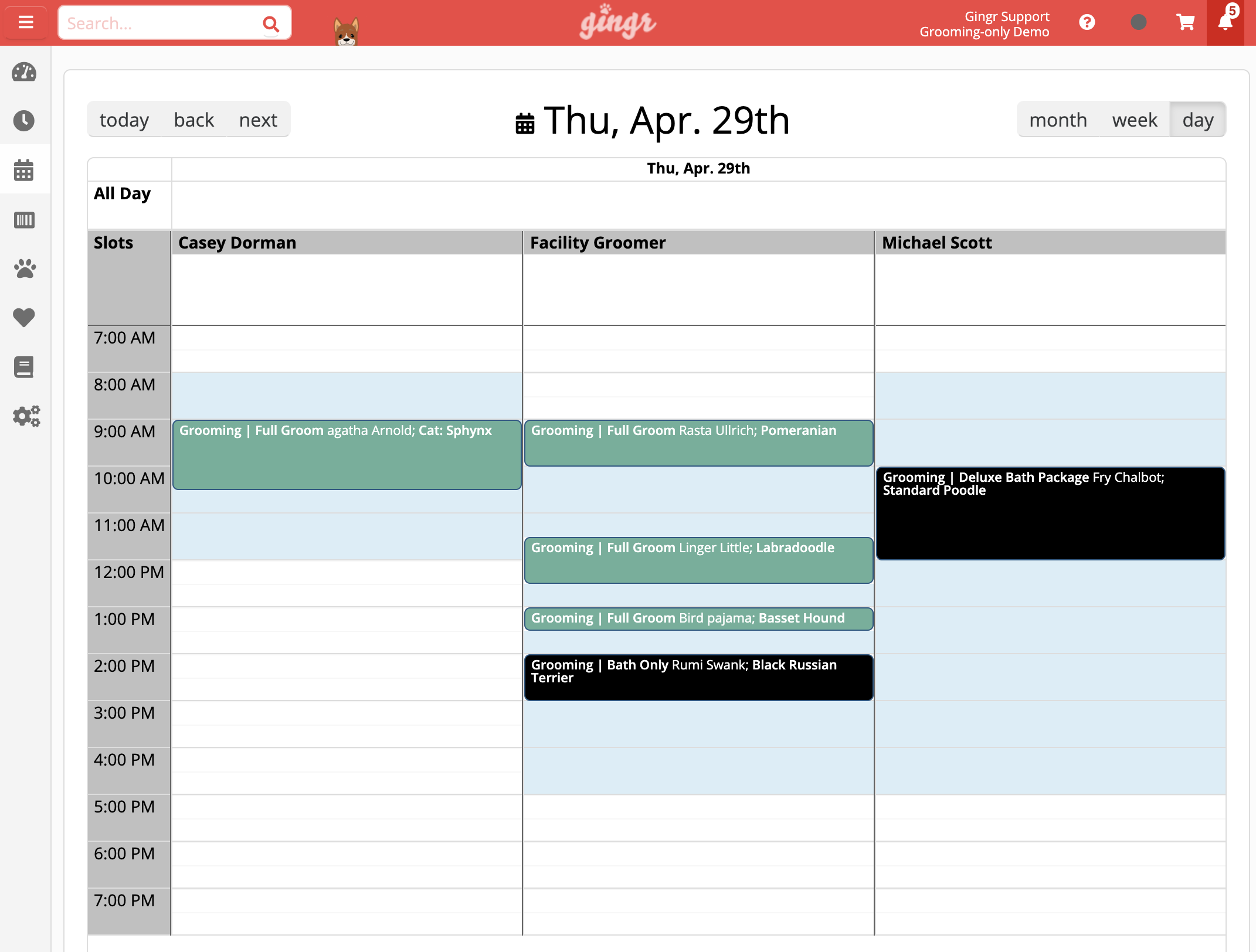 You can also brand your customer portal to improve the customer experience and make your business unforgettable. Customers can also fill out the necessary paperwork, add packages to their purchases, or select service add-ons. Plus, you could even offer the option for customers to set up recurring appointments, which is a great way to build a loyal customer base and increase your profits.
Manage employees.
Your pet-care software doesn't just help you with customers — it can also help you manage your staff more effectively. Streamlined employee management helps everyone stay on task and provides great customer service. With Gingr's employee management tools, you can:
Schedule hours: Rearranging some hours doesn't have to be a hassle. You can easily schedule each of your employees' hours for the week or month and keep all of this information in one place.
Track time: Keep clear and organized records of how long your employees work with Gingr's time tracking features.
Send to-do lists: Do you have an employee that sometimes forgets what you ask them to do? With pet-care business software, you can send out to-do lists for each of your employees so that everyone is on the same page.
Grant individual access to necessary information: Allow your employees to accept tips, check-in/check-out guests and more by granting technology access to the relevant staff members.
Being able to manage these tasks remotely means that you don't have to be in your facility to manage your staff. Let's say you had to run an errand to pick up some extra supplies but want to make sure your employees know when to clock in or that they have the ability to check-in or check out customers. Gingr's software enables you to share this information or these capabilities so that you can step out for a moment without having to worry.
Your staff will appreciate seamless management and the extra organization that pet-care software can provide. They won't have to second guess their hours, and you won't have to spend time answering questions caused by miscommunication.
Send appointment or reservation reminders.
Even when you're working from home, you should still stay in touch with your customers. With Gingr's software, you can easily remind your customers when their next appointments are or when their reservations begin. Whether you send this reminder 24-hours in advance or a couple of days before the appointment, any type of notice is helpful.
Sending appointment or reservation reminders has several benefits, including:
Decreasing the number of no-shows: No-shows are a waste of everyone's time. You lose an appointment slot, and your customers will have to take the time to reschedule. Avoid having no-shows by sending timely reminders that give your customers the chance to cancel if necessary.
Staying organized: If you're managing several appointments in one week, it can be easy to lose track. By sending reminders, you can keep track of who's coming, who isn't, and what type of schedule you have for the day.
Speeding up the check-in process: With a clear list of who is coming in, you can ensure that your check-in process runs smoothly.
Additionally, you could also send reminders to customers who haven't scheduled an appointment recently. Perhaps they meant to sign up, but the thought kept slipping their mind. Your extra nudge can help them get their foot through the door.
Ultimately, sending these quick reminders can significantly improve your customers' experience. Your clients will appreciate the friendly reminder, and you'll likely increase your number of appointments per week.
Access everything from the cloud.
With pet-care software, you don't have to worry about losing access to all the information you need. Whether you're working on a tablet, computer, or phone, software solutions like Gingr make it easy for you to stay in the loop with your business — no matter where you are.
From the cloud, you can access:
Upcoming appointments
Your daily calendar
Staff information
Marketing and communication materials
Lead forms
And more!
Cloud access also makes it easy for your employees to have what they need in your facility. Because you have so many furry friends in your care, the days can get a little hectic, especially if your employees have to come to you whenever they have to note a behavior issue or pet preference. Instead of jumping through hoops to record any necessary information, you can give your staff members immediate access to the technology capabilities that they need.
The convenience and flexibility of cloud access ensure that you can check in on your business from anywhere, using any device.
---
Pet-care software is an all-in-one solution to your business needs. With so many of us needing to work remotely, your software can enable you to complete day-to-day administrative tasks from the comfort of your home (or anywhere else you might be). Late nights at your facility can finally be a thing of the past.
Want to learn more about how pet-care software can help your business thrive? Check out these resources: