Businesses of all sizes and types are leveraging the power of social media to bolster their growth and expansion. A sector that may seem surprising to some, yet immensely benefits from social media, is the dog daycare industry. This post explores the multitude of benefits that social media offers for dog daycare businesses, using real-world examples to illustrate its significance.
Increased Visibility and Reach
With more than 4 billion users globally, social media offers an enormous platform for dog daycare businesses to reach potential customers. Platforms like Facebook, Instagram, and TikTok serve as bridges connecting businesses with potential clients worldwide.
For example, Royvon Dog Training and Hotels, a small business located in the UK, has successfully expanded their customer base by actively posting on their Facebook and Instagram pages.. Sharing photos of their furry clients enjoying their facilities and services, they have managed to attract dog owners from far and wide who are searching for a reliable daycare service.
Enhanced Customer Engagement
Social media also offers a two-way communication channel, enabling businesses to interact with customers regularly. Posting updates, responding to comments, and even engaging in direct messaging can foster a sense of community and trust.
Astro Kennels, a pet resort in South Carolina, exemplifies this. They use Instagram to post regular updates of dogs under their care, which not only delights the owners but also invites comments, likes, and shares, creating a vibrant community.
Showcasing Services and Facilities
Visual platforms like Instagram or TikTok can be used to showcase the services and facilities of the daycare. Photos and videos of dogs playing, clean and safe play areas, and professional, caring staff can all highlight the quality of care at the daycare.
Fantastic Fidos in Missouri use a simple yet effective strategy. They consistently use Instagram to post videos and photos from the facility, highlighting different features and areas.
Collecting Customer Reviews and Feedback
In today's digital world, customer reviews on social media play a crucial role in building a business's reputation. A positive review can be a significant deciding factor for potential customers.
Gingr's integration with Broadly enables businesses to encourage their clients to leave a review after their service, which contributes to the buildup of a plethora of positive testimonials visible to any potential customer viewing their page.
Promoting Special Offers and Events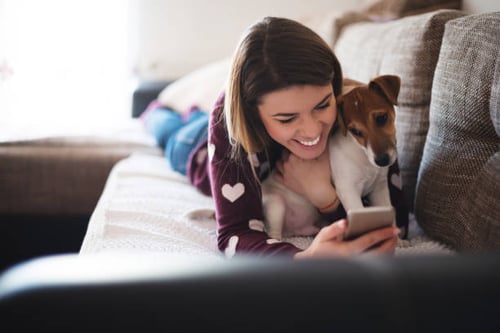 Social media is also a cost-effective way to promote special offers, events, or new services. For example, a daycare could post about a 'buddy discount' if a client brings a friend or about themed events like 'Halloween Costume Day for Dogs.'
Puptown Lounge in Ohio utilizes this strategy to great effect. They promoted all their events and specials on their social media, resulting in more bookings and increasing their followers, and ultimately, their clientele.
Harnessing the power of social media offers dog daycare businesses myriad opportunities to reach a larger audience, build a trusted community, showcase their services, collect reviews, and promote their offers. In a world where digital presence is a game-changer, it's evident that dog daycare businesses can greatly benefit from a well-planned and executed social media strategy. After all, who could resist a feed full of playful pups and heartwarming doggy daycare stories?
Looking to grow your pet-care business? Schedule a demo with Gingr today!