If you're the owner of a medium to larger-sized pet-care business or a pet-care business owner with more than one location, you probably already use social media for marketing your goods and services. Pet-care business social media marketing is a reliable way to connect your business with pet parents in your community and increase brand loyalty among your existing customers.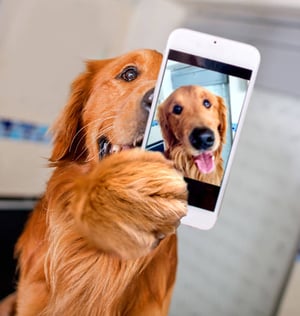 For an industry that sees billions of dollars in revenue - pet parents spent almost $124B on their fur babies in 2021, and that was up $20B from what they spent in 2020 - knowing which social media platforms to use to reach specific customer segments is the key to leveraging this powerful digital marketing tool.
Did you know that when you break pet ownership down generationally, millennials, those pet parents born between 1981 and 1996 and who range in age from 26-41 years old, have the highest percentage of pet ownership, at 32%?
Knowing where these pet owners spend most of their time online will help make your social media marketing strategy more effective and allow you to grow your company more quickly than your competitors. In addition, expanding your social media plan to include brand ambassadors and influencers and using new social media tools like Instagram Reels and Facebook community groups will supercharge your marketing efforts and have your business firing on all cylinders!
In this guide, we'll cover the following important subjects about social media marketing for pet-care businesses:
The Importance of Social Media Marketing
Best Social Media Platforms for Pet Businesses
5 Pet-Care Business Social Media Marketing Tips
The Importance of Social Media Marketing
Traditional marketing channels like email, flyers and brochures can only take your business so far. The scope of your reach is limited with these channels because they only allow you to reach customers already in your network.
In addition to that, promotional emails are never forwarded to friends and family, and customers will never pick up a physical ad flyer and share it with someone they know. Social media, on the other hand, presents you with endless opportunities to reach new local customers with the help of creative content, targeted hashtags, advertisements, and, best of all, your existing network.
For example, if a pet parent tags your business in a photo of their pup having the best time of their life at your dog daycare, suddenly your business has a new set of eyes on it - and a positive endorsement of how great your services are!
While staying in touch with your loyal customer base with mediums like email is critical, social media platforms are powerful channels that were made for promotion, networking, and engagement. For example, Instagram alone is used daily by 59% of adults in the US! And 92% of users say they've acted in the moment and purchased a product they saw on Instagram.
You can make the most of these powerful digital tools with the right pet-care software and social media knowledge.
Best Social Media Platforms for Pet Businesses
Instagram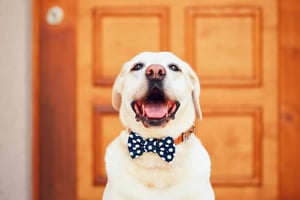 As mentioned above, millennials have the highest rate of pet ownership in the US. Millennials also use Instagram more than any other social media platform. This means that one of the best places to reach your ideal customer is on Instagram.
Instagram is a visual platform; content is driven heavily by photos, videos, and Instagram Stories and Reels.
Your Instagram feed is where you use photos and videos to share your brand story, engage with your audience, and show off your business's goods and services. For a pet-care business, this might mean sharing photos of a beautifully groomed pup, a kitten enjoying a relaxing stay in your cattery, or a group of bouncy dogs having the time of their life in dog daycare.
To have the strongest impact on Instagram, take high-quality photos and videos with good lighting that pop with color. The more visually appealing, the better.
Facebook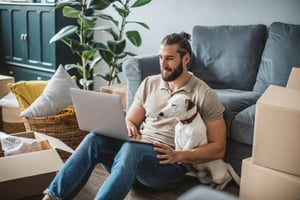 Sixteen years after it became available to anyone over 13, Facebook remains the king of social media.
Businesses use Facebook to help new customers discover their brand, engage with existing customers and meet peers in their industry with the help of Facebook Groups. In addition, the Facebook messaging feature connects you directly with your audience so they can ask questions about your pet-care services or reach out for answers to general questions that may not be on your website.
Customers love Facebook's chat feature because they can connect with your business instantly!
Instagram and Facebook may seem similar, but they serve different purposes. Instagram is geared toward striking visuals and creating a snapshot "moment." On Facebook, photos and videos play a supporting role in the text on Facebook posts. Many Facebook users view the platform as an informational site, which may be why most users are over 30.
LinkedIn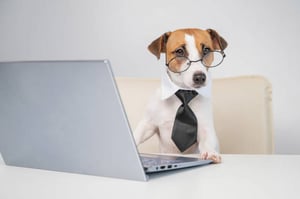 LinkedIn isn't just a great place to search for career opportunities. It's a professional networking site that allows users to connect with other professionals in their industry, share important updates, and position themselves as thought leaders in their sector.
On LinkedIn, business owners can share blog posts, discuss trends in their industry, and discover conference opportunities. Adding keywords like pet-care professional, pet industry, or pet-services professional to your profile description makes it easy for others to discover your business profile and connect with you.
You can also use LinkedIn to discover groups specific to your industry, follow other pet-care leaders, and create partnerships that will boost your visibility in the community. Following pet rescues, pet clothing brands or other pet-related businesses and their leadership could lead to collaboration opportunities.
5 Pet-Care Business Social Media Marketing Tips
Create a Social Media Calendar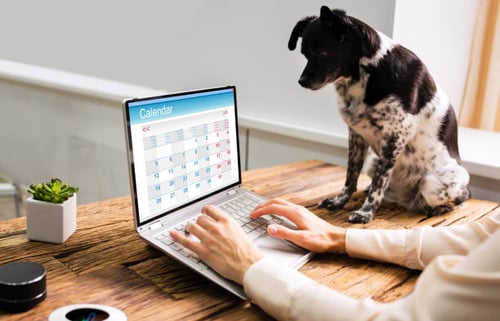 As with any marketing campaign, your social media marketing will be even stronger if you create a dedicated plan that tracks when, how, and for what specific purpose you'll be creating social media content. Planning your social media posts ahead of time with a social media calendar will also save you time and help you create a brand narrative that builds a connection with your audience.
Consistent posting is crucial to getting the most out of your social media marketing strategy for your pet-care business. Customers are more engaged with businesses that they regularly see content from.
If you ever need inspiration on what to post, try searching other businesses like yours to see what's trending in the pet-care industry. It never hurts to see what other popular dog boarding or grooming businesses share with their audiences.
Be sure to set your social media goals, budget - if necessary, target audience, major social media platforms to leverage, and other important logistics. Having the right doggy daycare or cattery software to manage your online reservations, staff scheduling, and appointment reminders will allow you to streamline these tasks and devote more attention to your social media marketing strategy.
Live Stream Pet Events and Activities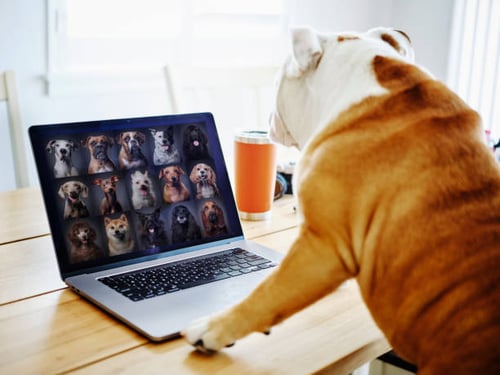 Going live with your audience can help you build your loyal customer base in real-time. Facebook and Instagram Live allow business owners to share fun moments and sneak peeks at your participation in local events, dog grooming or training services, or even everyday activities as you care for pets.
Pet-service professionals could consider hosting a live event that shows pet parents how to teach their pet a few simple commands like sit, stay or "leave it." You could also show your talented team of groomers in action and have them provide pet grooming tips.
Complementing these ideas with the Instagram Story feature will help promote your live event, raise awareness and encourage your followers to tune in.
Engage with Your Followers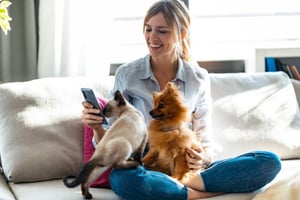 Don't just treat your social media profiles as a virtual mood board to post content to and then abandon your feed until your next post. Instead, build momentum for your social media presence by responding to followers' comments and questions. Be sure to react to and share posts when your business is tagged to show that you're listening to your community.
Social media captions asking questions are a great way to keep your audience engaged. Consider fun and quirky questions like if your pet was stranded on a desert island, what three things would they bring with them?
Consider calls to action like:
Tell us your favorite place to take your pet
Show us the toy your pet can't live without
Tag your pet's three favorite friends
Anytime you can invite your audience to engage by asking them questions or encouraging them to share, you can increase your social media audience.
Use hashtags to get discovered by pet lovers in your area and beyond. Popular hashtags like #puppiesofinstagram, #doglover, #catlady, and #dogsofscottsdale will help connect you to other pet lovers.
Invest in Social Media Ad Space
A pet-care business that invests in Facebook, Instagram, or even Google Ads, has an incredibly effective marketing tool at their fingertips.
Facebook and Instagram ads help you target local customers whose interests align with your products, book more clients, and reach customers where they spend a significant amount of time: social media. As a business owner, you can narrow your ads to specific interests like dogs, cats, pet products and more. You can also target customers within a set mile radius of your business's location for hyper-targeted advertising.
Today, over 10 million businesses, most of which are small and medium-sized, use Facebook advertising to reach new customers.
Seek Out Social Media Ambassadors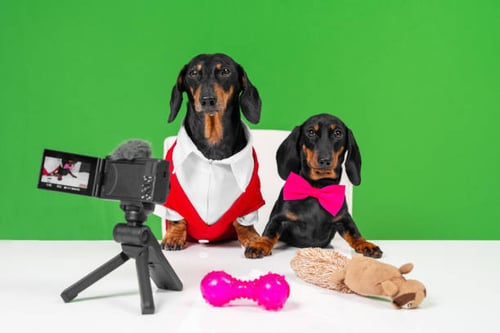 Social media ambassadors are influential users that command their followings and can help to boost your brand. If local influencers in your community have an audience that aligns with your own (i.e., maybe a pet influencer or a lifestyle guru for families), consider reaching out to see if they'll consider raising awareness for your brand.
Influencers have tens of thousands or even hundreds of thousands of followers. Collaborating on posts to promote your pet-care products or services will help amplify your brand, reach potential customers, and boost engagement. You can also consider offering an influencer-specific discount code that encourages the influencer's followers to purchase a product or service.
In today's digitally connected world, having a social media marketing plan for your pet-care business is essential to reach new customers and support your business's growth for years.
You've spent years creating the perfect pet-care business plan, cultivating a loyal customer base, and perfecting your customer experience. Supporting this hard work with social media marketing will take your efforts to the next level. And the best part is, when new customers are ready to give your business a shot, you'll already have an easy-to-use online infrastructure powered by Gingr's pet-care management software, so onboarding new customers and accepting new reservations will be a breeze!
Additional Resources
Dive into other important pet-care business best practices with these additional resources: