Follow these best dog boarding website tips and essentials to market your business, strengthen your public image, and streamline the online customer experience.
You've invested years building your dog boarding and pet services business from the ground up. You've acquired tons of customers by word-of-mouth, and good old-fashioned advertising. You've even upgraded your pet care management software to Gingr to make managing all of this growth a breeze.
Now that all of that hard work has paid off, it's time to capitalize on your momentum by increasing your business's online presence and perfecting your dog boarding website with a comprehensive digital marketing strategy!
Why Your Online Presence Matters
Your business's online presence is just as important as your brick-and-mortar location when it comes to impressing your clients and making the right first impression. A clean, crisp website that places all of your essential business information in one place, and highlights each unique feature that sets your dog boarding facility apart from the competition is crucial to attracting new clients and can boost engagement with your existing client base.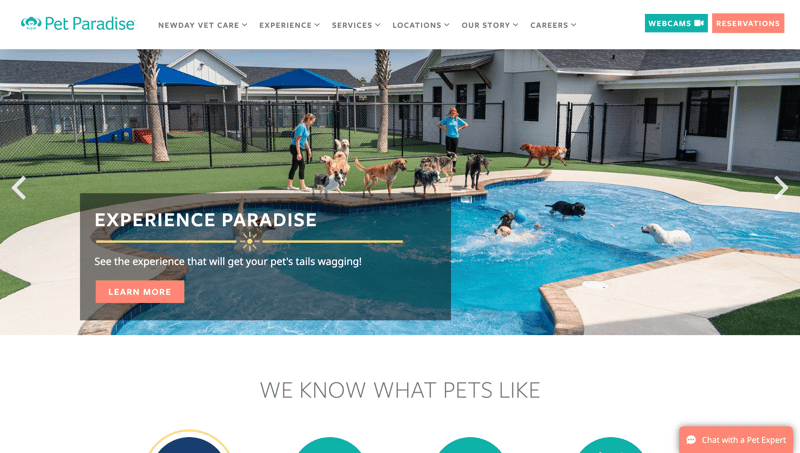 Gingr customer Pet Paradise has a beautiful, clean website with clear calls to action.
Marketing your dog boarding business with these helpful tips and essentials won't just strengthen your public image, it will improve your customers' online experience and help you get the most out of the online tools and features that your employees rely on every day.
Leveraging the Power of Your Dog Boarding Software Tools
Integrating Gingr's dog boarding software essentials into your company's daily operations is the first step to improving the functionality of your website. With Gingr, you can do things like manage online boarding reservations and grooming appointments, create detailed pet profiles, and give pet parents the ability to upload their dog's vaccination records right from their mobile phones.
A well-designed dog boarding website should:
Answer most questions a pet parent has prior to them making a reservation
Project professionalism
Highlight unique services, amenities, and features
Include an FAQ section. Check out Gingr customer Pinnacle Pets Play & Stay for a thorough FAQ!
Contain basic information like hours of operation, contact info, location
Provide the ability to book reservations and service appointment
All successful dog boarding websites have one thing in common. They utilize these top digital strategies:
Include essential business information
Perfect your visual design and storytelling
Leverage the power of SEO
Ensure your website is mobile optimized
Facilitate easy appointment scheduling
Streamline payment processing and registration
Take advantage of e-commerce opportunities
With the right pet care management tools at your disposal and these dog boarding website tips, you can turn prospective customers into new clients, and turn a single boarding reservation into repeat business.
Let's get started!
Include Essential Business Information
The Landing Page
The landing page of your dog boarding website is the first thing prospective clients see. The goal of this page is to engage the client and ultimately get them to act on making a boarding, grooming or daycare reservation.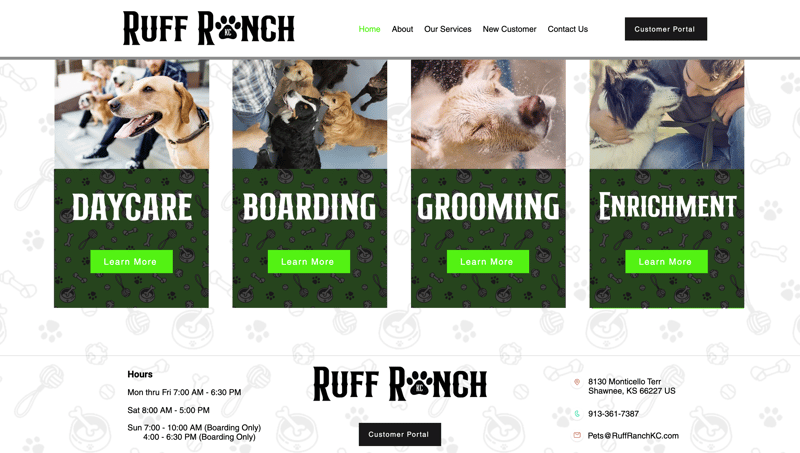 Gingr customer Ruff Ranch has an engaging and informative home page.
Your business's landing page should highlight all of your business's most basic information. Items like:
Hours of operation
Location
An SEO rich description of your business
An overview of the services you provide
Links to social media
Many dog boarding businesses also use the landing page to provide information like weight limits or breed restrictions to help potential customers make an informed decision on whether or not the business is a good fit for their pup.
Additional Pages that Highlight Services, Amenities and Events
Once your landing page is in tip-top shape, you'll want to add additional website pages for more specific information on the services you offer.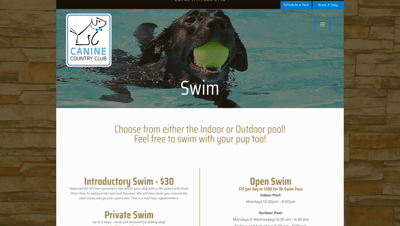 Consider pages for:
Dog boarding
Daycare
Grooming
Client testimonials
FAQs
Community news and events
Each of these pages should also include: pricing information, boarding packages, if any, and service extras like spa add-ons. Check out Gingr customer Canine Country Club's swim page. Who wouldn't want to get in and swim with their pup?!
Use these pages to include information that differentiates you from the competition. If you offer boarding upgrades and amenities like hypoallergenic bedding, orthopedic mattresses, or extra cuddle time for pets, mention these too.
Having all of this information available on your dog boarding website can make the difference between a potential customer choosing your business over another.
Perfect Your Visual Design and Storytelling
Your website represents your business to the world. Creating a professional-looking website with a cohesive design, along with colorful photos and videos shows that you care about how your business presents itself.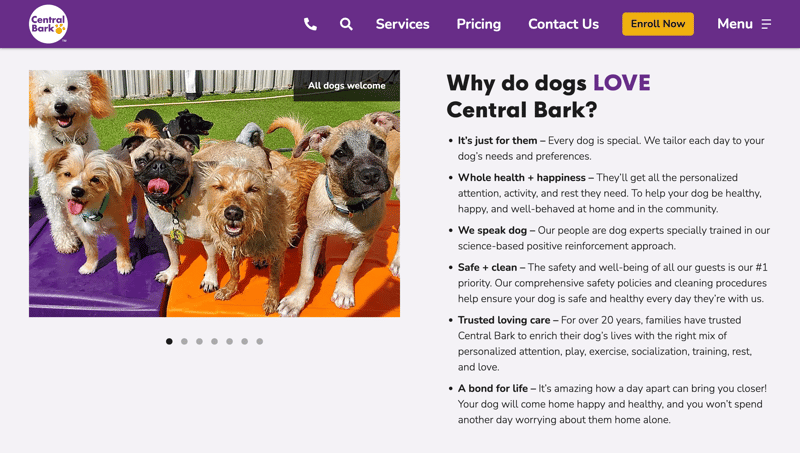 Gingr customer Central Bark illustrates how much fun dogs have at daycare in bright, cheery photos.
Think of your dog boarding website as the online version of your business's front desk. You likely keep that area clean and tidy and maintain a welcoming atmosphere with happy employees who are ready to assist your clients.
People are drawn to businesses with bright, eye-catching images, videos of services in action - like pups playing in doggy daycare - and visible links to pages like reservation bookings, daycare webcams, and a place to upload vaccination records.
You may even want to hire a local photographer to take some high-quality photos, and include shots of team members interacting with pups.
Social Media
Modern pet-care businesses must have a social media presence. Social media is one of the most important tools your pet-care business can use to tell its story. Instagram and Facebook are among the first places clients interact with and discover pet businesses. Posting to these accounts a few times a week will help give your clients a better sense of what your pet-care business is about.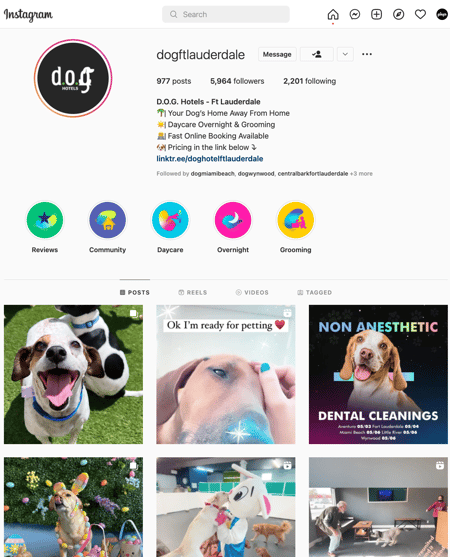 Gingr customer D.O.G. Hotels has a very active (and fun) social media presence.
Established pet services businesses with multiple locations often have clients who have been with them for years. Highlighting these customers helps build trust with new clients. Engaging videos on your website and social media accounts will also help pet owners get a sense of the experience their dog will have at your dog boarding facility — pictures and videos can do wonders for growing your business!
Leverage the Power of SEO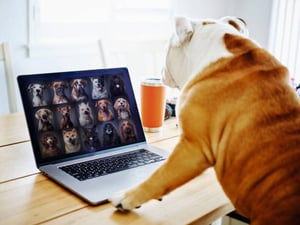 SEO, or "search engine optimization," is the process of improving the quantity and quality of the content on your website so that it's more easily found by search engines like Google. Having a strong SEO strategy will help drive more traffic to your dog boarding website, which can translate into more customers discovering and using your services.
For established pet services businesses that already have a steady stream of customers, creating an SEO strategy can help expand the reach of your business by making it easier for search engines to match customer queries to the services you offer.
Engaging an SEO specialist can help you create content that utilizes keyword phrases like 'dog boarding in Phoenix' or 'luxury dog boarding in Seattle', terms that customers in your area search for.
You've spent years perfecting the way you deliver services to your clients and their pups, adding SEO meta descriptions for blog posts, photos, and videos will also help boost your search visibility and direct customers to your website.
Bark Place NYC does a great job of using searchable words like 'cage-free environment' and 'contactless drop-off and pick-up' on their website, which helps search engines recommend the website to users interested in these features.
Ensure Your Website is Mobile-Optimized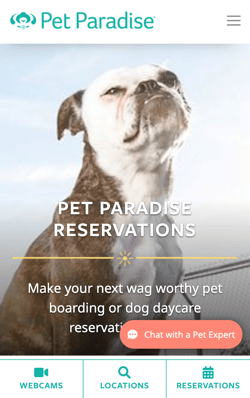 Today, most people use their mobile phone, rather than a desktop computer, to look up information; after all, we take our cell phones everywhere! If a potential customer visits your site from their mobile phone and they find that the text is too small, or they cannot easily navigate your website, there's a big chance they will simply give up and continue their search for pet-care services elsewhere.
One of the most crucial dog boarding website tips you can leverage is the optimization of your site for mobile devices.
Ask yourself:
Is the information on the page easy to read on a mobile phone?
Are the service tabs, about us section, and reservation button easy to find?
How far does a customer need to scroll before they get the answers they need?
Is the content formatted to fit on the mobile phone screen?
Facilitate Easy Appointment Scheduling
Many customers who land on your website aren't just researching, they are actively looking to book a service for their pet.
The key to this seamless transaction is using an intuitive dog boarding software like Gingr.
Empowering these customers to take action "in the moment" helps customers, and saves staff time. The fewer steps a customer must make, the greater the chance they will book a service with your business. Your clients will thank you for making the online booking experience such a breeze!
Streamline Payment Processing and Registration
Have you ever tried to purchase goods or services on a website, only to find that the payment process was so clunky and confusing that you just gave up and purchased these items somewhere else?
Everything on your website should be intuitive for your clients to navigate. The goal here is to have as few steps as possible to get the information you need from the client so that you can secure their boarding reservation and provide a great customer experience when their pup arrives.
To help this process, your registration and payment processes should be secure, easy to use, and support a variety of payment methods.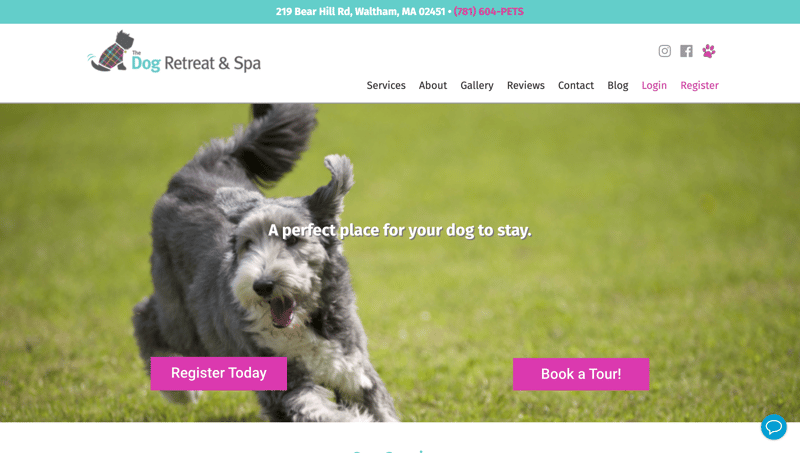 Gingr customer The Dog Retreat and Spa has quick links to book an appointment and schedule a tour.
Offering things like pre-paid packages not only makes your customers' lives easier by allowing them to pay for multiple bookings at once but also generates more cash flow for your dog boarding business.
Giving pet parents the option to opt-in to recurring online subscriptions for services they frequently use is another great way to simplify payment and registration.
Take Advantage of E-Commerce Opportunities
It's no secret that pet owners love showering their pups with gifts. One recent study showed that pet e-commerce grew 20% in 2020.
Adding an e-commerce and online shopping component to your website doesn't just provide you an opportunity to create a new revenue stream, it's convenient for your customers, and a new way to engage your community with branded merchandise. Check out Gingr customer Bubble Puppy's awesome online store!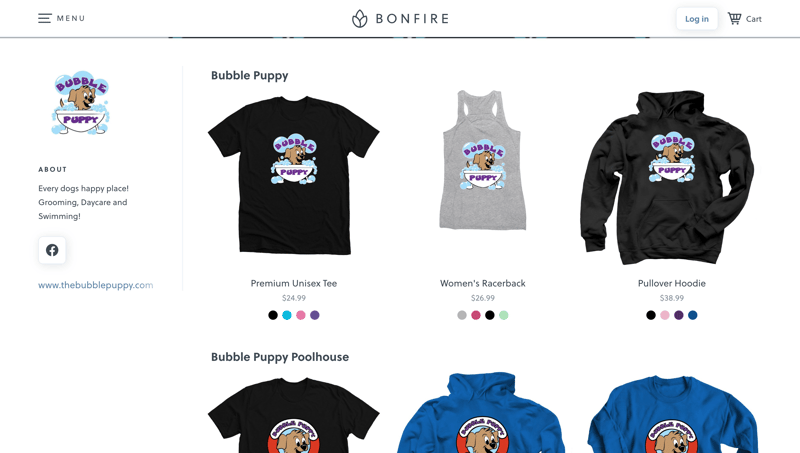 Seasoned pet services businesses that have a loyal following of customers should consider creating branded items like collars, bandanas, leashes, and even t-shirts with your business's logo. Not only does this provide customers with the opportunity to show their support for your dog boarding business, but it's also a great marketing tool.
E-commerce and in-store retail items are easily managed with the right dog boarding software tools. In minutes you can add items to reservations, track inventory, and analyze profits from each item.
---
The internet is a versatile tool that gives you the ability to reach customers that were once out of reach. With your established pet-care business running on all cylinders, now is a great time to refine your online customer experience, provide customers with a sleek, professional-looking website, and market your brand like never before!
Want to learn more about dog boarding business best practices and software to enhance your strategies? Explore these helpful resources: