Astro Kennels, a state-of-the-art boarding and training facility, opened its doors in 2008 in Simpsonville, South Carolina. It started with three employees and has rapidly grown to two locations (additional locations coming soon), and more than 60 employees! Owners Cheri and Dave Milan, are experienced pet-care professionals with years of dog-training expertise.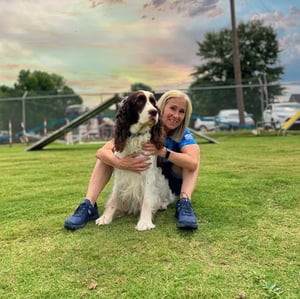 Dave is an experienced search and rescue handler and trainer, and has managed countless successful search and rescue missions in the upstate of South Carolina and the southeast region.
Cheri and her Germain Shepherd Dog, Mato, are a certified Human Remains Detection K9 team, and respond for law enforcement and emergency agencies in South Carolina. Cheri also brings CJ (pictured), her English Springer Spaniel, to work with her every day so he can play with his Astro friends in doggie daycare.
Cheri and Dave found Gingr software through online research. They were growing quickly and needed a software to help them manage their daily operations. "We needed a one-stop-shop for our data and POS system," says Cheri.
Gingr has made it possible for their business to grow astronomically. Amongst all the amazing features, the drag-and-drop facility calendar and the customers' ability to create their own profile and request reservations online are a couple of their favorites!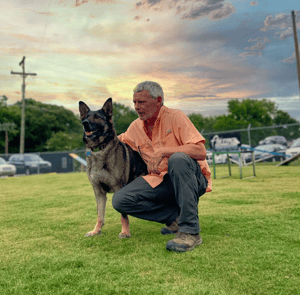 Gingr has been there countless times to help the business operations run smoothly. When asked about a time Gingr was there for them, Cheri replied, "Having easy access to vaccine records and reminders has been great for ensuring owners show up for reservations prepared." Gingr has streamlined their system for scheduling, customer data, POS, ordering, reports, and much more!

Another value that Astro Kennels finds irreplaceable is Gingr's top-tier customer service. Cheri remarks, "Over the years of using Gingr, we have emailed lots of ideas to the Gingr team we think could help, like the pickup/drop off quick view, and Gingr is always ready to hear our ideas and get them in action!"
Astro Kennels has big plans for the future and is thrilled to continue using Gingr software. Cheri states, "As we franchise, it will be nice knowing all of our locations can use the same system and we will be able to assist them from anywhere!"