Puptown Lounge opened in November 2008. Since then, it's been serving dogs in Upper Arlington and the northwest Columbus area, Ohio! The trio of services - daycare, boarding, and grooming, has made it a one-stop shop for busy pet parents.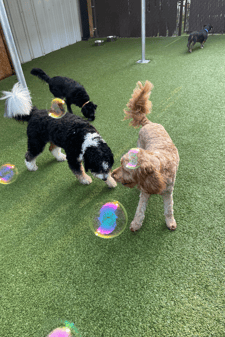 Puptown Lounge is a family-owned and operated business by siblings, Sarah Himelstein and Cliff Boyden. Their love for dogs all started when their mom groomed dogs in the basement of their childhood home. They would have a constant parade of customers coming in and out of the home and the siblings were pleased to help bathe the pups!

The Lounge is a true family business at its core. "With help from our Grandpa giving us a $25,000 loan, we opened Puptown Lounge doggie daycare on November 1, 2008. Although our Grandpa is gone now, during the early days of Puptown, he stopped in nearly daily to give support, ideas, and mostly encouragement. Within a couple of years, the business was so successful that we paid Grandpa back every dollar of his loan," says Boyden.

The company has grown from 3 employees to 60, with revenue increasing dramatically. Even during the pandemic, they were able to adapt and shift their services to accommodate pet parents in their homes. They were able to offer in-home dog-sitting services. This service was so popular that to this day, they offer this service to customers.

Before Puptown Lounge decided to use Gingr, they used all pen and paper. The decision was ulti-muttly one of the best decisions they have made since inception. When asked what made the siblings decide to use Gingr, Boyden remarks, "Your amazing customer service, customizations, and the ability for all locations to be able to access dogs that come to both with ease. We were a paper and filing cabinet company before we switched to Gingr so big change but we love it."

For Puptown Lounge, Gingr makes it seamless to run its business. When asked about how Gingr has helped solve a problem, Boyden remarks: "We had an issue of people forgetting that customers would owe for a day after their package days were out, as well as not knowing how many days they had left since we were only on paper. This was extra tough when the client would go to both locations and we would have to call to keep track of how many they used. With Gingr it is so much easier for us to keep track and for the customers to see how many days they have left and that they can easily use daycare days at both locations."

Overall, Gingr has benefited Puptown Lounge in a paw-sitive way. "Since moving to Gingr, Puptown Lounge has seen a grand uptick in new customers as well as a grand uptick in add-on services that were not as much advertised in the past or forgotten about by customers. With Gingr's vast array of reports it is great for us to see what is selling well, what isn't, and what services our customers are utilizing the most. It's so nice to have," says Boyden. Gingr has been a vital tool for Puptown and its astronomical growth.