Fantastic Fidos is a one-stop-shop for everything dog! Offering a wide range of services, Fantastic Fidos has changed the pet-care game in Northwest Missouri! Owner, Alyson Fisher, purchased the company in March 0f 2017 and hasn't looked back since! Before her work with Fantastic Fidos, Alyson was in a high-stress job and was anxious to find a way to work for herself doing something she was passionate about. Fisher remarks, "The business had been in operation for 12 years when I purchased it. We grew the business from 4 employees to over 40 employees and now operate in 3 locations." One of her favorite aspects of the job is creating jobs in the community and having a safe place for pet parents to bring their dogs.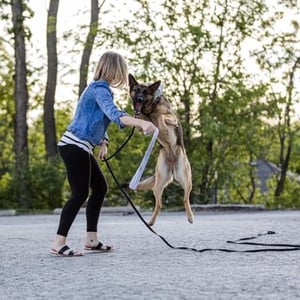 Owning and operating high-volume pet resorts can come with unique challenges. They were constantly juggling multiple tasks and struggling to keep up with the demands of their growing clientele. That's when Alyson discovered Gingr from a pet-care colleague, and it transformed the way they operate! Gingr helps Alyson and her team manage the dogs in their care, communicate with their customers, note special considerations for each dog, and utilize online booking.

With Gingr's intuitive platform, the scheduling process has become seamless for Fantastic Fidos. They can easily manage appointments, track availability, and avoid any double bookings or scheduling conflicts. The automated reminders and notifications keep clients informed and reduce the chances of missed appointments.

When asked about the biggest hack she's learned while using Gingr, Alyson reflects, "learning from the features Gingr has to offer. I often see a new feature or update and find a way to use it in my business and 10/10 times it increases our efficiency. I also really like learning from other Gingr users in the Gingr Users Group."

With Gingr's robust reporting and analytics tools, Alyson and her team have gained deep insights into the business' performance. Alyson states, "Our business has grown 10x since the beginning, and Gingr has been on that ride for nearly the entire time. We can grow because we are organized, documented, and communicative. Much of that could not be happening without the use of the software."

Gingr has revolutionized business operations, providing Fantastic Fidos with streamlined scheduling, efficient client management, and valuable insights that have propelled success to new heights!