Dog grooming businesses that have been pampering pets for years know they need a strong digital presence to thrive in today's world. In addition to using powerful pet-care software, your grooming business must have a good SEO strategy in place so you can be "seen" by pup parents searching for pet-care services in their local area.
I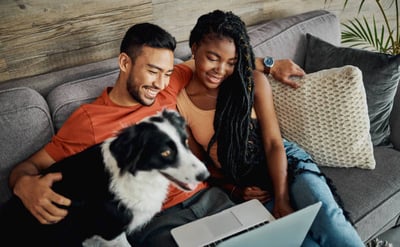 f your grooming business is buried on page two, three or even four of Google's search results, there's a good chance prospective customers will never see your business listing, or know that you offer the grooming services they are searching for.
Naturally, businesses that appear higher on the search results page have a better chance of being clicked on. In fact, the actual click-through rate for businesses that rank #1 on Google's first page has a click-through rate of 28.5%!
There are all kinds of terms dog owners use to find the care they're looking for: "dog groomers near me," "local groomers," or "dog groomers in Denver," for example, will all yield business listings within a certain radius of the person searching online.
If people are using local or regional search terms like these, there's a strong chance they're not just browsing, they're actively looking to book local services for their pet. Google's search engine sees these keyword searches, even if they don't include a city or town, and understands that the user is looking for services near their location.
The good news is that there are a few easy steps groomers like you can take to rank higher in Google's search results pages and ensure that potential customers are more likely to find and choose your business when seeking out a trusted groomer for their fur babies.
Learning how to appear higher in search results for 'groomers near me' is easier than you think. In this article, we will look at ways to:
Leverage Google My Business (GMB)
Design a Mobile-Friendly Website
Acquire Local Backlinks
Use Schema Markup
Gather Reviews
Leverage Google My Business (GMB)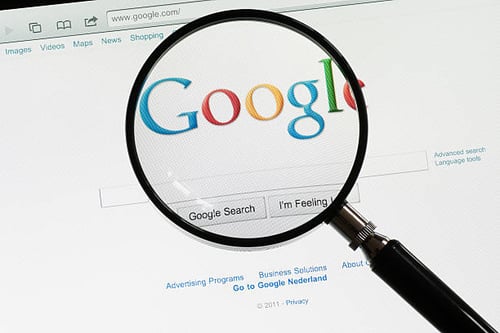 Creating a Google My Business, also known as a Google Business Profile, has helped put so many businesses on the map by increasing their online presence so they are more searchable for prospective customers.
A Google Business Profile for your grooming business lets you create a profile for your business and includes useful information like location, hours of operation, FAQs, photos, videos, reviews, and more. With just a few clicks you can have this free tool from Google up and running and increase your business's online visibility before your furry customers can say 'woof'!
The great thing about these profiles is that they are designed to be a one-stop shop for customers so they don't need to continue searching the web for basic information. They also link directly to your grooming business, which increases the likelihood that a customer will book your services if they decide your business fits what they're looking for.
Here are a few tips to guide you in creating this useful, SEO-driven profile for your pet-care business.
Business name - Be sure to use your business's full name, and that it is spelled correctly.
Contact information - When businesses grow and expand to additional locations, they sometimes change contact information like emails or phone numbers. Verify you have the most up-to-date information for all of your grooming locations before posting this.
Pictures - Photographs go a long way in giving prospective customers a sense of what your business is all about. Including pictures of groomed pups sporting their new doggy hairdos shows off your groomers' skills. Don't forget the front desk area and the wash stations and grooming tables. Having photos of neat, organized and clean workstations goes a long way when getting customers to try your services.
Main services - The best dog grooming businesses constantly add new services to wow their clients. If you've recently added new features to your line-up of services, add them to your Google My Business profile.
Reviews - Online reviews are almost as good as a personal referral from a trusted friend or family member. Including glowing reviews will attract new customers and instill a sense of trust before they even enter your doors.
Design a Mobile-Friendly Website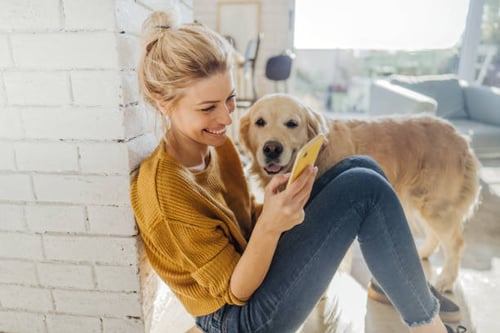 We carry our phones with us everywhere, so it makes sense that the majority of searches happen while we're on the go via mobile phones and tablets. Because so many prospective customers do their research on their phones, Google's search algorithm prioritizes websites that have sleek, easy-to-read designs that are formatted for mobile phone screens.
This means dog grooming businesses that have not appropriately formatted their websites to be mobile-friendly will automatically be ranked lower in the search results.
One of the quickest ways to remedy your online presence is by using a dog grooming software platform like Gingr that modernizes your online presence. Gingr's high-performance software also optimizes important forms and pages for mobile devices, among many other features that streamline busy pet-care businesses.
To publish mobile-friendly pages, get started by:
Making your website easy to navigate - integrating icons, and key information like services, online appointment booking and a photo gallery at the top makes navigation a breeze.
Using large fonts - larger fonts make it easier for viewers to skim the information they need quickly.
Compressing images for decreased load times

- sizing images appropriately for a mobile phone's smaller screen helps the page load quickly, and lessens the chance your customer abandons their search.
Acquire Local Backlinks
Backlinks are links from external sites back to your site. For example, if a local blogger gives your dog grooming business a shout-out in a post, and links back to your website, that link is a backline. Backlinks validate your website and flag to Google that your site is trusted by other trusted sites, and is thus valuable. The more backlinks a site has, the more the search engine recognizes it.
To appear higher in "dog groomers near me" searches, you'll want to focus on backlinks from geographically local websites. These might be:
Other local businesses or nonprofits - offering free dog grooming services a few times a year to shelter pets to help them get adopted is a great way to get a local backlink.
Local bloggers - offering a promotional spa day for a local blogger or influencer's pooch, especially if they have thousands of followers, will give your searchability a huge boost.
Local newspapers - local newspapers, television stations and radio stations all use the internet, in addition to their other platforms. Their enormous reach instantly validates your dog grooming business.
Business directories - don't forget about good old-fashioned business directories!
Use Structured Data Markup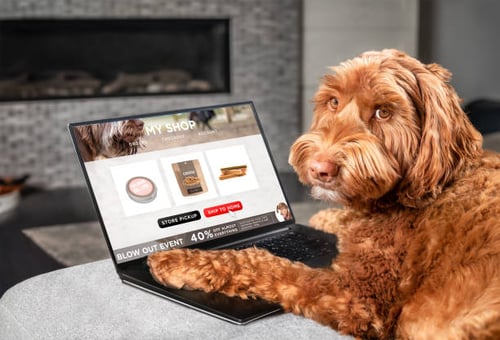 Structured data markups are another way that Google understands the data on a website and matches that data with people searching for things like "local dog groomers."
According to SEO platform Moz, a structured data markup, "...improves the search engines' understanding of that content, which can help with relevancy signals and also enables a site to benefit from enhanced results in SERPs (rich snippets, rich cards, carousels, knowledge boxes, etc)."
For local dog groomers looking to push more traffic to their website, and ultimately into their salons, this means highlighting information like:
Business address
Operating hours
Phone number
Services/products
Reviews
Gather Reviews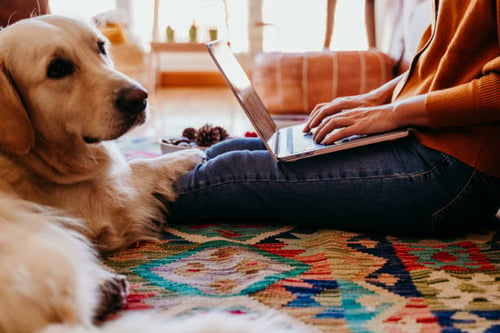 Google reviews are quickly replacing other online review sites as the go-to for verified business reviews. Having a good number of Google reviews doesn't just help boost your local SEO, it gives a credibility boost to your business when new customers are looking for local dog grooming services. The more five-star reviews you have, AKA the more popular your business is in the community, the higher your pet-care business will rank on Google's first page.
Asking existing customers to provide a review can help you start to gather Google reviews for your pet-care business. Satisfied customers are often happy to leave a positive review for a business they frequent, especially if they're long-term customers.
The steps outlined in this article about The Importance of Google Reviews for Your Pet-Care Business will walk you through how to give those customers a link directly to a Google review for your business.
Once you have that link, can add it to:
Customer thank-yous
Receipts
Request for feedback and review
Gingr's integration with Broadly makes this process every easier by automatically asking satisfied customers for a review. And, Broadly now offers a free plan for Gingr customers! Broadly Free is a forever-free starter plan that includes 25 Google review requests per month. Go to the Left-Navigation: Admin » Manage Gingr Subscription page and click "Start Broadly Free" under the Broadly option.
Don't worry if you get a few unexpected negative responses - every business has them. Negative or lukewarm reviews are an excellent opportunity to engage with your community and understand the customer experience even more. Responding to these reviews positively - and also seeking solutions for dissatisfied customers shows that you value everyone's feedback.
Wrapping Up
Reaching new customers and getting them to try your services is only the first step. Turning a first-time customer into a loyal customer means having a streamlined experience for both pups and their people. To continue building your business's momentum, integrate dog grooming software that has features like a digitized intake process that's fast and easy, automated confirmations, reminders, surveys, and waitlist notifications. And, of course, a built-in customer loyalty program for all of those happy customers is a must!
With all of these pieces in place, your grooming business will strengthen its overall business strategy, and improve its ranking in local search results!
Additional Resources
Continue to learn the best strategies to market your pet-care business to the right audiences with these helpful resources:
Management Tips to Simplify Business Operations During the Busy Seasons

. Feeling overwhelmed by the thought of managing your business during the most hectic times of the year? Don't worry, these tips and tricks for simplifying your pet-care business operations are here to save the day.

Engage Customers with Gingr's Report Card Feature

. Looking for new ways to engage with customers at your pet-care business? Gingr's Report Card feature creates a fun, easy-to-read summary of a pet's day in daycare or boarding, so pet parents are always in the loop with how their pet is doing while in your care.
Pet-Care Business Retail Ideas to Maximize Your Revenue

. Whether you own a dog grooming business, daycare or boarding kennel, adding a retail element to your revenue strategy is a must, because the more diversified your revenue stream is, the better prepared your pet-care business will be to weather even the most challenging economic periods.