It's impossible to run a successful pet-care business without an online presence. Your website and social media profiles are among the first places prospective customers and existing customers go to see what's new with your pet-care business or if your brand is a good fit for their pet. Your Gingr pet-care software has taken the guesswork out of organizing things online daycare and boarding reservations, and automated your email and SMS booking confirmations and reminders, but how does a pet-care business improve its digital footprint so that it's searchable online?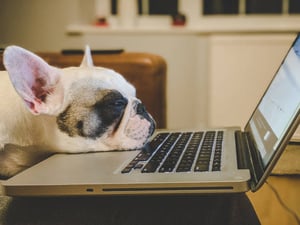 The answer? A Google Business Profile. A Google Business Profile (formerly known as Google My Business) is an extension of Google's search engine that allows business owners to create a profile for their business with useful information like location, hours of operation, FAQs, photos, videos, reviews, and more.
This free account increases your pet-care business's visibility based on keyword searches, which means pet parents conducting local searches for services like dog grooming in Seattle, luxury dog boarding in San Diego or dog daycare with a play pool can be matched with businesses (like yours!) that have the features they're searching for.
We've put together a list of the essentials to help you build a Google Business Profile for your pet-care company.
Optimize your business description with keywords.

Using relevant keywords has a big impact on whether or not prospective customers can find your business online. Once you've selected the appropriate category for your business, you'll want to create a business description with targeted keywords so that Google can index your pet-care business.
Consider basic keywords like:
Dog grooming
Cat boarding or cattery
Dog kennel
Dog daycare
And use localized, long tail keywords such as: "dog boarding in Dallas-Fort Worth", "all day dog daycare in Scottsdale," or "luxury cat boarding in San Jose." Adding your location, in addition to the service you offer, will boost your rankings and make it easier for your community to find you.
To keep your business description consistent, you can always use the same language you have on your website.
Be thorough with your business's information.
As you build out your Google My Business account, be sure to create a comprehensive account that includes everything customers will need to know about your business, as well as how to move forward if they do want to use your services.
Businesses that complete their entire Google My Business profile rank better in search results than those that only partially complete their accounts. For a pet-care business, that means including:
A full explanation of your pet-care services and pet-retail products
Contact information (phone numbers and email addresses)
Links to your main website and social media
Your business hours - including holiday closures
The location of your business
Deals, promotions, and coupons - new customer incentives, buy-one-get-ones, etc
Available payment options,

appointment scheduling

, and other logistic capabilities of your pet-care software
Photography of your business, etc. (interior and exterior, and photos of services in action)
Promote what makes you unique.
To stand out from the competition and individualize your long-standing business, highlight services you provide that are unique in your community. Pet-care businesses who have invested in doggie enrichment gardens, sniff and seek games, dog birthday parties, agility courses or organic/sustainable products will want to call out these features.
Businesses that use Gingr's pet-care software may also wish to promote their contactless customer check-in and hassle-free online reservation services. The bottom line: if you offer a service or a feature that makes the customer's life easier, mention it!
Take advantage of photo and video content.
In the age of social media, sometimes the best way to tell your brand's story is with photos and videos. Engaging visual content that shows your skilled groomers in action, your comfortable boarding suites and those happy pups loving their afternoon in daycare help paint a picture of what life is like at your pet-care business.
The Google Business Profile for your pet-care business allows you to post up to ten photos at a time. These sneak peeks can be updated as often as you'd like, so refreshing content is easy. Anytime you add a new service, feature or open a new location, be sure to post a photo to share with your customers - and prospective customers.
Post to your account frequently.
COVID-19 has shown businesses and consumers just how important it is to stay up-to-date on information like hours of operation, health protocols and other safety policies, in addition to ongoing events, promotional offers and general business updates.
Google My Business makes updating your pet-care business information easy, so your customer base isn't caught off guard by something like a change in hours of operation. Using this tool, in conjunction with your Gingr pet-care software, which may already be powering your customer communications via email and SMS, makes staying in touch with your community a breeze.
Encourage satisfied customers to leave reviews.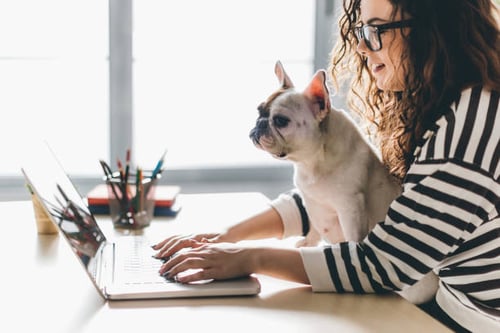 One of the advantages to having a pet-care business with a loyal following is that these customers are some of the best advocates of your business and can testify to the high-quality services they receive when they send their pooch to you and your staff. In fact, there's a good chance these customers have already given some good old-fashioned word-of-mouth recommendations to their friends and family.
Gingr's integration with Broadly automatically sends out review requests when a reservation checks out, or when a customer leaves a positive check-out survey for a reservation.
Encouraging your loyal customers to share these same referrals online by leaving a review on your Google Business Profile will extend your business's advertising reach. It also offers you another way to respond to and engage with your online audience so that new customers can see just how much you appreciate your existing clients. Rewarding this engagement with an upgraded pet boarding stay or a discounted service is a great way to thank those customers.
Engage with your audience.
Every business, particularly services-based businesses, should aim to create a community rather than just simply retaining customers. Communities are invested in your success; customers simply visit for services.
When you engage with your audience online, you establish trust, express the personality of your brand, show your customers that you're listening to them, that you value their feedback, and that you are always working to give them the best experience possible. This level of online engagement translates to a better overall customer experience and serves to show prospective customers how much you're invested in delivering the best products and services.
You can also take advantage of a less than stellar review by positively and openly engaging rather than dismissing a customer's concern.
Summing Things Up
For brick and mortar service-based businesses, having a local marketing tool like a Google Business Profile will increase the visibility of your business in the community, and match you with pet owners in your area that need services like grooming, dog daycare, cattery stays and kennel boarding.
When you use Google My Business for your pet-care business, you're providing valuable information to your customers and making your business more "searchable" in the process. A Google Business Profile, paired with Gingr's all-in-one pet-care software, will dazzle your existing customers, attract new pet owners, and cement your brand awareness for years to come!
Additional Resources
Ready to dive further into other tips, tools, and software solutions that can further market and streamline your business? Learn more with our additional resources: