Ask any pup, and they will tell you that a good kennel dog run will turn an average boarding stay into a great boarding stay! Pet-care businesses that have been around for a while know how important it is to continue surprising and delighting their clients with new and exciting services and amenities. After all, that's how you built your loyal customer base!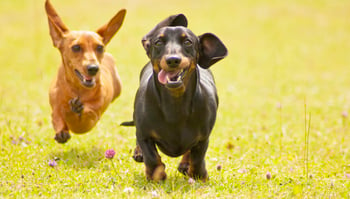 One place where you can really let your brand's personality shine is in your doggy play spaces. These designated outdoor and indoor zones allow pups to run, roll, and play all day long. The dog run area of your business really is one of the most important areas of your facility.
Because dogs have different playstyles, temperaments and energy levels, having several areas that work for everyone is important when coming up with ideas for your kennel's dog run. You're likely already keeping track of these different personalities and play preferences with the easy-to-use features in your Gingr pet-care management software, so using that information to optimize the play experience in your dog kennel runs will be a breeze.
If it's been a while since you've updated the kennel run area of your dog daycare or boarding business, have no fear. We've put together a list of must-have ideas for all of your dog run and play areas.
Pet Run Best Practices
Have an Outdoor and Indoor Location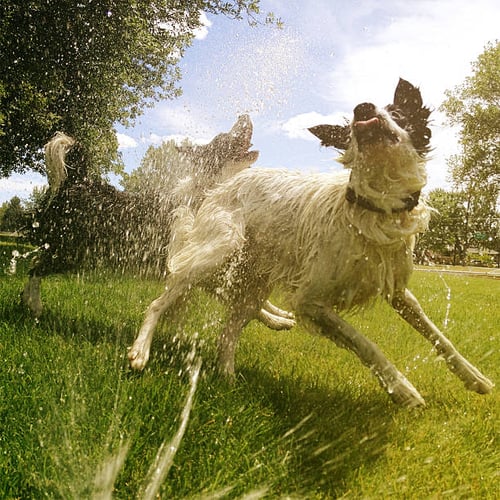 Weather can have a major impact on where the pets in your care play and some regions will experience more rain, snow, or hot summer days than others. Being prepared to provide the best services, regardless of what's happening outdoors will demonstrate the reliability of your business, and keep your customers coming back for more of a howling good time.
Dog kennel run tips for warm climates:
Air conditioning indoors is essential
Add cool-down areas with sprinklers and splash pool
Shaded areas to escape the heat will help pups stay comfortable
Dog kennel run tips for cool climates:
Indoor heating for when the temperatures dip
Shelter to escape cold air
Soft dog beds for pups who need a cozy break
Be Mindful of Plants, Powerlines, and Other Hazards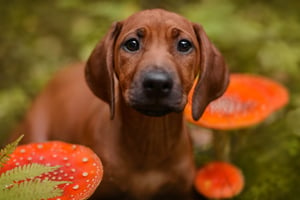 All pet parents know the saying, "it's all fun and games until someone is wearing a cone." To keep your dog kennel run safe, remember to monitor indoor and outdoor play areas for hazardous items like:
Toxic plants (oleander, tulips, Lily of the Valley, Amanita mushroom (pictured here), and English Ivy are all poisonous plants
Loose cables or electrical wires
Pieces of broken dog toys that might be ingested
Tip: If you're doing holiday-themed pet photo shoots in your dog run to include in your Gingr report card for pet parents, stay away from mistletoe and poinsettia, which are toxic to dogs and cats.
Consider the Sizes of Pets at Play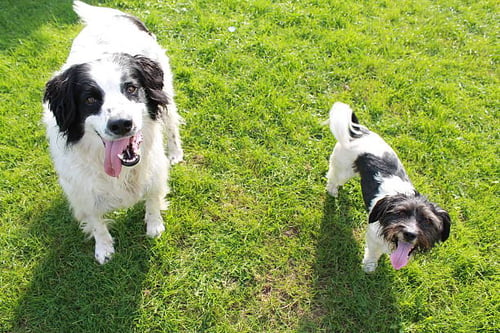 Having size-appropriate play areas in your daycare or dog boarding facility guarantees that all dogs have the best time ever during their group playtime. If you're creating an all-in-one dog run that will be used by large and small dogs at the same time, the two most important factors to consider are fence height and fence composition.
A big, bouncy dog who sees something exciting on the other side of your fence may easily leap over a standard six-foot fence. To keep all dogs safely secure, it's a good idea to keep fence heights at 10 ft+, or invest in a light covering that will prevent accidental outside adventures. Similarly, curious small pups can easily slip through fencing with small gaps.
Inclimate weather like storms or earthquakes may leave some fencing unstable, so it's best to give your structures a thorough check after an event such as those.
When it comes to the size of pets at play, you'll also need to consider the physical dimensions of the dog run. Big dogs will need more space to stretch their paws than smaller dogs. And senior pups, regardless of size, may just want to hang out outside in the fresh air, but will not require the same size dog run as an active adult or puppy.
If you ever need to book specific dogs in specific play areas, Gingr's pet-care software is the perfect way to track and manage that scheduling so everyone on your staff is on the same page when it comes to who belongs where.
Protect Against Digging Dogs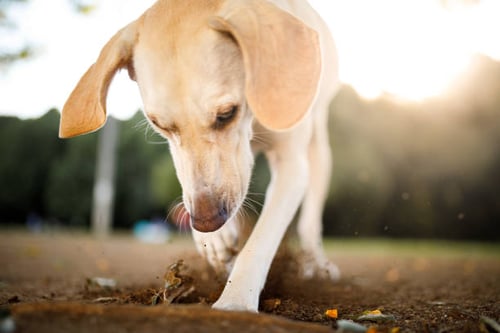 Some dogs find digging a super satisfying experience! Most pet owners and pet-care business owners don't find the practice as endearing. If you're caring for pups who have a penchant for digging, be mindful of the enclosure materials you use as part of your fence or dog run wall. The smallest gap between the bottom of the fence and the ground could lead to a runaway dog.
When possible, embed the fencing into the ground, rather than leaving any space between the fence and the ground.
Carefully Consider Your Ground Cover
Dogs spend hours at a time together in their dog kennel runs. Having ground flooring that's easy on joints, comfortable for sensitive paws, and easy to clean are must-haves. Equally as important as your dog run ground cover is the drainage. The last thing you want is standing water on your property. Puddles of standing water can attract harmful pests and could lead to staff or pup injuries.
Some different types of ground cover include:
Natural and/or artificial grass
Gravel
Dirt
Wood chips
Rubber padding
Rubber flooring is an especially popular ground cover choice because this cushioned surface can be disinfected, and helps dogs with mobility problems who need flooring with just a little more traction and support.
3 Dog Run Ideas
Stimulating Dog Runs
Dogs love playtime that includes both mental and physical stimulation opportunities. If you're building a dog run with fun sensory features, the sky's the limit when it comes to ideas for your kennel's dog run.
Engaging dog run accessories and activities include:
Splash pools
Fire hydrants in potty areas
Bubbles
Agility courses
Hoops
Tunnels
You could also set up a dog sensory garden filled with different scents and textures like a sand pit, hay bales, and logs for climbing.
Dog Run Gazebos + Outdoor Canopies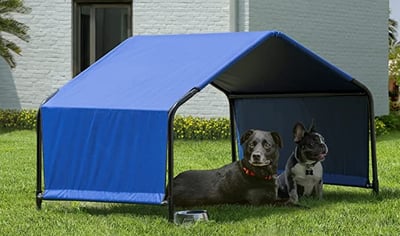 Dog run gazebos and outdoor canopies are a great addition to any daycare or dog boarding program, especially if you work with a lot of smaller dogs. The innovative design is completely shaded, and the structure is easily movable, so you can host multiple dog run gazebos in a single area.
Hutch Dog Runs
Some pups are pretty picky when it comes to their dog friends. For these dogs, a hutched run creates the perfect space for individual playtime, instead of playing with the pack. Hutch dog runs include a section of natural outdoor space with comfortable grass and a sheltered portion with a dog house or other sheltered area.
While these dog runs do take more time to build, they will ensure the pups who need an area for personalized one-on-one play can have the same great experience as the other dogs at your daycare or boarding pet business.
Worried about knowing which pooch needs solo play time? Don't be! Keeping track of individual pet profiles is easy with Gingr's dog daycare software managing your pet-care business.
Summing Things Up
Dog runs and dog play areas are one of the most important pieces of your daycare or boarding business plan. These spaces provide exercise, and enrichment activities, and give pups the socialization they need to live happy healthy lives.
If you find some dogs prefer one type of dog run over the other, be sure to add helpful notes for your staff in Gingr's intutive pet profiles, so that each pup has a fun and rewarding experience with you. The more you learn about your customers' preferences, the most you can streamline your business operations and elevate the customer experience. Pairing the right pet business software with these new ideas for your kennel's dog run will have tails wagging for years to come!
Additional Resources
Continue your education on kennel best practices, ideas, and tools with some of our other valuable resources: