Whether they are at home or spending a day at daycare, pet parents want the best for their furry friends. Your customers don't just expect you to deliver quality services, they also expect the products you use on their pets to be top-notch!
I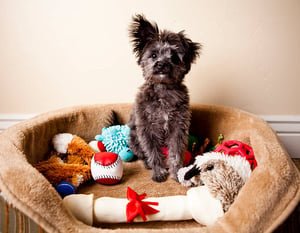 n a space as crowded as the pet industry, where new products are launched every year, deciding which pet supplies to stock your shelves with, and use on your clients, can be a little tricky. Should you experiment with flashy products from unknown companies, or stick with trusted name brands that your customers are already familiar with?
Your customers don't just expect you to deliver quality services, they also expect the products you use on their pets to be the best of the best. Associating your pet-care brand with other trusted pet industry leaders has a few benefits. It shows your customers that your business is invested in providing the best customer experience from the moment they book a daycare visit or nail trim, to an extended boarding stay. You're also instilling a sense of confidence in your services before your furry customers even enter the building.
The following pet supply companies have gone above and beyond to provide incredible products that pet owners and pet retailers alike trust to do everything from entertaining and feeding their pets to enhancing their grooming services.
Choosing The Best Pet-Care Software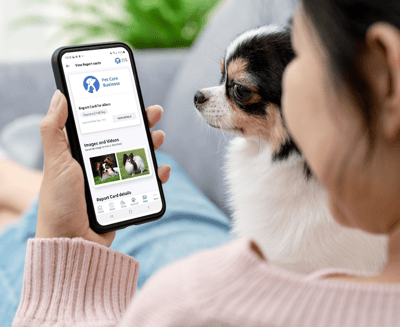 Choosing high-quality pet supplies starts before a customer enters your brick-and-mortar business. It starts at a customer's first point of contact with your business: your online presence.
A customer's online experience with your business, whether they're reserving a grooming appointment, confirming a boarding stay via SMS, or quickly paying an online invoice, should be frictionless. A powerful pet business software like Gingr gives new customers the right first impression about your brand and brings simplicity to repeat customers.
Gingr's intuitive automation and customization features are designed to meet the specific needs of your pet-care business and give you the flexibility to work anywhere, so you no longer have to worry about being on-site to solve issues that may arise!
When selecting the best pet supplies companies for your pet-care business, the right pet-care management software should be one of the first investments a business owner makes.
Best Pet Food Companies
Wellness Pet Food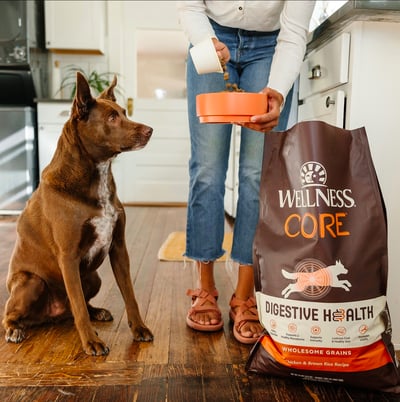 Wellness Pet Food has built its reputation around nutrition. Besides being a nutritionally dense dog food, pet owners love the Wellness brand because their line of products has something for every dog diet.
Their range of wet and dry dog food will satisfy pups with sensitive tummies, picky eaters, and those that require high-protein food for a little extra nutrition in their day. In addition to foundational, whole-food ingredients, their recipes have probiotics, antioxidants like beta carotene, and essential vitamins and minerals.
Wellness also has a vegetarian option that's plant-based, and includes eggs in place of meat for protein, for pet parents who would like that option. Carrying Wellness Pet Food at your pet-business locations ensures there's a type of dog food for every pup's palate!
Blue Buffalo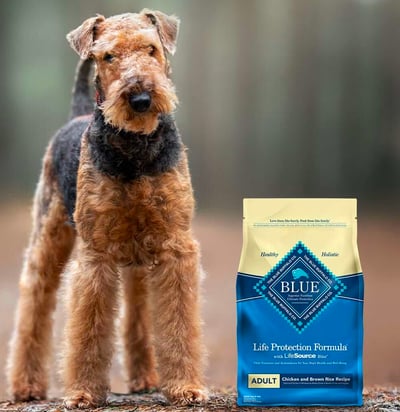 Blue Buffalo has one of the most recognized names in the world of pet food. Their line of Wilderness food goes beyond the traditional chicken, lamb, and beef proteins found in most dog foods, and also includes salmon, venison, duck, quail and halibut!
Blue Buffalo brands are available at almost all pet food suppliers, so there's no need to worry about availability. The brand is also consistently rated one of the best dog foods on the market for its nutritional standards, quality and safety, and ingredient sourcing verification.
Castor & Pollux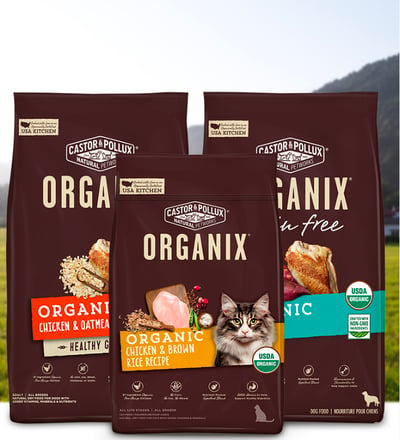 Free-range chicken, grass-fed beef, and wild-caught salmon are on the top of the menu when you use Castor & Pollux dog food at your pet-care business. This respected pet food brand goes to great lengths to responsibly source its ingredients so dogs and cats have the healthiest food possible.
With ingredients like these, it makes sense that the Castor & Pollux line of dog food is also organic and grain-free. The fruits and veggies come from pesticide-free farms and are grown without synthetic fertilizers.
This is a brand that doesn't cut corners. Impressively, Castor & Pollux hasn't had a recall in over 10 years! Featuring this top-notch pet food brand in your business is sure to impress your customers!
Best Pet Toys Suppliers
KONG
Dogs jump for joy when they see a peanut butter Kong coming their way! This classic pet toy provides hours of fun and helps stave off boredom when filled with delicious peanut butter or cheese. For a pet-care business, Kongs are the perfect toy because they're indestructible, super easy to clean, and can be used over and over again.
These toys are an easy upsell to pet parents too because they likely already use them at home and know how much dogs covet these fun rubber toys.
Kong makes toys for cats too. So if your pet-care empire includes cattery services, Kong has got you covered. The Kong line of cat toys includes kitty Kongs, snuggable toys for catnip and hide and pounce playhouses!
Nylabone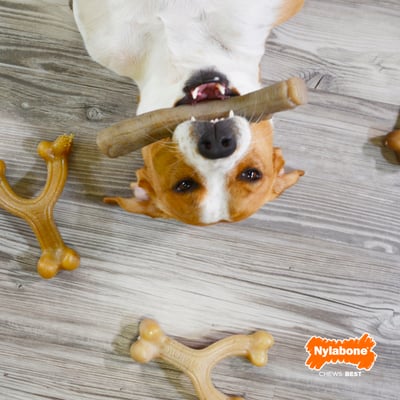 Any list of the best pet supplies companies for pet-care businesses will include Nylabone. This trusted pet company has been around since 1955, and these sturdy bones aren't just the preferred chew toy of the pet parents that frequent your business, but the parents and grandparents of those clients!
These long-lasting chews are the perfect alternative to rawhide bones and other toys whose pieces can break off or cause stomach issues. The classic Nylabone comes in chicken and bacon flavors and is the perfect toy for those heavy chewers in your care.
Chuckit!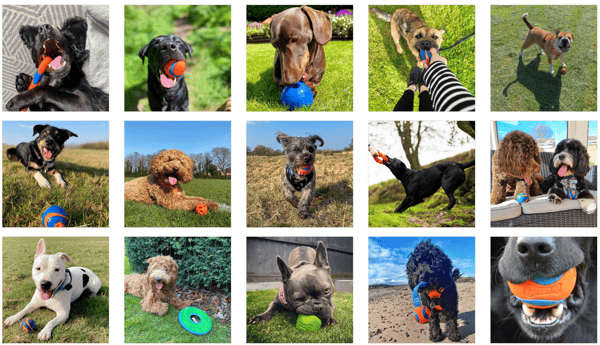 Image Source
If you Chuckit, they will come should be Chuckit's slogan. The Chuckit brand is one of the most recognizable pet brands on the market. Pet parents with active dogs love their wildly popular fetch toys because they can send tennis balls soaring! But Chuckit makes more than outdoor toys, they also have an impressive range of indoor toys, and toys that don't need wide open spaces to be enjoyed by pups.
The Chuckit indoor flyer and indoor roller are soft versions of Chuckit's outdoor line. The lightweight design means there's no need to worry about this toy damaging anything indoors! If your pet-car business has a play pool or dog swimming features, the Chuckit Kick Fetch Ball floats and is perfect for water playtime!
Including a few photos in a pup's Gingr report card of them having the time of their life with an indoor Chuckit is certain to bring a smile to any customer's face, and encourage them to book with your business again!
Other Top Pet Products & Companies
FurHaven — Pet Bed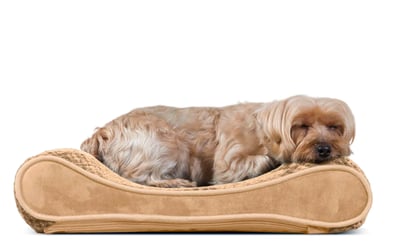 Pets and pet parents alike know that the right bed can make the difference between a restful night's sleep and one that has you tossing and turning. Having FurHaven pet beds in your kennel boarding suites won't just help the dogs staying with you have a pleasant snooze, but their owners will sleep easier too knowing their precious pup is sleeping on one of the most comfortable beds in the industry.
The FurHaven lux lounger orthopedic bed is a low-profile dog bed specifically designed for dogs that need extra sleep support, and accessibility. Small breeds, seniors, and dogs with mobility issues adore these beds for their comfort and support. The mink-like velvet cloth covering is machine washable and the memory foam insert provides medical-grade support!
These beds come in a size for every dog, from small, which supports dogs up to 12 pounds, to the giant, which supports up to 180 pounds!
abcKam and iDogCam — Pet Streaming Cameras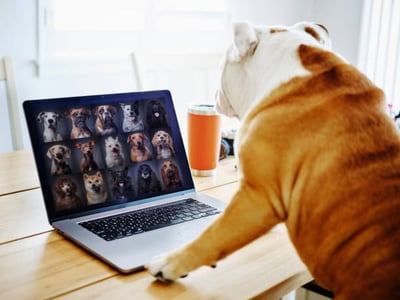 Gingr integrates with web streaming services abcKam and iDogCam. With these handy cameras and streaming services, concerned pet parents will always be able to see their beloved pups, even while they're being boarded or at daycare!
This handy, high-tech gadget won't just please your pet parents, having them on-site at your pet-care business will be an impressive add-on to any pet's stay.
PetKit — Automatic Water Bowl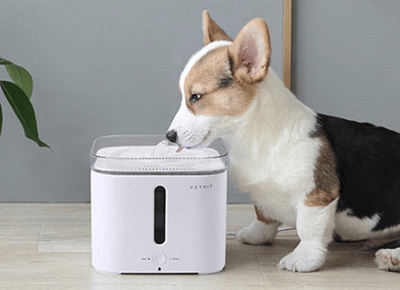 Image Source
Replacing your water bowls with automatic water bowls is the upgrade your boarding, grooming or daycare business needs. PetKit's high-tech water bowls ensure dogs always have clean, fresh water, and they also eliminate messy spills. The multi-layer filtration system is one of the best in the pet-care industry and removes dust, hair, and heavy metals.
Summing Things Up
Using the best pet supply companies in your pet-care business can have a huge impact on your reputation, and on the customer experience. When customers see trusted, name-brand toys, pet food, and other meaningful pet accessories in your kennel or grooming business, you've taken the first step to making a positive impression and laying the groundwork for an excellent customer experience.
Whether you feature these products as a point of sale item, or for your own in-business use, aligning your brand with other respected pet supply companies provides added value to the customer, and can boost your bottom line through increased retail sales.
Investing in the best pet-care software solution is critical to the continued success of your business and the powerful tools that come with a company like Gingr, complement the products and services you provide!
Additional Resources
If you're eager to continue learning more about essential pet-care business products and strategies, take a look at some of our other resources: