Professional dog groomers play a vital role in a pet's care. A trip to a professional groomer can save a pet owner the time and stress of providing tricky but necessary grooming tasks like nail clipping or muzzle shearing. And, of course, there are those pets who just love being pampered by their favorite groomer at the doggie salon.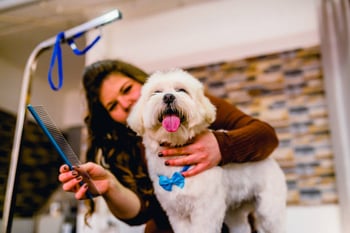 Maintaining a consistent and complete grooming routine goes beyond the desire for a clean pup with tangle-free fur. For pets with sensitive skin or allergies, trips to the groomer can make the difference between having itchy, irritated skin or irritant-free skin.
With such a diverse set of customers and customer needs, your dog grooming business must use the best dog grooming tools on the market. Not only that, but including dog grooming equipment in your retail store for pet parents to purchase can help guide a pet's grooming routine in between appointments.
To provide the most comprehensive grooming care for dogs, groomers look for the following tools: dog shampoos, combs to detangle fur, bristled brushes, clippers and shears, and nail grinders. Once you know the type of grooming tools you need, you can focus on choosing the most highly-rated brands to elevate your customers' grooming experience and give more value when they bring their pups in for grooming.
To help you get started, we've compiled the top 9 pet grooming tools recommended by professionals for pet-care businesses and in-home grooming.
Gingr — Pet Grooming Software for Professional Groomers
Earthbath — Grooming Wipes
Pride + Groom — Pet Shampoo, Conditioner, & Spray
Bissel — Dog and Cat Nail Clippers and Grinders
Virbac — Advanced Ear Cleaner
Hartz Groomer — Combo Pet Brush
Aquapaw — Slow Treater
Mars Coat King — De-Matting Undercoat Rake
Vet's Best — Dog Toothbrush & Enzymatic Toothpaste Set
Gingr — Pet Grooming Software for Professional Groomers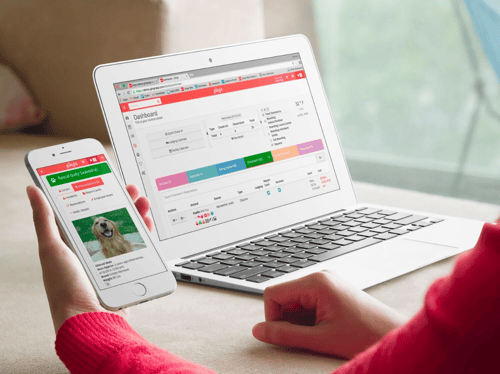 Not every pet owner has the time, space, or experience necessary to groom their pet, especially if their dog's coat is long, curly, or fuzzy - or their pet is finicky about getting bathed. For these pup parents, a trip to the groomers is non-negotiable.
To attract and retain customers to your dog grooming business, it's important to create an intuitive, online customer experience for your clients, which is why professional groomers around the world trust Gingr's pet grooming software for all of their business needs.
Gingr's user-friendly interface and sleek online appearance streamline repetitive tasks like appointment booking and modernize the customer experience. Digital tools allowing customers to register online, set up their first appointment and enter credit card details for upcoming services are attractive features for clients because they can skip a phone call and do everything on the go. Meanwhile, your staff can use Gingr to add helpful details like behavioral information and coat condition, favorite products, and more to pet profiles so that each customer has a pawsitive experience when they visit.
To help you run your pet-care business more efficiently, Gingr's software also includes:
Intuitive scheduling and online booking
Recurring reservation and payment remembrance
Tipping and commission capabilities
Integrated payment tools
Appointment cards
Running a pet-care business is just easier with the help of Gingr's powerful features! And, if your business offers services like dog daycare, training, or boarding, or plans to in the future, Gingr can help with that too!
Earthbath — Grooming Wipes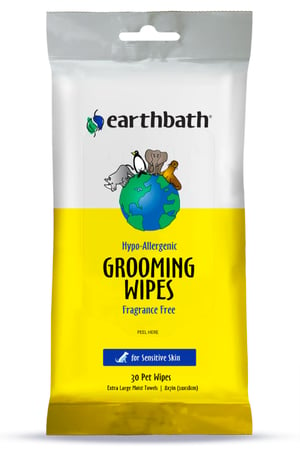 Earthbath Grooming Wipes
Sometimes a pup only needs a quick grooming touch-up to look in tip-top shape, and Earthbath grooming wipes do just that. Even if your pet-care business only provides dog daycare or boarding, you'll be thankful you have these easy-to-use dog grooming wipes on hand. Earthbath wipes are hypo-allergenic and plant-based, so they can be used in between paws or on a dog's face to remove drool debris from a day of play.
This dog grooming tool is also a great product to feature in your retail store because grooming wipes take a few seconds to use, and every pet parent can use them.
Pride + Groom — Pet Shampoo, Conditioner, & Spray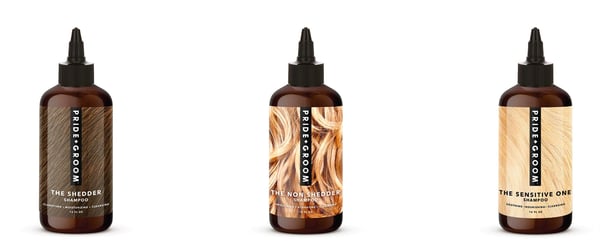 Pride + Groom Shampoo Options
Keeping pets' coats in top condition is easy when you use a reliable brand like Pride + Groom.
Professional groomers consistently rated the Pride + Groom line of pet beauty products as a top pet grooming tool. The brand carries a shampoo and conditioner for just about every type of dog coat, whether they have fur, hair, or sensitive skin.
Pride + Grooms' waterless shampoo, Mane Tame, is also a popular choice for at-home grooming because the no-mess formula can be applied just about anywhere. Mane Tame is also safe for cats, so pet parents with more than one pet at home only need to buy one product.
Bissell — Dog and Cat Nail Clippers and Grinders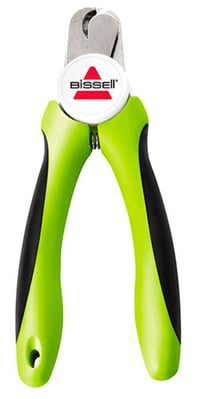 Bissell — Dog and Cat Nail Clippers and Grinders
If you own a pet, you know the name Bissell. This brand is legendary for the quality of its pet hair vacuums, but it also has a line of dog and cat nail clippers and grinders that, where pet grooming tools are concerned, are some of the best. The angled safety guard and the quick guard provide extra protection to sensitive pet nails. This feature is especially helpful in the hands of an at-home groomer (AKA a pet parent), who might not be comfortable clipping their dog or cat's nails at home.
Virbac — Advanced Ear Cleaner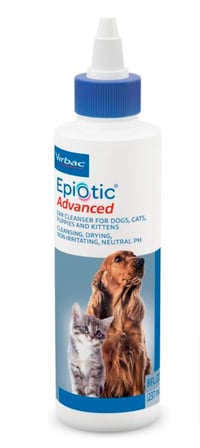 Virbac — Advanced Ear Cleaner
Just like humans, a dog's ears can get dirty. Ear health is important for a pet's grooming routine. Without regular cleaning, ears can get itchy or infected. This is especially true for dogs with folded ears.
Products like Virbac, an advanced ear cleanser for dogs, are sometimes overlooked as top pet grooming tools, although they're essential to a complete groom. Virbac is a veterinarian-recommended product that's gentle on sensitive ears, easy to use, and removes dead skin cells.
Gingr's pet profile feature is a great way to make notes of pets with consistently dirty ears. If one of your groomers notices a pet client has dirty ears, they can leave a note on the pet's profile, ensuring no matter which groomer the pup sees, the level of care is consistent throughout each visit.
Hartz Groomer — Combo Pet Brush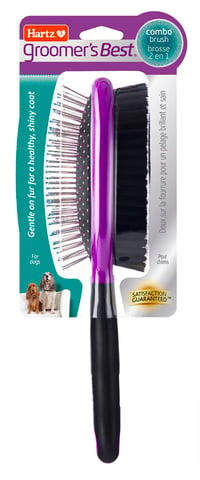 Hartz Groomer — Combo Pet Brush
A good dog grooming brush is an invaluable pet grooming tool for pros and pet parents alike. When considering a line of dog grooming brushes to add to your pet-care business or to recommend to customers, you can't go wrong with Hartz, a company that has been around since 1932!
The Hartz Groomer Combo Pet Brush was created in collaboration with professional dog groomers and is the perfect solution for everyday grooming and de-shedding. The dual-sided design features stainless steel bristles for detangling on one side and nylon bristles for distributing coat oils on the other.
Aquapaw — Slow Treater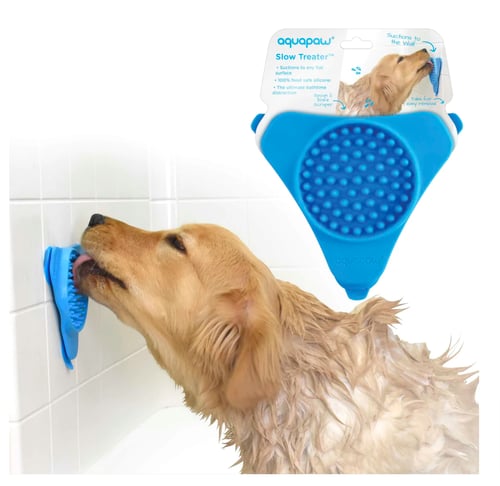 Aquapaw — Slow Treater
The Aquapaw Slow Treater is one pet grooming product with so many pet owners wondering, why didn't I think of that?!
If you just stock one dog grooming tool at your pet-care business, let it be the Aquapaw Slow Treater. This creative grooming tool helps pet owners bathe their pets with ease. Simply spread a treat like peanut butter across the silicone mold, and then stick it on the shower or tub wall, and viola! No more wiggling dogs!
Mars Coat King — De-Matting Undercoat Rake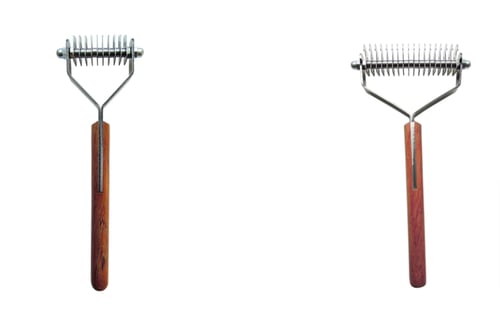 Mars Coat King — De-Matting Undercoat Rake
The Mars Coat King Det-Matting Undercoat Rake is an elegantly designed three-in-one dog grooming tool that works wonders on coats prone to matting. Not only does the Mars Coat King strip, de-matt and detangle all at once, but the blade's unique design removes up to 90% of loose hair with each grooming motion.
These rakes save so much time per furry client for groomers servicing dogs with extra thick coats and undercoats.
Vet's Best — Dog Toothbrush & Enzymatic Toothpaste Set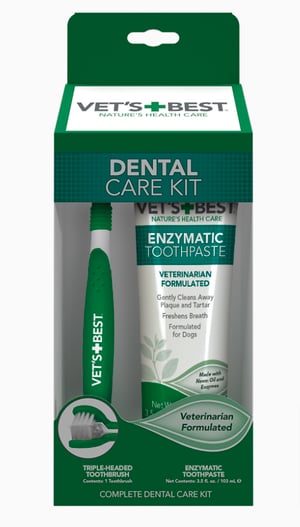 Vet's Best — Dog Toothbrush & Enzymatic Toothpaste Set
While a complete teeth cleaning should be left to a dog's veterinarian, offering oral hygiene services like dog tooth brushing can greatly help pet parents. Vet's Best Dog Toothbrush & Enzymatic Toothpaste Set keeps plaque and tartar at bay and freshens pets' breath with each brushing.
This grooming tool is sold as a set, making it an attractive product to feature in your store and for pet parents to use at home.
Wrapping Up
Proper grooming is necessary for pets to lead happy and healthy lives. Regular trips to the groomer, along with quality grooming time at home, ensure pups maintain consistent coat hygiene.
Using a combination of digital tools, like Gingr's dog grooming software, along with reliable grooming tools recommended by professionals, gives your business the foundation it needs to thrive in the competitive pet-care space. Going the extra mile for your customers by selling the same professional products you use in your grooming salon creates a consistent brand experience and keeps pets' coats well cared for between grooming appointments.
Integrating a platform like Gingr into your grooming operations, whether one location or multiple locations, allows you to manage appointments, stay on top of busy calendars, and track customer communications, all with the click of a button. You can create reports to see which products are the most popular among your clients.
The bottom line: Gingr's digital tools don't just help your business run more smoothly. They make your customers' experience (four-legged and two-legged) seamless!
Additional Resources
Ready to learn more about how to groom your pet? Explore some of our other dedicated resources on pet grooming tools and strategies: