Part of the fun in having your own pet-care business is dreaming up new services and features you can offer your clients. Not only do these upselling and cross-selling services differentiate you from your competitors and boost your revenue, but they improve the quality of each pet's visit.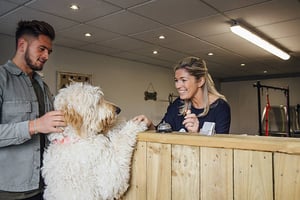 Totally unique add-ons and services like pet howliday parties, hide and sniff games, and Pooch-ella-themed photo sessions can really make your business stand out from the rest.
But, what exactly is upselling, and how do you upsell customers at your pet-care business? If you've been caring for pets and their people for a while now, there's a good chance you're already utilizing some of these upselling techniques, and looking for ways to include add-on services each time a customer books a boarding, daycare, or grooming appointment with you.
For those pet-care professionals that need a quick refresh, upselling is encouraging the additional purchase of anything that would make a customer's initial purchase more expensive with an upgrade, enhancement, or premium option. In the pet-care world, this means encouraging customers to purchase a bedtime snack if their dog is staying with you. Or, if you operate a dog daycare, it could mean adding thirty minutes on the agility course as part of their regular stay.
Offering these enhanced add-on services is crucial to a pet-care business's success because services like these help define your brand, demonstrate that you and your staff are attentive to the needs of both the owner and their pet, and give you another way to engage with your customers while offering thoughtful suggestions that can improve their pet's experience with you.
Top Boarding and Daycare Services to Upsell
Walking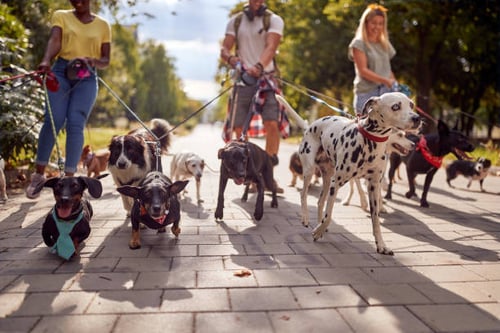 When pet parents bring their dogs to you for boarding and daycare services, they're looking for more than just a place to drop their dogs off for the day or while they're out of town. What pet owners really want is a home away from home for their pets. One way you can recreate this experience for your furry customers is by offering dog walking.
Walks recreate every pet's favorite at-home activity while also providing socialization, exercise and some one-on-one personal attention from your staff. A walk is an easy upsell because customers instinctively know how much their dog loves going on their daytime walk. Even the word 'walk' or 'walkie' is enough to get most dogs doing their happy dance!
Treats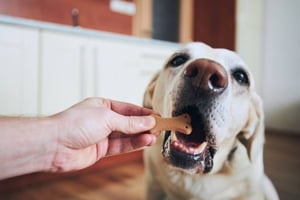 Sometimes it's hard to tell who likes treats more, the owner, who loves giving treats, or the pet who loves receiving them. There are many dog and cat treats that pet-care businesses can offer: Specialty dog cookies with dog-friendly icing, dog and cat birthday cakes or cupcakes, healthy and organic treats, and dog treats with supplements. A pet-care business owner can get really creative when it comes to upselling these items, and customers love splurging on products they already know their pet loves!
Try upselling a healthy banana and peanut butter treat after an energizing day in daycare. Or, go for morning doggie donuts for weekend boarding and daycare clients. Customers and pets will gobble up this upselling service!
Washes, Nail Trims, and Brushing
Just because your pet-care business primarily offers kenneling, training or daycare, doesn't mean you can't dip your paws into the pet grooming space. Simple grooming tasks like washes, nail trims and thorough brushings can be challenging for some owners, and many will appreciate knocking off their pet's regular grooming at the same time they're being boarded
If you have a skilled staff that can assist you while you build out this portion of your business, you will quickly find that adding a few grooming clients each week will boost your average spend per customer and your revenue's bottom line.
It's worth noting that branching off into other areas of pet-care services makes it all the more important to have the right pet-care software managing your day-to-day operations, handling details like online appointments and managing client profiles.
Bedtime Stories
Is there a single pet parent out there who doesn't want to see their beloved pet being read a bedtime story before they go to bed? For so many pet parents, their dogs and cats are, quite literally, their fur babies. Offering bedtime stories is a fun way to acknowledge this connection and pay additional attention to a customer's pet.
This add-on service is the perfect complement to a pet-care boarding business and a simple way to show you care about each pet's comfort while in your care.
Kennel Webcams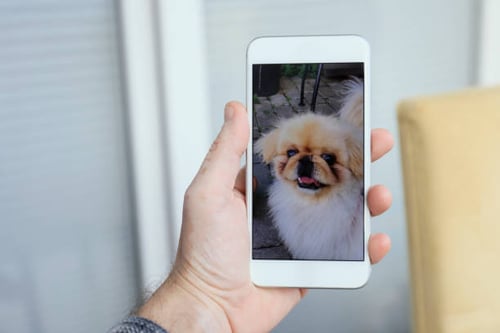 Kennel webcams are incredibly popular pet-care business features because they allow both pet-care business owners and pet parents to keep an eye on what each dog and cat is up to.
You can set up webcams in play areas, boarding suites, grooming salons and near doggie play pools.
Leaving your pet behind if you leave town, or even sending them to daycare while you're at work, can be incredibly stressful for pet owners. If there's one service that customers, especially boarding customers, will splurge on it's the ability to watch their pet while they're away, even if it is simply over a live stream.
Pet-care business owners love webcams because it helps them keep an eye on what's going on in each room of their business, which goes a long way in keeping all of the dogs and cats in their care safe and happy.
Gingr integrates with abcKam and iDogCam, two exceptional streaming services designed especially for pet care.
Top Grooming Services to Upsell
Daycare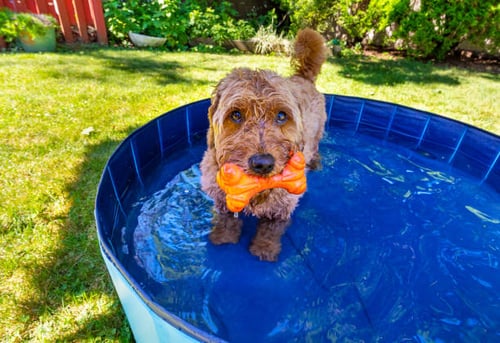 Adding daycare services to your established grooming business is an easy extension of your growing pet-care empire. Creating a dedicated space for your four-legged clients to socialize with their fur-buddies before or after they're groomed can be a huge convenience to owners who may need just a little extra time before or after an appointment.
If there's one thing pet owners appreciate, it's a pet-care business that's a one-stop shop for all of their pet's needs, whether it's grooming, daycare, training or boarding. If your grooming business is already successful in the community, and you've built trust with your clients, there's a good chance you can upsell this useful service.
Specialty Shampoos and Conditioners
Specialty grooming products like shampoos, conditioners and finishing sprays aren't just opportunities for upselling, they are opportunities to boost retail sales of the products you offer in your grooming salon. Because just like shampoo and conditioning products for people, pet shampoos and conditioners come in tons of specialty categories like organic and natural products, cruelty-free/vegan products, products for sensitive skin, flea and tick baths, and de-skunking treatments.
The great news is that with pet-care management software like Gingr, you can track and measure which products are the most popular and which are not, and focus your upselling efforts on the ones your customers find the most useful.
Special Grooming Services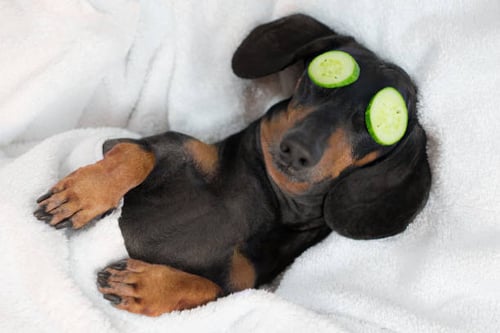 It seems like the world of pet grooming services is constantly evolving and expanding. A business whose core component was once pet washes and nail trimmings has expanded to include facials, paw massages, body scrubs, lotions, painted nails, fur color treatments and fur accessories.
Pet parents can relate to and will splurge on purchasing specialty grooming services because they feel like they're pampering their pet, just like they would pamper themselves at a day spa or hair salon. And who doesn't love that pampered feeling?!
Grooming Packages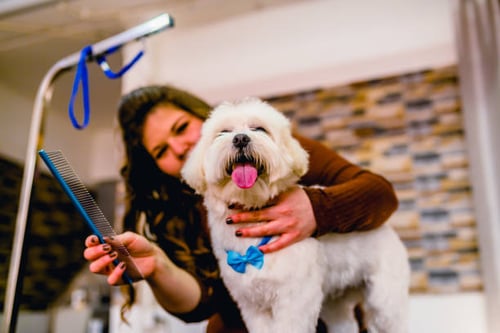 If you own a dog grooming business, offering customers monthly grooming packages and subscriptions is a must. These packages incentivize your customers to stay on a regular grooming schedule, give your pet-care business reliable, predictable income, and provide a discount to loyal customers.
Package promotions like buying five grooming sessions and receiving a complementary nail trim or conditioning treatment are automatic upsells, and they create long-term savings for your customers, while also turning them into repeat customers.
Best Upselling Techniques
Offering upsell enhancements alone, no matter how established your pet-care business is, won't necessarily convince customers to use these services. Pet-care businesses must also use sales techniques to sell these services to customers and demonstrate their benefits.
Here are a few upselling tips and techniques:
Practice active listening: Active listening will help you understand which services or products will benefit a customer's pet the most. For example, if a daycare client has a little more energy than usual when they arrive, try upselling some time in the agility course.
Learn about your customers: One of the benefits of using the right pet-care software solution

is that software collects important sales and demographic data that will help you understand your clients better. Knowing which services or products your customers gravitate to, and when they gravitate to them, can help guide your staff in their sales techniques.

Show how an additional service/offering can solve a problem: If a pet parent expresses that their dog is anxious when sleeping in new environments, try upselling a nighttime stroll as part of their bedtime routine while they're boarding with you. The idea here is that this service will help ease that anxiety.
Offer tiers of service: Offering different tiers of service is a terrific upselling technique because it accommodates different budgets and

gives customers options to compare value. Providing an entry-level grooming service or basic daycare service, with room for enhancements, is a great way to give customers a sense of the quality of care you provide, without a huge financial commitment.

Incentivize employees to upsell: Small bonuses and gift cards to local coffee shops, restaurants or popular businesses encourage your staff to do their best to sell your business's services. Try implementing monthly, weekly or yearly upselling goals and offer a different level prize or bonus for each milestone.
Time your pitch: Upselling can occur before, during, or after a service. For example, if a customer has just one service left on a grooming or daycare package, reminding staff to ask the customer if they would like to renew their package before the next visit is an appropriate time to pitch more services.
Build into the buying process: Building upselling into the selling process, particularly when a customer books online, is a stress-free way to offer add-ons to customers. This takes the pressure off of your staff, and off of the client, while still ensuring they have the option to include fun extras in their pet's visit.
Summing Things Up
Selling services that benefit your customers, their pooches, and your business is a win for everyone. Upselling not only boosts your revenue by increasing your average customer spend, but you're making your clients' experience even better — and showing just how well you understand their needs and that of their pet.
Having the right digital tools and pet-care software essentials at your fingertips allows you to track customer data and preferences to understand your customers better, making suggesting targeted add-ons and enhancements even easier.
Utilizing the best upselling techniques in your pet-care business will strengthen your business, help grow your customer base, and help people and their pets get the most out of your services!
Additional Resources
Want to learn more about other ways to build and diversify your revenue streams while enhancing the customer experience? Dive into these additional guides: