The pet grooming market is a multibillion-dollar industry that helps pet parents worldwide keep their fur babies happy and clean. The grooming services market in the US is projected to reach $6 billion dollars by 2026.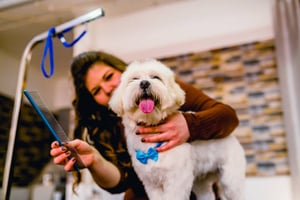 As pet parents continue to view their dogs as integral family members, these owners have started to view grooming services the same way they view routine veterinary care and enrichment activities. In other words, grooming is now looked at as an essential component of a pet's health and wellbeing.
With pet ownership on the rise and more and more dog owners pampering their pups with spa days and grooming appointments, the ability to dazzle your customer in the competitive pet grooming landscape is more important than ever. Grooming tools and technology are constantly changing. To ensure your business remains heads and tails above the rest, we've compiled a list of the best dog grooming tools for pet-care businesses!
To meet the needs and demands of these loving pet owners, pet-care businesses with grooming services need to be equipped with the right tools and essentials.
Gingr Grooming Software
Pride + Groom — Pet Shampoo, Conditioner, & Spray
Andis Deshedding Tool
Wahl Grooming Clippers
Hartz Groomer — Combo Pet Brush
Kencheii — Pet Grooming Shears
Pet Republique DeMatting Undercoat Rake
Flying Pig — Grooming Table
Gingr Grooming Software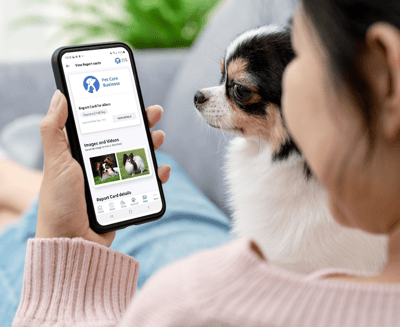 Your grooming business might have the most dedicated staff, the best grooming tools, and the perfect location. However, if you're not powering your day-to-day operations with an all-in-one pet-care software, chances are there are still ways to improve and streamline your business - for your customers and your staff.
Busy dog groomers around the world use Gingr to manage their businesses because Gingr saves staff time by empowering customers to book online, helps you provide excellent customer service by tracking appointment cards (some customers have particular grooming requests!), comes with integrated payment tools, and tipping and commission capabilities to maximize your revenue.
Put another way, Gingr handles the details while you and your team perform essential pet grooming services!
Larger pet-care businesses, or businesses with multiple locations, love Gingr because its features work across all their business segments. So your boarding, daycare, and dog training services are powered by the same easy-to-use software management solution!
Pride + Groom — Pet Shampoo, Conditioner, & Spray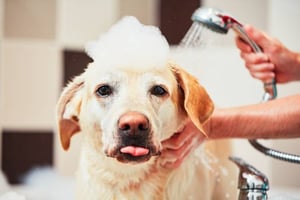 Like people, dog coats come in tons of variations—long coats, short coats, thick undercoats, and coats prone to matting. Because there are no one-size-fits-all grooming solutions for canine shampoos and conditioners, Pride + Groom created an entire line of high-end products to satisfy all types of dog coats.
The company built its brand around the idea that "the quality of dog shampoo should be held to the same standards as products used for humans." In other words, they take dog grooming pretty seriously.
If your grooming business includes daycare and enrichment activities like a dog pool or a large natural play area where pooches are having fun in the sun but also getting dirty in the process, having products like dog grooming wipes on hand will allow you to give those messy pups a quick touch-up before they're handed back to their pet parents.
Worried about keeping track of extra grooming inventory items in your daycare business? Don't be! Gingr can track it all and produce easy-to-read reports.
Andis Deshedding Tool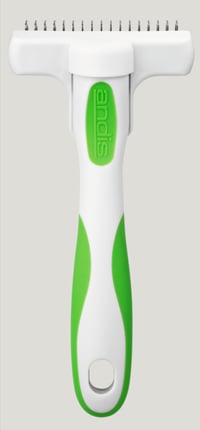 Andis DeShedding Tool
Lists of the best dog grooming tools for pet-care businesses always include a de-shedding tool, and this one, by Andis, is a groomer favorite.
The Andis Deshedding Tool promotes flawless grooming by removing excess undercoats without damaging the topcoat. In addition, the stainless steel design helps prevent matting and reduces shedding by 90%. Pet owners whose pups have sensitive skin will love it when groomers use this tool on their pet's fur because it tames unruly hair without being abrasive to the skin.
Wahl Dog Grooming Clippers

Wahl Dog Grooming Clippers
The name 'Wahl' has been a trusted pet care brand for over 100 years, and it's no wonder: these Wahl dog grooming clippers have it all. They're cordless, the battery is strong enough to be used all day without recharging, and the Constant Speed Control lets groomers work through thick hair cuts with extra power and torque. And, for pet-care businesses that offer services to dogs and cats, the Wahl clippers work great for cat grooming too.
There's a lot to love about this professional dog grooming tool, but, best of all, Wahl's clippers come with a five-year warranty! So adding Wahl clippers to your pet grooming business is an investment that will last for years.
Hartz Groomer Combo Pet Brush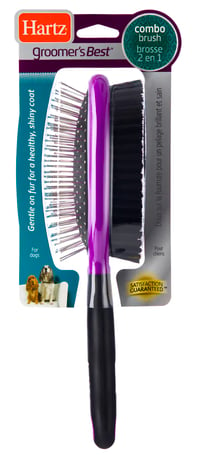 Hartz Groomer Combo Pet Brush
A good dog grooming brush can make the difference between a shiny and mat-free coat and one that isn't. Pet grooming professionals use combo brushes because they reduce the amount of equipment a groomer keeps on hand.
Many pet owners don't realize that groomers use more than one brush when beautifying the dogs in their care. Some brushes detangle, and some brushes de-shed. And still, others help distribute a dog's naturally coat oils from the follicle through the rest of the coat.
The Hartz groomer Combo Pet Brush is a favorite among professional dog groomers because it's durable, effective, and does two jobs for the price of one! And the result? A coat that's shiny, smooth, and healthy-looking.
Kencheii Pet Grooming Shears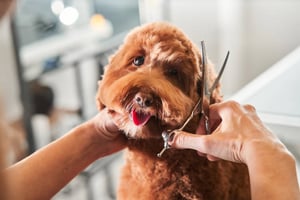 Pet grooming shears are one of those items that professional groomers can't live without. The kind of shears a groomer uses impacts how quickly they can work, how precise their work is, and the health of their hands. Holding small shears for hours at a time can lead to arthritic pain and hand cramps if your groomers are using the wrong grooming shears.
Kencheii pet grooming shears are made for comfort and designed for both professional and everyday use. These professional dog grooming tools have non-stick micro-serrated semi-convex edges, come in an array of colors (hello, branding opportunity), and are available in straight shears, thinning shears, and curved shears.
Pet Republique DeMatting Undercoat Rake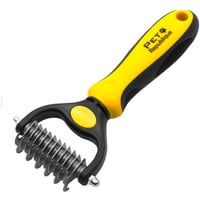 Pet Republique Dematting Rake
Dematting undercoat rakes are one of the best professional dog grooming tools for reducing shedding in long-haired dog breeds like Lhasa Apsos and Golden Retrievers and breeds with thick undercoats, like German Shepherds and Huskies. Dogs with coats like these need more than just a simple, once-over brushing.
The Pet Republique Dematting Rake helps your staff save time during grooming services by removing dead and loose hair quickly and efficiently. Whether the dog's coat needs detangling, dematting, or de-shedding, this undercoat rake has you covered.
Flying Pig Grooming Table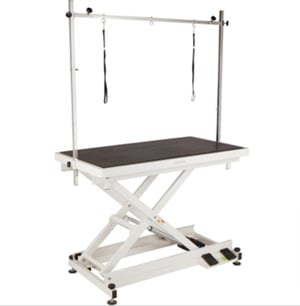 In review after review, Flying Pig Grooming Tables appear as the best dog grooming table on the market.
Because your pet grooming business serves dogs of all shapes, sizes, weights and temperaments, the most important things to consider when deciding which grooming table to buy are: durability, height and safety - and Flying Pig has all three! The table platform moves up and down easily, the tabletop has a nonslip surface for extra safety, and the table feet have a no-skid design. In addition, the grooming arm can be moved to the right or left side of the table, so your groomers get the perfect cut every time!
Summing Things Up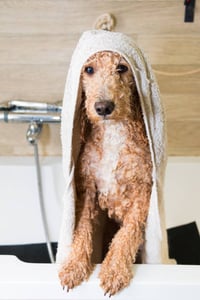 Pet parents bring their pups to groomers with a number of specific requests, from organic shampoos for itchy skin to nail trimmings for nervous dogs and show-stopping brushes and blowouts!
Meeting the needs of your loyal customers in today's competitive pet-care environment means streamlining your operations, providing great customer service, and leveraging the power of digital tools. Companies that use Gingr achieve this by saving time on paperwork with automated features. They reduce staff time by empowering customers to book and modify their grooming appointments online, and they benefit from error-free invoicing and billing.
When you add the power of the right pet-care software with the right dog grooming tools and supplies, you improve the quality of your business, make your customers and staff happy, and, best of all - each pup gets the perfect grooming session!
Additional Resources to Grow Your Pet-Care Business
Don't stop with this list—learn even more about pet-care tools and strategies with some of our other dedicated resources on these topics: