Managing a pet-care business requires a special kind of juggling act. You're not just dealing with appointments, employees, and financial matters, but also various pets' individual needs and schedules. Fortunately, Gingr is a one-stop solution designed specifically to help pet-care businesses function smoothly and efficiently.
Gingr is a state-of-the-art pet-care software with features catering to various facets of your pet-care business. Here are some of the most popular features of Gingr and how you can utilize them to manage your pet-care business.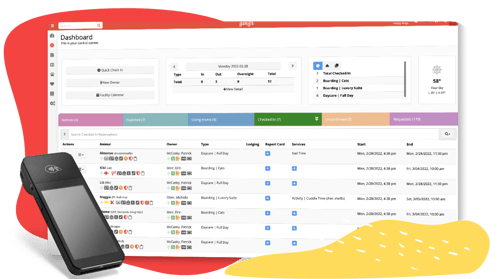 Centralized Reservation System
Gingr's advanced reservation system seamlessly manages appointments, schedules services, and monitors capacity. With an easy-to-use interface, you can quickly schedule boarding, grooming, training sessions, and daycare appointments. This real-time feature prevents overbooking, ensuring your business operates within its capacity limits.
To use this feature, navigate to the 'Reservations' tab on your Gingr dashboard and add a new reservation. You can select the client, choose the type of service, set the duration, and assign a staff member.
Customer Portal
The Gingr customer portal allows your clients to book services, update their pet's information, view past and upcoming appointments, and make payments online. This self-service portal improves the customer experience and reduces your administrative workload.
You can provide your clients with their unique login details for the customer portal, which they can access directly from your website. You can also set permissions for clients to update specific information, creating a better, more personalized client experience.
Integrated Payments
Gingr Payments feature simplifies check-in, checkout and reconciliation. Customers can conveniently purchase and renew packages online, keep card information on file, pre-pay deposits, and make in-person payments that connect directly to their Gingr accounts. Do you need integrated payments? Take this quiz to find out!
Email and SMS Notifications
Gingr's automatic notifications inform clients about appointment confirmations, reminders, cancellations, and other important updates. This feature minimizes no-shows and last-minute cancellations.
You can customize these notifications from the 'Settings' tab. Select 'Notifications' and choose the triggers for automated emails or text messages. These could include appointment reminders, booking confirmations, or important updates.
Comprehensive Reporting
Gingr's reporting feature helps you understand your business's performance, from financial reports to occupancy statistics. This data can guide your decision-making and strategy planning.
To access reports, go to the 'Reports' tab on your dashboard. You can select from a variety of report types, set the date range, and customize the parameters to get detailed insights.
Employee Management
Gingr helps streamline staff scheduling, time tracking, task assignment, and payroll reporting. This feature not only ensures efficient operations but also improves staff accountability.
Navigate to the 'Employees' tab to schedule shifts, assign tasks, and track hours. You can also run payroll reports based on the tracked hours and assigned tasks.
Gingr's comprehensive and user-friendly platform is designed to meet the unique needs of your pet-care business. By harnessing the full potential of Gingr's key features, you can streamline your operations, enhance customer experience, and improve the overall efficiency of your business. The result? More time to focus on what you love most - providing excellent care for your furry clients! Schedule a demo today!