Every camping trip I take with my family, I bring along a first aid kit. We use it - frequently.
Professional pet care businesses require first aid materials as well. Whether you are dog-walking or running a dog daycare or boarding kennel full of pets, pets in your care will need some kind of medical care at some point. The more timely and effectively you can provide aid to the pet provides meaningful benefits:
the less pain and discomfort the pet may experience,

the level of injury may be reduced,

healing may begin sooner,

may reduce financial costs of care and recovery.
Having the right materials on hand will allow you to respond to a variety of first aid needs.
You can buy pre-made kits from a variety of vendors. You can also purchase a pre-made human-first-aid kit and then amend as you need for pet-specific aid materials. If you do buy a kit, select a commercial-level kit that's appropriate for the size of your business (# pets + staff).
I took first-responder courses in a previous career, so I build my own first aid kits for the house, car and my backpack. I also built (and used) first aid kits for my kayak touring business. I'm a fan of this approach, as you really get to understand what you have and why you have it on-hand. This helps ensure you will know how to use it when it matters.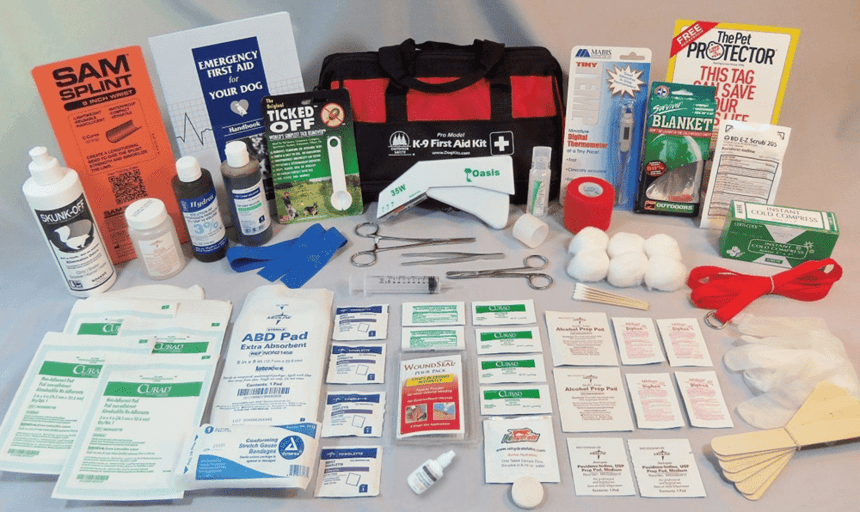 PET CARE FIRST AID KIT LIST
Fortunately, there are great resources available to help you build first-aid kits for your pet care business. The Humane Society provides a suggested list of basic first-aid items appropriate for a pet first aid kit:
Absorbent gauze pads

Adhesive tape

Antiseptic wipes, lotion, powder or spray

Blanket (a foil emergency blanket)

Cotton balls or swabs

Gauze rolls

Hydrogen peroxide (to induce vomiting—do this only when directed by a veterinarian or a poison-control expert)

Ice pack

Non-latex disposable gloves

Petroleum jelly (to lubricate the thermometer)

Rectal thermometer (your pet's temperature should not rise above 103°F or fall below 100°F)

Scissors (with blunt ends)

Sterile non-stick gauze pads for bandages

Sterile saline solution (sold at pharmacies)

Tweezers

A pillowcase to confine your cat for treatment

A pet carrier - sturdy and safe to transport the pet to advance care.

Diphenhydramine (Benadryl®), if approved by a veterinarian for allergic reactions. A veterinarian must tell you the correct dosage for your pet's size.

Ear-cleaning solution

Expired credit card or sample credit card (from direct-mail credit-card offers) to scrape away insect stingers

Glucose paste or corn syrup (for diabetic dogs or those with low blood sugar)

Nail clippers

Non-prescription antibiotic ointment

Penlight or flashlight

Plastic eyedropper or syringe

Rubbing alcohol (isopropyl) to clean the thermometer

Splints and tongue depressors

Styptic powder or pencil (sold at veterinary hospitals, pet-supply stores, and your local pharmacy)

Temporary identification tag (to put your local contact information on your pet's collar when you travel)

Towels

Needle-nosed pliers
http://www.humanesociety.org/animals/resources/tips/pet_first_aid_kit.html?referrer=https://www.google.com/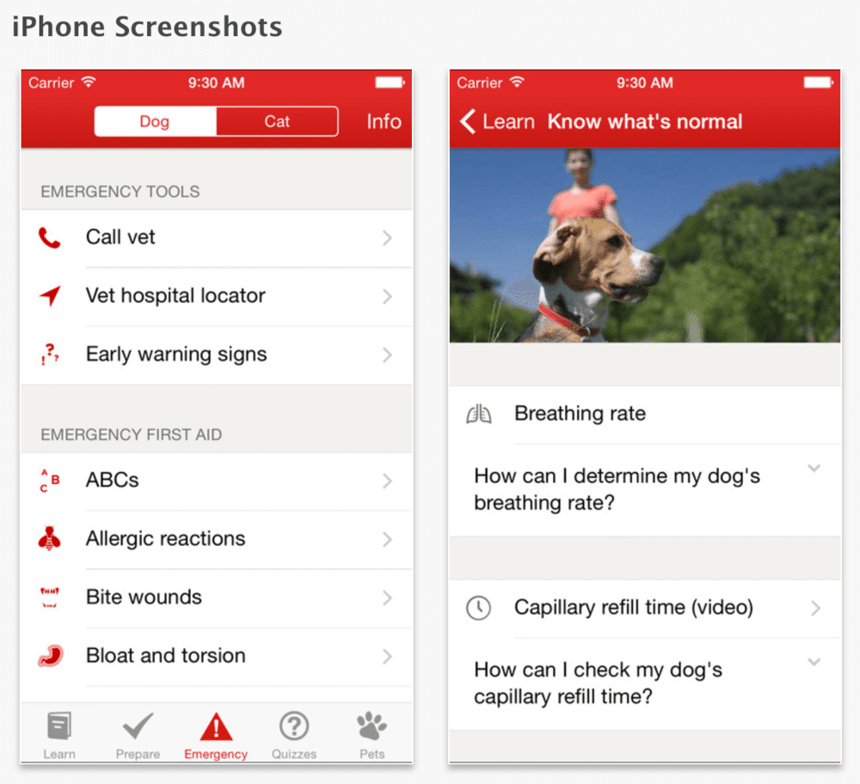 Additionally, the American Red Cross provides a pet first-aid app on the App Store and Google Apps
Other First-Aid Considerations
While this blog post looks exclusively at the materials for a pet care business' first aid kit, be sure to consider the following as well:
training your staff on basic first aid methods,

record every injury, illness and aid provided, (You might use Gingr's Incident form feature for this).

establish appropriate protocols and procedures for pet first aid, documentation, notification of managers & owners and follow-up.

stay on top of ongoing developments in pet first aid and illness trends.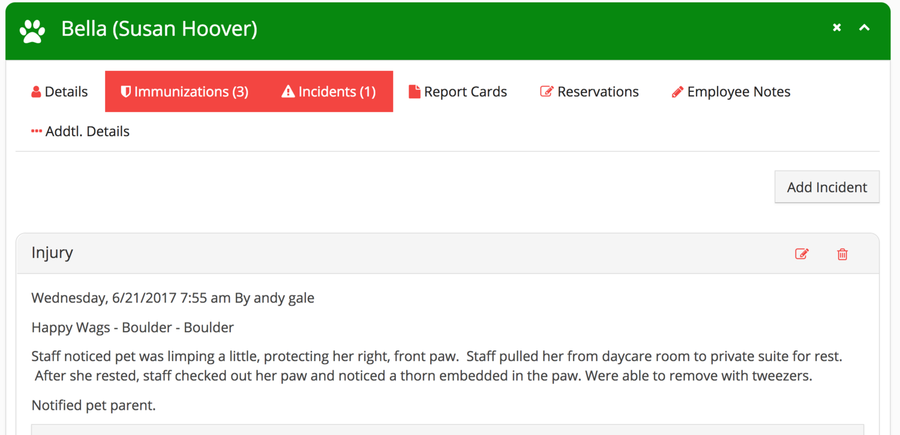 Here's a provider of pet first-aid related courses: http://www.pettech.net/programs.php
What other items do you have in your first aid kit at your dog daycare facility?
I hope this helps! - Andy
*the opinions and references provided in these blogs are meant as information, and are not endorsements of any kind.