Please note: This blog was written with content provided by Susan Briggs of Crystal Canine and The Dog Gurus, representing the Professional Animal Care Certification Council (PACCC).
With a few exceptions by state and jurisdiction, the general lack of regulation and ease of entry to starting a pet care business can lead to horror stories of pet care gone wrong - in turn leaving many customers wary of leaving their pets with anyone they don't know.
Every pet death or tragic accident that makes the news reflects poorly on everyone in the industry. Every business gets painted with the same negative perception and the profession loses trust from the public and regulators.
This can be damaging to pet-care markets, and may lead to over-reaching regulations that don't address the core needs of customers and businesses. Certified professionals can change those perceptions and rebuild that trust.
PET CARE PROFESSIONALS AND INDEPENDENT CERTIFICATION
Professional certification is one approach to establishing pet care standards and ensuring that businesses and employees have the right skills to protect pets in their care - and the industry's reputation and success. In many ways, industry self 'policing' is more preferable than government regulations, as the pet care industry can define it's standards and 'raise the bar' for all with respect to best practices.
Further, professional certification can help individuals and businesses stand out from the crowd and distinguish themselves as professionals with training and a higher level of standards - thus enhancing job-growth, customer trust and a sustaining competitive advantage.
In 2015, pet-care industry veterans Charlotte Biggs and Susan Briggs founded the Professional Animal Care Certification Council (PACCC). The non-profit organization, on a pet-safety mission, has now brought independent testing and certification to the pet care services industry. Today, pet care professionals can earn certification as a Certified Professional Animal Care Provider (CPACP) or Certified Professional Animal Care Manager (CPACM).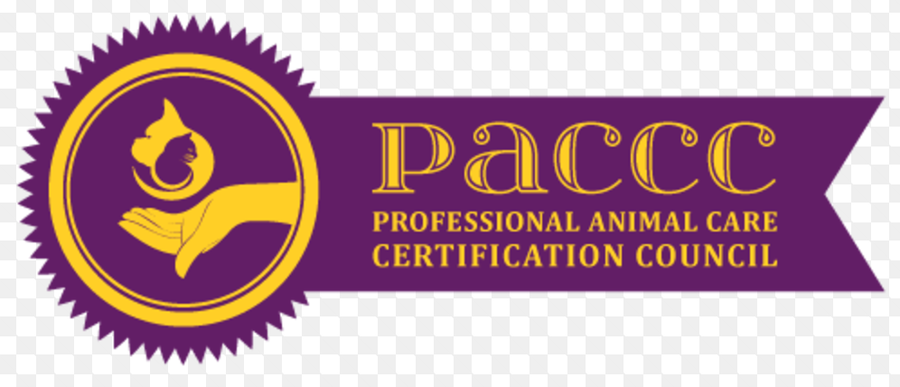 CERTIFICATION: THE VALUE OF LETTERS BEHIND A NAME
What do you think when you see MD, DVM, or Esq? For many of us, those letters distinguish an industry profession and a commitment made to be knowledgeable and ethical in providing services to clients. An MD, DVM, or Esq earns those letters not only through education and independent testing and certification.
You may be a conscientious pet care provider committed to safe pet care, but when potential customers are scrolling through Google results and pet care apps how do they know that at a glance? What distinguishes you from the crowd? Can letters behind a name help point the industry – and perceptions - in the right direction?

A professional that obtains CPACP or CPACM certification is proud to put the letters behind their name. They made a commitment and investment in education to reach the top skill levels of their industry. Their clients know their knowledge has been validated through testing.
Prospective customers will begin to recognize those 'letters behind a name' as well, and begin to value your services more highly than that of competitors that don't have certified professionals on their staff.
THE ROAD AHEAD: DEVELOPING CERTIFIED PET-CARE PROFESSIONALS

PACCC's goal is to end 2017 with over 100 certified professionals with careers in the pet care services industry (e.g., pet lodging, dog daycare, pet sitting and dog walking). Currently, there are a total of 66 PACCC certified professionals - 62 are a CPACP and 4 are a CPACM. Volunteers are hard at work writing test items for the third level of certification, Certified Professional Animal Care Operator (CPACO).
In addition to testing and certification, PACCC is committed to educating the public about professional care and certification. The PACCC board of directors includes a public representative and a committee focused on marketing the value and importance of certified pet care directly to the public. But it's the word of mouth, the grassroots effort, the power of an industry working together on a shared goal that will make the biggest difference. To learn more about certification and being part of
PACCC's pet safety mission, start by visiting the association's website at www.paccert.org.
You can also:
Become a leader in professional pet care by committing to certification
testing (the next exams are held in October, but registration deadline is
September 15, 2017).
Join the PACCC mailing list (via the website) and receive updates on
certification preparation and exam testing windows.
Volunteer to serve on one of PACCC's working committees.
And, of course, as a certified pet care professional, practice the best pet care possible, use those letters behind your name, and stand out from the crowd.