Having a website for your dog boarding and kennel business is essential in today's digital age. Not only does it provide a platform for potential customers to find and learn about your business, but it can also serve as an effective tool for booking reservations and managing customer information. Here are some must-haves for your dog boarding and kennel website to ensure that it is user-friendly, informative, and helps to attract and retain customers.
A Clear and Easy-To-Use Booking System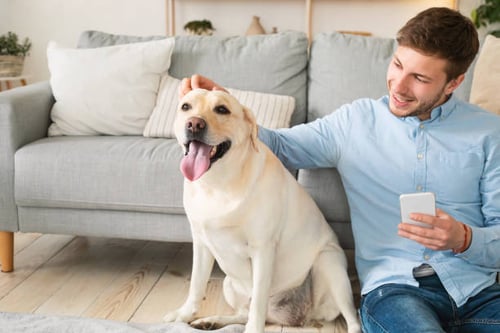 A booking system is essential for any dog boarding and kennel website. It should be simple for customers to use and should allow them to easily check availability, make reservations, and manage their bookings online. A system with calendar integration and real-time availability is best as it gives customers an immediate view of available slots without having to wait for an email or phone call. Gingr pet-care software makes online booking easy — pet parents can schedule appointments through the pet parent app or through your website 24/7.
Detailed Information About Your Services and Pricing
Customers will want to know what services you offer, what the pricing is, and what the process is for booking and dropping off/ picking up their dog. Make sure to include clear and detailed information about your services and prices, as well as any relevant policies.
Photos and Videos of Your Facility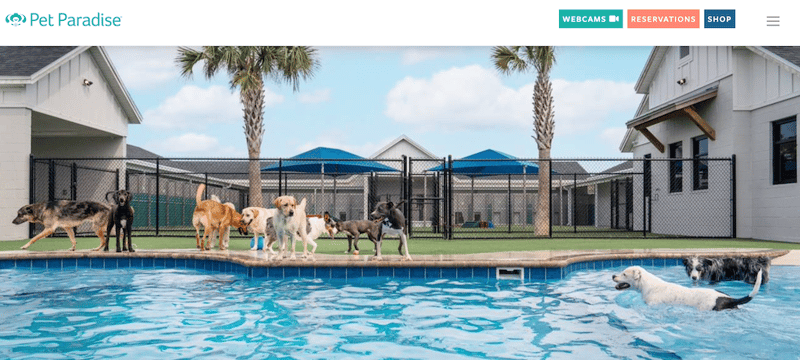 Gingr customer Pet Paradise's website features happy dogs playing in their dog-bone-shaped pool.
A picture is worth a thousand words, and that couldn't be more true when it comes to your dog kennel. High-quality photos and videos of your facilities and the dogs in your care can help to give potential customers a sense of what to expect and help to put their minds at ease. Make sure to include images of different areas of your facility, such as play areas, sleeping quarters, and grooming stations.
Testimonials and Reviews
Word of mouth is one of the most powerful marketing tools you have, and online reviews are no different. Make sure to include testimonials and reviews on your website to give potential customers an idea of what other dog owners have experienced at your kennel. Don't forget to make it easy for customers to leave their own reviews on your website and on review platforms like Yelp or Google My Business.
A Contact Form or Phone Number
Having a clear and easy-to-find contact form or phone number on your website is essential for customers who have questions or want to make a reservation. Make sure to include your business hours and the best time to reach you.
Mobile-Friendly Design
In today's digital age, more and more people are accessing the internet on their mobile devices. Make sure your website is mobile-friendly and easily navigable on a smaller screen. This will ensure that potential customers can easily access your website and make bookings, even when they are on the go.
Regular Updates and Blog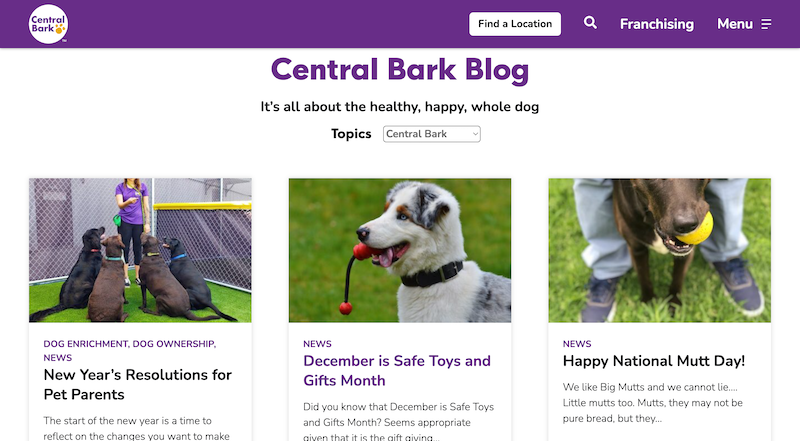 Gingr customer Central Bark has an informative and regularly-updated blog to engage new and existing customers.
A blog is a great way to keep your website fresh and engaging. Regular updates can include posts about your dog, news and tips on how to take care of them and other related topics. Not only will this help to attract new visitors to your website, but it will also provide valuable information to your existing customers.
By including these must-haves on your dog boarding and kennel website, you can ensure that it is user-friendly, informative, and helps to attract and retain customers. Remember that your website should be a reflection of your business and that by making it easy for customers to book, learn about your services, and leave feedback, you are more likely to see repeat business.