Pet care businesses can benefit from establishing recurring subscription payments for dog daycare services.
Recurring, or 'subscription' payments are automated, scheduled credit card payments for services. Just as with the magazines, recreation memberships and software subscriptions, pet-care services can offer 'subscriptions' to customers for doggie daycare. One-time setup of a series of payments from your customer increases your customer service level and creates recurring, low-transaction cost revenue.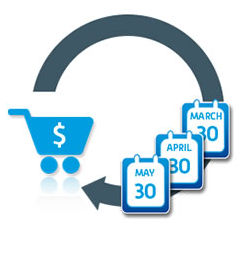 Benefits of recurring billing:
Ease for customer

Fewer, yet higher-value transactions

Less errors

Low-transaction costs - save on per-transaction processing fees, less staff time.

Increase retention
Any payment service that adds value to the customer is a win-win. The customer feels less 'transaction pain', and so does your business. Save your customer time, and they'll a sense of great customer service.
With fewer transactions, you are saving staff time, leaving less chances for errors, and you will pay less per transaction-fees.
Examples of recurring billing in dog care businesses:
Renewable monthly day-care package
Memberships
Payment-schedule for group class or multiple months of private lessons
One risk of recurring billing is losing some 'touch' with your customer. Use your time saved partly to ensure engagement with these customers. Ask them how they are liking your services and thank them for their regular business.
Take a look at how you might establish recurring billing into your services. Many of your customers will love the convenience, and you'll enjoy the steady stream of 'easy' income.
What recurring payments are you considering?