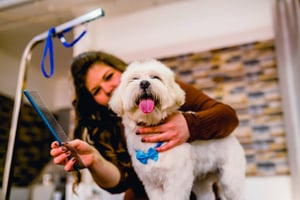 From preparing for a holiday rush to streamlining your day-to-day management, Gingr's features can make a big difference for your pet-care business. Gingr offers a wide range of features to maximize your revenue (and time), including:
Customer Management
Payment Processing
Appointment Scheduling + Facility Management
Communications
Pet Parent Mobile App
In this guide, we'll look at five important features to manage your business and delight your customers.
Customer Management Software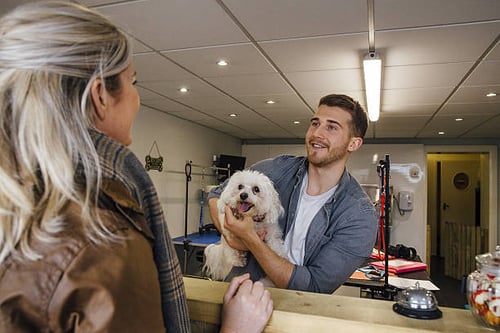 As a business owner, you're not just grooming dogs—you're also serving clients, managing people, and growing your business. That's why having software with customer-focused tools is essential to keeping your business organized and growing.
Customer management software helps you manage your customer data in a single place. Gingr safely stores pet parent and pet details, including:
Pet owner contact information
Visit history, past interactions, and other details
Pet information
Groomer and staff notes
Vaccination history
Pet owner communication preferences
For example, you could store information about a dog's skin sensitivity or the pet parent's preference for a puppy cut. Having this information readily available helps you anticipate customer needs and better communicate with your customers. Pet parents love when your staff remembers preferences from visit to visit!
Payment Processing Software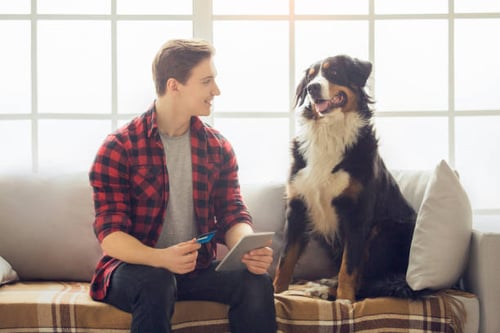 Say farewell to counting the cash register drawer! Gingr Payments can help you quickly and accurately take and track payments for all of your pet grooming business's services.
With Gingr Payments, you can:
Collect payments online and in person
Accept mobile payments

Offer packages online and in person

Store card information on file

Offer pre-pay deposits

Send invoices to customers
Report on monthly revenue and expenditures
Increase tips to your staff
Offer loyalty program rewards and discounts
With PCI-compliant, point-to-point encryption, you never have to worry about data security. Customers can safely keep encrypted payment options on file.
Appointment Scheduling Software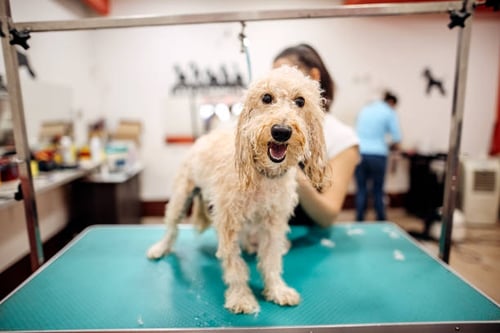 Managing your schedule is essential for keeping your business organized and ensuring that you can accommodate your busy customers.
But have you ever found yourself wading through your physical planner, trying to decode your own messy handwriting?
Gingr's appointment scheduling software automates scheduling, so you won't find yourself in a position where you've double-booked a husky and a poodle for the same grooming appointment.
Gingr's facility calendar makes it easy to:
Set up week-to-week or repeating schedules for each groomer.

Manage time-off requests.

Block out availability.

Manage multiple appointment types for different groomers, like time-based or slot-based drop-off appointments.

Add grooming services to boarding and daycare reservations with drag-and-drop calendar features.

Track your appointment schedule automatically.
Set the length of appointments according to the services provided.
Allow customers to schedule appointments from available time slots.
Send reminders to both staff and customers about upcoming appointments.
Schedule recurring appointments for loyal customers.
Communications Software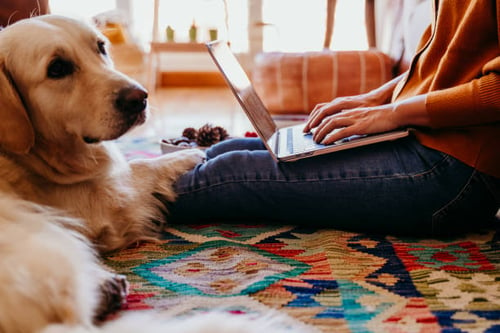 Communicating with your customers and staff is a crucial part of any business—and pet grooming is no exception. With Gingr, you can quickly and easily contact customers with:
Automated email and SMS reminders
Picture and text messaging
Targeted marketing emails and texts
Gingr's built-in email and SMS marketing features make you an expert marketer in minutes. Use pre-made and custom filters to segment customers into target groups, so the right people get the right message at the right time. Custom email templates engage customers and keep them coming back.
With Gingr's communication features, your imagination is the limit. For example, if you offer a dog daycare in addition to your grooming services, you could send real-time updates to pet parents on how their fur babies are doing. You can also send news about sales, event marketing, invoices, and newsletters to hyper-targeted audiences.
Pet Parent Mobile App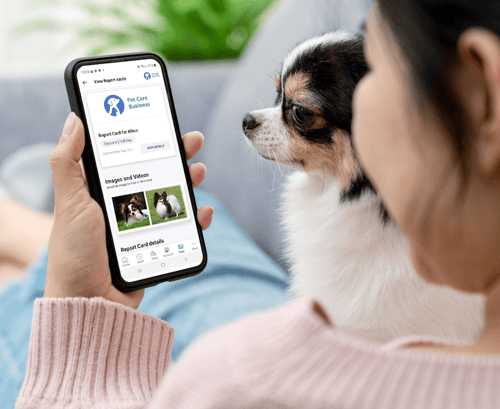 Give your pet parents the gift of accessibility and speed.
With the Gingr for Pet Parents app, pet parents can easily book from the app, update their profiles, upload vaccinations, manage agreements, pay and view their invoice history, and much more.
The Gingr for Pet Parents App is included with every subscription for free in the Apple and Android app stores.
---
No matter what dog grooming industry trends pop up next, integrating Gingr's all-in-one pet-care software into your business operations is an investment that will help your business for years to come. Essential, modern tools like secure digital payment processing and reporting features, the adaptability to help you collect data while engaging with customers, and streamlining operations will support your growth now and in the future.
Additional Resources
Ready to leverage these trends to drive revenue and make your dog grooming business more efficient? Follow these additional resources to learn practical skills and impactful tools made for your pet-care business: