This is a guest post from Gingr's partner, Broadly.
It's that time of year again when staffing challenges seem to come out of nowhere and hit businesses hard. Without the right staff, businesses can quickly fall behind, miss opportunities, and lose money, but have no fear!
Here, we share a few recommendations for our pet-care business owners to avoid staffing challenges during the summer months and some ways you can try to reduce end-of-summer turnover and staffing shortages.
Summer staffing challenges: Are they avoidable?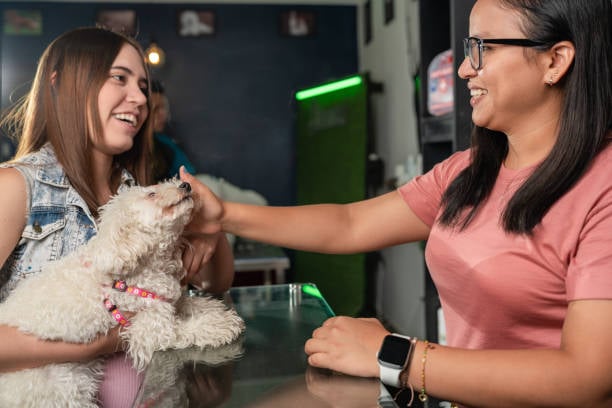 The end of summer can be difficult for several reasons. Teenagers and college students return to school. The economy is facing labor shortages. Many families take vacations before the kids go back to school or take time off to prepare for the new school year. The list goes on.
But there are ways you can cope and keep your furry friends coming back to your business again and again. Let's take a look at some of them now.
Rework your hiring approach
If your staff is always quitting on you, it might be time to take a long, hard look at your hiring processes. Are you attracting the right candidates? Are you finding people looking for a long-term situation and aren't going to just up and leave tomorrow? There are many ways to change your hiring approach so that you can start finding more reliable job seekers.
One way to do this is by using behavioral interviewing techniques. This interviewing approach focuses on finding out how the candidate has behaved in past situations. This gives you a good idea of how they will act in similar circumstances in the future.
Another way to change your hiring approach is to offer more competitive wages and benefits. If you are paying below minimum wage, you might be attracting employees who are only looking to work for the short term.
With Gingr's employee management feature, you can keep your finger on the pulse of your team, from staff scheduling, time-clock tracking, daily checklists, and to-do lists to keep an eye on how your staff is performing and note any chronic strugglers that might be getting ready to jump ship.
Incentivize your employees
Negotiate with top talent to see if there's a suitable way to keep them on your staff. Take time to chat with the employee and understand their specific needs. It might be as simple as changing or reducing their work hours.
If the employee excels at their job and you have the room in your budget, you might consider giving them a raise. It's not easy to find top talent, and in today's competitive job market, it's essential to reward high performers.
You can track how your employees perform at your other locations by tracking your reputation management and reviews across locations with Broadly's team reporting features. With these insights, you can encourage and recognize your top-performing team members so they feel supported and motivated.
By offering better pay or perks, such as tip collection, you can start attracting higher-quality job seekers looking for a long-term opportunity and feel incentivized to do a good job. Track tipping so you can share the money-making potential with employees via tools like Gingr's tip reporting feature.
If the budget is tight, perhaps you can work out non-monetary perks that may entice them to stay. For example, in the pet-care industry, some companies offer employees the chance to bring their pets to work. This helps with employee morale and can be a significant perk for pet owners.
Keep a pool of potential hires' contact information
Maintaining relationships is an easy way to keep a pool of qualified candidates to tap into when you lose an employee. When someone leaves your pet-care business, take the opportunity to stay in touch with them via LinkedIn. This way, they can easily contact you if they ever want to come back or know someone who would be a good fit for your organization.
In addition to staying in touch with former employees, hold onto resumes for people you have interviewed in the past. Even if they weren't the right fit for the job at the time, they might be a good fit for a future position. Strong networks will help you develop a list of potential candidates for the next time you are looking for a new team member.
For instance, if you run a dog grooming business, and you have a good rapport with all the local dog groomers, you can easily ask them for referrals when you're looking to hire.
If you can't keep 'em, make things easier with tools
Hiring processes can be frustrating, to say the least. You have to review many applications, communicate and follow up with prospective employees, and constantly be on the lookout for top talent.
Imagine if you didn't need to hire new staff in the first place! Automating many of your customer service processes can reduce the need to hire another team member or replace one that you've recently lost.
Tools like Broadly's inbox feature help streamline communications with customers and leads while automated review requests eliminate the need for manual follow-ups.
Why hire a new employee to schedule appointments when you can use Gingr's online scheduling feature to allow your pet parents to book with you fast and easy, right from their mobile phones?
As a business owner, losing an employee can be frustrating, particularly at the end of summer when many employees leave at once. Protect your bottom line with automation and technology that can help you do more with less while protecting your precious resources.