Like a lot of pet-care business entrepreneurs, Katie Leno, the owner and operator of Katie's Kennel, an overnight dog boarding business in Omaha, Nebraska, didn't necessarily plan on turning her passion for dogs into a full-time business.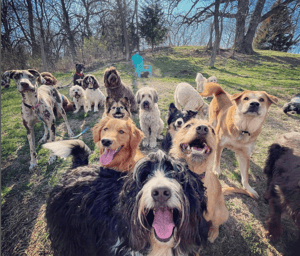 "I started my business 10 years ago in my living room," Katie says. "I started watching friends' dogs on the weekends while I was in school and waiting tables. Slowly, I gained more customers and word of mouth spread. Three years later, I quit the full-time job I'd gotten after graduation, and went into running Katie's Kennel full time."
When Katie's business grew to the point where she had up to 60 dogs in her care at any one time, she knew managing her operations with just a pen, paper, and notebooks was no longer sustainable. She didn't just need software that would help transition her business to a digital model, she needed pet-care software that was designed with larger businesses in mind.
And, while there are a number of pet-care software on the market, what stood out to Katie about Gingr was the user interface, and how navigating the features was similar to the social media platforms she and her staff used every day.
"I wanted something similar to Facebook for keeping track of my clients and Gingr was the first pet-care company to grasp that view," says Katie.
Gingr's customization tools and features are endless, but Katie's favorite remains the individual pet profiles, which help her create a more personalized experience for pets and their owners. Each pet profile includes the pet's photo, notes about the pet's personality, and feeding instructions, among other things. With so much information at her staff's fingertips, they can quickly get acquainted with each pet and make their overnight stay as close to home as possible.
Today, Katie's Kennel is so popular that her pet-care business is booked solid for the next four months! It's a great problem for a business owner to have, and she's already working to expand her overnight boarding capacity so she can continue serving the pets in her community.
"We are one of Gingr's earliest subscribers and it's been so fun to watch Gingr grow as our business grew too," says Katie. "We've gone from taking 1-3 dogs a week to having 25-60 overnight, every night. We are currently in the process of buying the house next door to us that has 5 acres and opening a second location!"
Katie has achieved what so many people who are passionate about pet care dream of: She turned her love of animals from a side-hustle into an ever-growing business, and she manages it all with Gingr!
"Gingr has helped us run our business efficiently and smoothly throughout our entire growth," Katie says. "They helped me turn my mom and pop business I was running out of my living room into a professional, trustworthy, reputable overnight boarding option for our town."