As the owner of a dog daycare, you've seen first-hand the bond between canines and their human companions. Throwing a dog-friendly event is a fantastic way to foster this connection, encourage camaraderie amongst your clients, and promote your business in a unique and engaging way. In this blog post, we'll guide you through planning and executing a successful event that is not only fun for dogs but also enjoyable for their owners.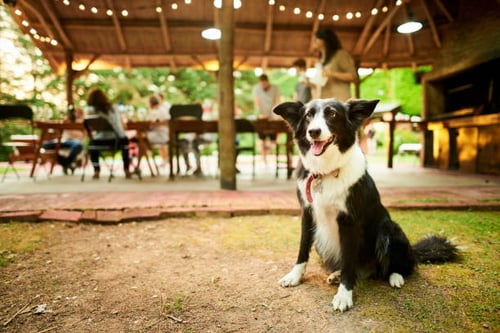 1. Choose the Right Type of Event
The type of event you choose should ideally cater to the diverse clientele that frequents your dog daycare. You might consider a 'Puppy Party' for younger dogs, a 'Senior Soiree' for older canines, or a 'Bark-B-Q' for a fun-filled summer event. Remember, the goal is to create an atmosphere that dogs and their owners will enjoy.
2. Plan Carefully
As with any event, careful planning is key to success. Select a date well in advance and check that it doesn't clash with major holidays or local events. Make sure your facility has the capacity to handle the number of attendees you anticipate. Safety should be a top priority, so ensure you have enough staff on hand to monitor and manage the dogs.
3. Provide Ample Entertainment
Engage your furry guests and their humans with a variety of activities. You might include agility courses, a 'best trick' competition, or a doggy photo booth complete with fun props. For human attendees, consider arranging talks or demonstrations about dog care, training, or nutrition.
4. Serve Suitable Snacks
At any event, food and drink are always a hit. Provide a selection of dog-friendly snacks and treats, ensuring you have options for those with dietary restrictions. For human guests, consider catering that offers a variety of options, including vegetarian and vegan choices. Always make sure that human food and drinks are kept well out of dogs' reach.
5. Create a Relaxation Area
Having a dedicated area for relaxation can help dogs who might be overwhelmed by the crowd or noise. Provide a quiet, comfortable space with water and comfy beds where they can retreat and decompress if needed.
6. Remember the Essentials
Ensure there are ample waste disposal facilities and bags available. Keeping the event clean will make it more pleasant for everyone. Also, have a first aid kit handy and staff members trained in canine first aid.
7. Promote Your Event
Promotion is key to the success of your event. Use social media, newsletters, local pet businesses, and your website to spread the word. Consider creating an enticing event poster and a catchy hashtag for social media sharing.
8. Encourage Adoption
If possible, collaborate with a local shelter to highlight adoptable dogs at your event. This can promote a good cause, and who knows, some dogs might find their forever homes!
9. Capture the Moment
Hire a professional pet photographer to capture the day's highlights. Photos can be shared on social media and given to attendees as a keepsake.
10. Show Your Appreciation
Send your guests home with a small token of appreciation, like a doggie bag filled with treats, toys, or discount coupons for your services. This not only shows your gratitude but also encourages return visits to your daycare.
Throwing a successful dog-friendly event at your dog daycare requires thoughtful planning, creative ideas, and a love for dogs. By following these steps, you'll create an unforgettable experience that celebrates the joy of canine companionship and showcases your business as a pillar in the pet-loving community. Happy planning!
Did you know Gingr can take hours off adminstrative time? Contact us now for a demo!