For Barry Vonada, owner of Ruff Ranch KC, few things are better than seeing how excited his four-legged customers are to arrive at his Shawnee, Kansas, dog care and pet boarding facility, where they enjoy a spacious two-acre facility.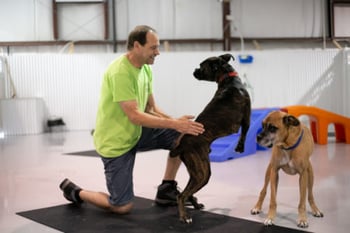 But these pups aren't the only ones who have reason to celebrate. Barry has created such a great customer experience at Ruff Ranch, and his business is running so efficiently, that he just celebrated his 1000th client! Barry was able to achieve all of this in just a year with Gingr's pet-care software in the background running the show.
"We opened a year ago on February 1st," says Barry. "Last week we just celebrated our 1000th animal through the doors! We are a family-owned business and our customers love the attention we give to their family fur babies. We don't spend any money on advertising as our customer referrals and word of mouth are continually bringing in new customers."
Barry's 18 employee-family-owned business is the talk of this western Kansas City suburb. So what made Barry decide to trust Gingr with his pet-care business needs?
The way Barry puts it, "I previously had experience with Gingr's software, and I ultimately chose the software for my own company for the value versus the features offered."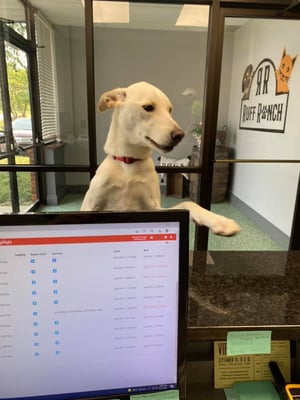 One of the most useful features Barry has discovered with Gingr is the software's easy-to-execute reporting features.
"Some of the reporting functions allow me to easily see the revenue history by different accounts," says Barry. "When I view reports this way, I can estimate future business."
Pet-care businesses are busy places, and it's easy to get lost in the day-to-day details when business is booming, but as Barry knows, accurate business planning and forecasting is essential to support long and short-term growth and goals. Using Gingr's reporting feature helps forecast hiring needs, adjust supply levels, staffing, and more. These detailed reports ensure his business runs smoothly all year long.
Barry is thrilled with the impact Gingr has had on his business.
"Gingr has allowed us to focus on running our business and attending to the dogs (and cats) we care for!" says Barry.
Spending extra time engaging with customers and their pets has really paid off for Ruff Ranch. To date, Barry hasn't spent a single dollar on marketing because these one-on-one interactions have helped him build relationships with his customers that have translated into a business that has grown organically through customer referrals!
How does he do it all? With Gingr!