Nyssa Gatcombe, the owner and head trainer of Magic of Paws, offers a little of everything at her North Yarmouth, Maine, pet-care business. Whether her clients need resort boarding, daycare, dog training, walking services, grooming, or in-home pet sitting, there's no task too big or too small for Nyssa and her staff.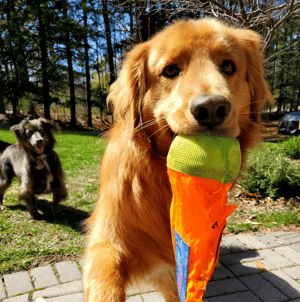 Nyssa started Magic of Paws in 2017 when she was let go from her corporate job while out on disability. And while it wasn't exactly the way she envisioned starting a new company, her new business venture quickly took off. Just two years after starting Magic of Paws, she was able to expand her business by purchasing a pet resort.
The purchase of the resort allowed Nyssa to offer new on-site services and membership tiers for her most popular offerings, but expansion wasn't without its challenges. Managing all of her pet-care business's new features required a pet-care software that was designed for pet-services entrepreneurs just like her.
"After we purchased the resort, we needed a software that could be used with all of our new services," explains Nyssa.
With Gingr's pet-care management software, Nyssa can do more with her business. She can create multiple membership tiers for her clients and offer them tons of add-on options when they book services like grooming, boarding, or in-home visits.
The membership business model, in particular, is a real asset to a growing business like Nyssa's. Membership business models create predictable recurring revenue streams. They're great for pet-care businesses because the membership business model works in industries where the client is likely to book repeat visits over an extended period. In other words, it's perfect for dog training, daycare, or at-home check-ins for busy pup parents.
With Gingr, Nyssa manages all three of her memberships from the same all-in-one dashboard that stores everything from vaccination records to the belongings a pet brings with them during their boarding stay.
She also appreciates that Gingr's software allows her to create easy hacks or workarounds, which allows her to solve problems like tracking various team member specialists across different service areas.
"We do a lot of workarounds to make the packages work with most of our services," says Nyssa. "We can track multiple specialists across multiple services to streamline everything."
Gingr brings all aspects of Nyssa's business together on one easy-to-use platform, and she couldn't be happier with her business's growth thus far.
"We have seven employees now, and Gingr has given us the systems that have enabled us to grow our business 5x over the pandemic!"
With Gingr, Nyssa and her team at Magic Paws can do it all!