As a pet-care business owner, keeping track of industry trends is important. Trends can help predict where consumers will spend money, which products or services they are likely to spend higher dollar amounts on, and which services your customers may be less likely to purchase.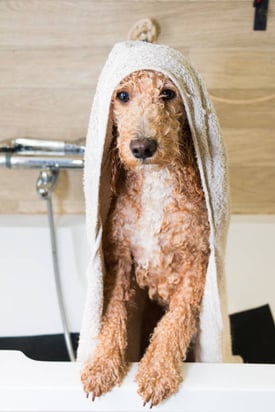 Knowing more about where dog grooming industry trends are headed can help pet-care businesses make the best decisions and adapt to market changes so they can continue to stay ahead of the competition, while also meeting customers' evolving interests.
If you have an established pet-care business, or if you own a business that has grown into multiple locations, by now you've seen your fair share of trends come and go. You've also experienced the way the Covid pandemic has accelerated these changes as more and more people bring pets into their lives, and at the same time, devote more of their paycheck to their pets' care and wellbeing.
To help you navigate the most important pet care industry trends, we have put together an easy-to-follow guide that includes:
Grooming Industry Trend 1: The Dog Grooming Industry Spending Is Booming.
Grooming Industry Trend 2: Dog Ownership Is Increasing Among Millennials.
Grooming Industry Trend 3: More Owners Want Daycare Options for Their Dogs.
Grooming Industry Trend 4: Dog Owners Care About Their Pet's Health.
Grooming Industry Trend 5: Dog Owners Want High-End Products and Services.
Grooming Industry Trend 1: Grooming Industry Spending Is Booming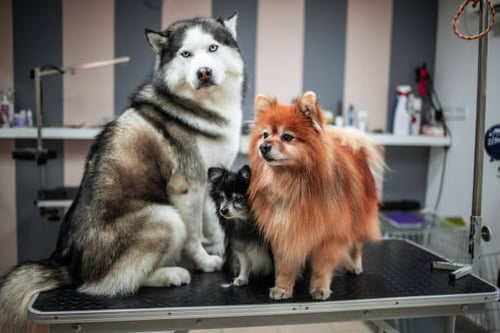 Here is an astounding statistic: The pet grooming industry is expected to reach $5.49 billion by 2025.
Pet grooming is a field that is constantly expanding. What used to only include dog baths and nail clipping now includes coat detangling spray, skin-specific shampoos and conditioners (like eco-friendly, organic or "no-itch" formulas), massage oils, teeth cleaning products and paw pad care. And, don't forget grooming accessories like ribbons, bows and dog bath robes for quicker coat drying.
The more pet parents look for useful (and fun) ways to pamper their pets, while also meeting their grooming needs, the more the dog grooming industry will continue to grow. In fact, over the past decade, the amount of money Americans spend on pets has more than doubled!
To keep pace with this incredible industry growth, more and more dog groomers are turning to Gingr's pet-care software to help them manage online appointment booking, staff scheduling, and customer-favorite features like contactless check-in and automatic payments. Using a grooming software that saves you time, reduces staffing costs, and gives your customers the best doggone experience possible is what Gingr does best.
Grooming Industry Trend 2: Dog Ownership Is Increasing Among Millennials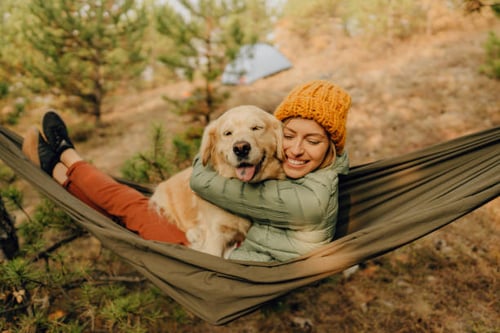 Millennials are the largest age group of pet owners in the US, with 32% of them owning at least one. Baby Boomers are the second largest group with pets in their home (27%). And Gen Xers = 24%. Gen Zers = 14%. Not only that, but Millenials are also putting off having children longer than their parents or grandparents, and instead opting to get a pet.
Baby Boomers, the age group with the next highest level of pet ownership, tend to own more companion animals as they become "empty nesters," looking to "fill the nest."
Knowing the age demographics of your current and prospective customers empowers you to target your marketing efforts to the groups most likely to embrace pet ownership, and the most likely to spend money on their fur babies. And, using pet-care software that utilizes a Pet Parent Mobile App, is a feature younger pet owners, like Millennials, will appreciate.
The Gingr Pet Parent Mobile App lets owners easily book grooming appointments and da care or boarding reservations, update their profiles, upload vaccinations, manage agreements, pay invoices, and view their invoice history — all from the app!
Grooming Industry Trend 3: More Owners Want Daycare Options for Their Dogs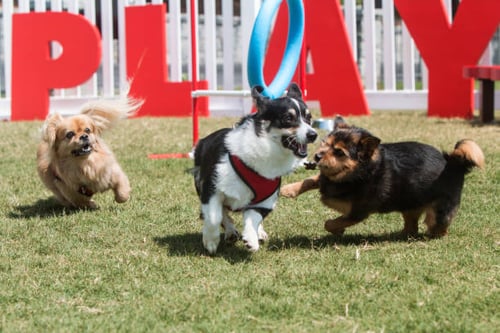 In 2021, growth in owners who use doggy daycare services: increased from 22% to 28%.
Another impactful pet-care industry trend that business owners should follow is the rise in demand for dog daycare. With more and more pet parents returning to the office, owners are looking for ways to keep their pups entertained, while also getting the exercise they need, during the day.
While increased demand for daycare may not directly affect groomers, it could be offered as an add-on service to increase revenue. Pet-care businesses who position themselves as a "one-stop shop" for grooming and daycare are attractive to pet owners because it saves them multiple trips around town.
Grooming Industry Trend 4: Dog Owners Care About Their Pet's Health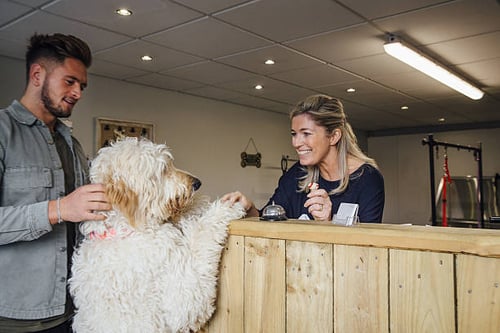 It's no secret that dog owners care about their furry friend's health and well-being. This trend gained speed when the pandemic brought people and their pets even closer.
Interestingly, 45% of American pet owners spend the same amount of money or more on the healthcare needs of their pets than they do on themselves. A crucial component of a pet's health is the care of their coat, particularly for dogs with fuzzy, curly or long coats that require specific grooming tools to maintain
Good grooming isn't just great for a pup's coat. Regular trips to the groomer can help prevent infections in the eyes, mouth, and ears.
To help meet the consumer demand for these services, you may consider framing some of the grooming services your pet-care company offers as "wellness" services.
Grooming Industry Trend 5: Dog Owners Want High-End Products and Services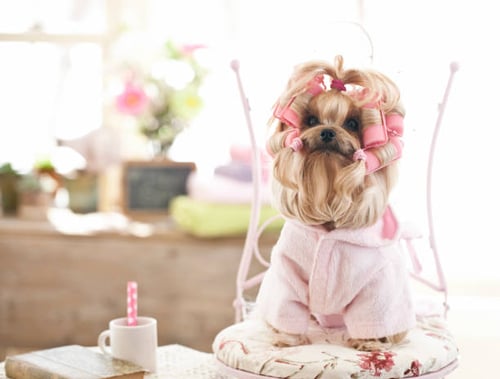 The global pet clothing market size was $5.01 billion in 2020. But pet apparel, items like dog sweaters, themed shirts, designer pet collars, leashes and other accessories, make up just a slice of the market loosely called "high-end pet products and services."
Today's savvy pet parents are also interested in:
Full-service pet spas: including shampoo and conditioning, ear and eye cleaning, flea and tick cleaning, and paw massages. Dog grooming industry trends now also include colorful pet-coat dying to match pet outfits, dog facials, therapeutic mud treatments and paw pedicures.
In an effort to elevate their offerings, some pet-care business owners have separated their services into two categories: 'Health & Wellness' and 'Signature Dog Grooming.'This way, they can target two customer segments.
Organic products: i.e., non-toxic and without harmful chemicals for sensitive skin. Pet beauty products made with natural, plant-based ingredients continue to gain in popularity as owners try to bring their eco-conscious values in line with those they use on their pets.
Luxury products: Designer brands and items like dog colognes, or deodorizing pet spritzes, as they are sometimes called, are also on the rise. This is especially true for pets who have a strong social media presence and whose owners want to match the brands they wear with those worn by their pups.
In addition to these pet industry trends, according to a poll by OneVet, "93% of pet owners buy at least one gift for their pet, millennials are most likely to purchase five or more."
The same study found that "Of the pet owners surveyed, nearly 71% say they spend between $1 and $50 on their fluffy friends during the holidays, about 23% spend more than $50, and 6% spend more than $100."
How does this impact your pet-care business? Given this level of pampering, adding seasonal high-end "giftable" services that pet owners can purchase for their dogs like a fall pumpkin bath or paw treatment can give you another way to boost revenue, and absolutely wow your customers.
You could also expand your holiday retail offerings by including pet ornaments, snowman or reindeer stuffie toys, and gingerbread pup cookies. If pet parents are eager to spend money on their pets during the holidays, providing unique buying opportunities is a must.
Adding new online and in-store inventory items for Halloween, Thanksgiving, Christmas, or any other holiday is a cinch with Gingr's retail sales tools. Barcode scanners make adding pet gifts to any reservation easy. You can also track inventory and analyze profits for each item to see sales trends.
Wrapping Up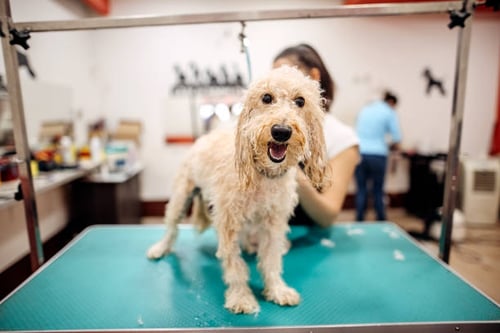 Taking time to reevaluate your dog grooming business's current products and services to ensure you're offering your customers items that are in line with industry trends is important to stay ahead of the competition. Tracking this business data not only keeps your customers happy, but it allows you to see where your pet-care brand fits into larger trends, and where there may be places for improvement.
No matter what dog grooming industry trends pop up next, integrating Gingr's all-in-one pet-care software into your business operations is an investment that will help your business for years to come. Essential, modern tools like secure digital payment processing and reporting features, the adaptability to help you collect data while engaging with customers, and streamlining operations will support your growth now and in the future.
Additional Resources
Ready to leverage these trends to drive revenue and make your dog grooming business more efficient? Follow these additional resources to learn practical skills and impactful tools made for your pet-care business: