Gingr CEO Michelle Ober joined Joe Zuccarello, president of the Paragon Pet School for Grooming, and the Professional Animal Care Certification Council (PACCC) on the webinar "The Future of Pet Grooming" to discuss the importance of managing a pet grooming business efficiently and effectively.
Manage Your Time Strategically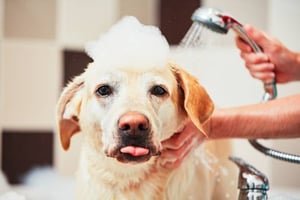 Management is crucial when it comes to running any business. The success of a business's operations depends on many factors, including how efficiently a team utilizes its time available. For dog-grooming businesses, time management should be a priority. The amount of time, or open appointment slots, your business has in one day determines how much business you're generating that day. A great way to save time and encourage customer retention is to get your customers to rebook before they leave their current appointment.
As a business owner, it is also important to have a good workflow. A common mistake is that business owners are too focused on filling appointment slots first, with their attention going to pets next and pet owners last. However, this workflow should be reversed. Start with the client first. Confirm that all of the client's information is correct within the system, and then move on to the pet that is booked for that slot. If you have a good understanding of the client and pet, then you will be more prepared for the day's outcome.
"If you start your day well, then you have a higher chance of ending it well," said Joe Zuccarello.
For grooming producers and staff members, there may be days packed to the brim with appointments, and then there may be days where your staff is struggling to fill open slots. There is no perfect solution to time management, but remember that there are software solutions out there that can help make your team's daily tasks easier.
Sell the Value of Pet Grooming
Another important factor that every business needs to consider? The financial cost and value behind its operations. Pet grooming is a limited resource, and it is a skill that not everyone can do.
The success of your pet grooming service is based on the revenue and profit that is generated from it. There are customers who bring their pets in regularly, but unfortunately, there are also customers who only bring their pets in when it is absolutely necessary.
"At the end of the day, not all pet parents will listen," said Michelle Ober, CEO of Gingr.
For customers who rarely come in with their pets, it is especially important that you sell the value of your service. For example, some pet grooming businesses have made it mandatory for customers to commit to recurring appointments if they want the business's services. There are benefits to this for both parties. For the business owner, committing to recurring appointments ensures continuous business and success for your groomers. For pet owners, it ensures that their pet stays healthy.
Although some pet owners will never understand the importance and value of pet grooming, give them a plan and make it simple. If you give them a reason to bring their pets in for more visits, then you also increase your ability to generate revenue and profit.
Setting up for Long-Term Success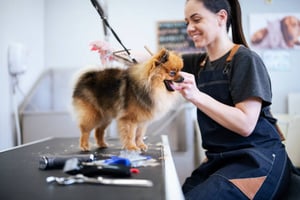 There are various ways to ensure the long-term success of your pet grooming business, but one important consideration to keep in mind is the number of your grooming producers and the capacity they have. Understanding your groomers will assist with time management, financial budgeting, and the overall health of your business.
A few factors to look at which can help you know your producers:
Number of hours each producer needs per grooming session
Number of appointments they complete per day
Amount of revenue they are responsible for generating
Once you understand your groomer's capabilities, you will be able to help them reach their highest potential. An efficient team of groomers leads to a successful pet grooming business.
There are a lot of unpredictable and uncertain moments throughout the day when it comes to managing a pet grooming business. However, there are many tools and strategies that can help ensure the success and health of your business and team members. Although the future is uncertain, there is most certainly room to grow in the pet grooming industry.