Elizabeth (Liz) Sines opened Wash n' Woo & Co Groomery in January 2021. Since then, she has led a team of four groomers and has loved the journey! With over 35 years of working with dogs, horses, and children, Liz brings plenty of experience and is extremely passionate about every four-legged friend she meets! Her favorite aspect of grooming is being able to use her extensive experience to mentor other groomers on advanced skills and breed trims.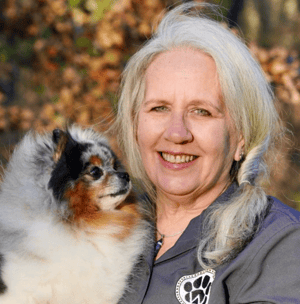 Over the years in the pet-care industry, Liz has had many roles, ranging from receptionist to her current position at Wash n' Woo. During her time at a multi-location pet-care business, she was introduced to Gingr and has loved it ever since. "I was introduced to Gingr in a new management position for a company that had multiple locations as well as a central booking staff. The company was just transitioning to Gingr so all of us were new to the system and learning it together. It was by far, after learning its ins and outs, one of the best systems I had used, and was very easy to train others to use too," says Sines.
When Liz opened Wash n' Woo, she decided to do her due diligence on pet-care management software, but nothing compared to Gingr. Liz remarks, "I trialed a few newer programs that I had heard good things about, but still compared to what I knew Gingr could do for me, there were weaknesses in the others that further confirmed Gingr was the right program to run my business with!"

When asked about her favorite Gingr feature, Liz replies, "I love the way the grooming worksheet is designed. It allows you to see the notes and charges at a glance. The worksheet is easy to update, and we often add pictures to the notes so all of our grooming team can offer the clients the same product with just a glance at the pet's profile." Liz's customers are often commenting how impressed they are with their level of professionalism and efficiency!

Gingr gives Liz and her team of groomers the confidence they need to organize record keeping, tips, and financials. She can easily share her financials with her accountant, who has reported that she also loves its capabilities! "As the owner, Gingr has cut the business end of the business work in more than half, and I can focus more on mentoring and grooming instead of the constant recording of daily receipts," says Sines.
Because of Gingr's ability to automate reminders for grooming appointments, Liz's customers have been able to maintain a consistent grooming schedule. Automatic reminders are mutually beneficial - they help clients stay on schedule and guarantee recurring revenue for the groomery.

Ulti-muttly, pampering pets has never been easier with Gingr software!