In 2016, when Steve and Marie, along with their VP of operations, Alex Varney, opened Pinnacle Pets Play & Stay, they fulfilled a dream of opening a pet-care business. Before they opened their business, they knew their core business value was to provide pet owners with a safe and reliable place to take their pets for grooming, training, daycare, and overnight boarding.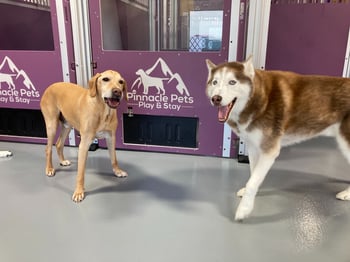 Shortly after the team opened Pinnacle Pets, one thing became clear: Trends in the pet industry moved quickly, and to keep up with evolving pet parent needs and requests, they needed a pet-care management software with features that could keep pace with changing industry trends. When it came to considering Gingr as the tool to organize their business, one thing stood out to Alex: the software's incredible flexibility.
"We researched a lot of different programs, but Gingr always stood out as the most flexible with constant changes and feature updates that grow with us!" says Alex. "It also seemed to be the most user-friendly. We have continued to keep an eye on the competition, but still, we always choose Gingr!"
There are a lot of Gingr features that help the team at Pinnacle Pets do their jobs quicker and easier, but one Alex depends on day-in and day-out is text messaging, or SMS. Business operators like Alex understand that today's world runs on SMS, so he uses this nimble feature to provide his customers with another convenient way to communicate with his business.
"We recently took advantage of SMS," he says. "We're in love with the quick and easy communication. I love how flexible it is. I can solve a problem or point of confusion in a million different ways. It opens up new doors and possibilities for an ever-changing business!"
Leveraging SMS can be one of the most powerful tools a small business has, allowing businesses to instantly communicate with customers—and receive quicker responses than email.
But, one of the biggest impacts Gingr's pet-care management software has had on Alex's business is helping the company save money by improving customer communications, and, by extension, the customer experience.
"We lost so much money our first few years by not utilizing a lot of Gingr features," says Alex. "Many of the Gingr features and capabilities really helped us solve a lot of the revenue leaks. As with anything, communication is always a key problem, but with Gingr's automatic emails, easily customizable templates, and note sections, we have a much easier time tracking and sharing communications. It solves a lot of everyday problems every day!"
Alex can't say enough about the way Gingr has improved operations at Pinnacle Pets.
"Gingr has been a great learning tool. Not only has it been helpful to learn how to best match it with our business goals, but I love that it grows with us and has the capability to match all of our initiatives!" says Alex. "It also helps us more efficiently communicate with our customers, which saves us labor hours, confusion, and misinformation."
For Pinnacle Pets, this improvement has translated into enormous growth for the company. What started as a 15-person team in 2016, is now 32 employees strong, with countless happy customers who continue to be wowed by the team at Pinnacle Pets.
Way to go, Alex!