With two locations on the Upper East Side, almost twenty employees, and thousands of pet-loving clients, Bark Place NYC was already one of Manhattan's most successful pet grooming salons when longtime employee Charles Winters purchased the business from his former boss, Jane Moss. But, as Charles will tell you, once your business becomes successful, the next challenge is scaling that success.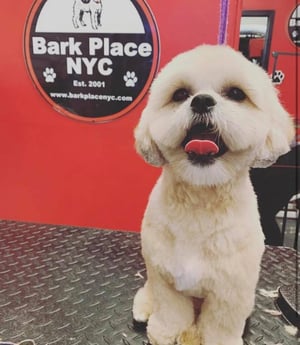 In his new position as the owner of Bark Place, Charles knew that in order to continue to scale the business, attract new clients, and keep thousands of existing clients happy, he needed to upgrade his operating system to a software that was specifically designed to meet the needs of busy pet services professionals.
He also needed the system to be easy enough for his diverse team of groomers, grooming assistants, telephones operators and managers to use while providing an intuitive user experience for his clientele, some of whom are tech-savvy, and others who are not.
"When I took over as president in 2020, we had long since outgrown our original online booking system that was powered by G-Suite. I knew it was time for us to really take it to the next level," says Charles.
Shortly after that, Charles added Gingr's cloud-based pet-care business software to the company's operating system. Today, Bark Place's favorite Gingr feature is the online customer portal. Charles loves that the online portal helps keep their customers engaged with the business by allowing pet parent clients to share photos of their pets with the Bark Place staff, send notes, and customize their services with things like add-ons.
"I like the way that the portal is there if they wish to use it," says Charlies. "Some use it regularly to post photos and send notes. I love that it gives us the flexibility to offer our clients so many options, while not interfering with the need to organize client information and bookings."
For a pet services business like Bark Place that serves thousands of clients across multiple locations, keeping detailed customer profiles without a specialized pet services software like Gingr would be challenging in the best situations, and impossible in the worst.
One way Bark Place engages with their customers and provides high-touch customer service is with promotional items like free groomings. But, when one customer tried to get a little too creative by using his "free grooming" more than once, with more than one groomer, it was Gingr's incident report feature that helped save the day.
Using the incident report, the management team was able to track the usage of the promotional item, create detailed notes in the customer's profile, add easy-to-read icons to alert other team members of the issue and review the customer's invoice history. With all of this information at their fingertips, management could then politely and professionally address the situation with the customer.
With Gingr pet-care business software doing the work in the background, Charles can focus on what he loves most about his job. "I get to be the president of a company where part of my job is to play with pets and hang out with pet parents. Who could ask for anything more?!"