Before Josh and his life partner Bob opened Pittsburgh Pet Concierge, a full-service, home-based pet boarding and grooming services business in Pittsburgh, Pennsylvania, Josh was an independent pet sitter and full-time flight attendant, and Bob was working full time in banking. But, there was something about working with pets and their owners that stood out to them.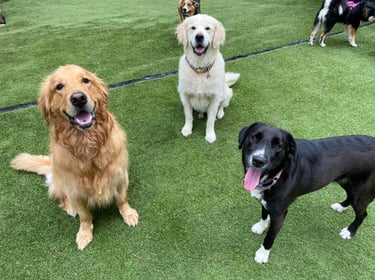 What appealed most to Josh about helping people care for their pets was the "important role I play in the lives of our guests and their families and the gratitude, loyalty, and long-lasting relationships," he says.
When Josh and Bob made the decision to leave their full-time jobs and grow their business, they knew they needed to make it easy for their existing customers to continue doing business with them, and attract new customers with a modern, user-friendly online booking system.
Josh says, "I needed a centralized, professional, secure virtual storefront that provided a complete, official method for customers to obtain services for their pets from start to finish."
In addition to boarding, Josh also wanted to add new services like grooming, a pet taxi, and fun photo and video journal updates to share with his clients. To help his clients navigate these new services, Josh needed a pet-care services software designed for business owners like him. He turned to Gingr.
After years working in a services-based industry as a flight attendant, Josh knows a thing or two about the importance of great customer service. When asked about what his favorite Gingr feature is, it was easy for him to say the customer service team.
"I love chatting with them for help and presenting and being presented with helpful ideas and perceptions on how to improve the customer and operations experience," he says. "The agents are passionate about what they do and they truly have your back. This personalized relationship matters to me and has helped our business and customers tremendously."
Gingr's dedicated customer service and support team isn't the only Gingr feature that has Josh's back. In order to successfully run Pittsburgh Pet Concierge, he relies on features like the easy-to-read dashboard icons and reservation tracking, which allows him to quickly and easily understand what's happening operationally, and understand when and why a reservation may have been canceled.
"Icons are a great way to quickly identify who and what you are dealing with on the fly, whether it be a reservation request, a quick refresh before greeting a check-in, or a way to make sure the right product and services have been added to a reservation," Josh says. "I also think that the software's ability to track when a reservation was made or canceled is important in dealing with discrepancies."
Adding Gingr's pet-care business software to his business has been a game-changer for Josh because it's allowed him to become a successful, full-time small business owner working in an industry he loves.
"Gingr has given us all the tools we need to manage, run, and operate our pet care resort, and it's a great option for pet parents to self-serve their pet's needs seamlessly on their own without having to deal with a person," says Josh. "This saves time, which equals money. Gingr has helped us achieve our goals and increase our income!"