With people treating their pets more and more like family members, the pet industry continues to see a rise in premium products and services.
Americans are more eager than ever to give their pets everything they need to keep them healthy and happy. The pet industry has seen spending increase dramatically year-over-year. Consumers spent $95.7 billion on their pets in 2019 and are estimated to spend $99 billion in 2020.
Pet Industry Spending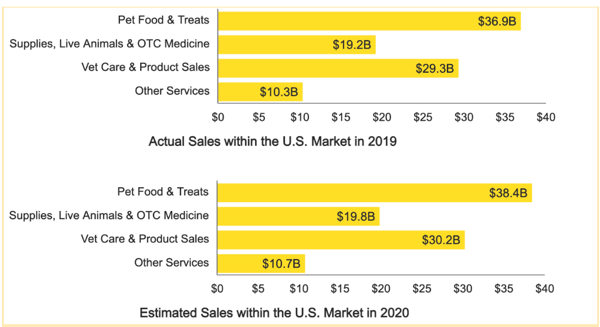 Source: American Pet Products Association
According to pet industry trends and projections, the pet industry will continue to grow with no signs of slowing down. While the forecast is strong across every category, some segments are seeing a significant amount of growth. Here are the top trends to look out for in 2021.
Premium Pet Food
As the humanization of pets continues to spread, pet owners want their pets to eat as healthy as they do. Pet parents look for clean, less processed foods with a health focus.
Top trends in pet food include:
Raw: A diet that includes raw meat, bones, fish, and vegetables.
Ancient grains: A little-to-no gluten diet that includes millet, amaranth, quinoa, buckwheat, teff, and chia seeds.
Made in the USA: A product with the "Made in the USA" label is made from all US products. For pet food, that includes packaging, ingredients, and production.
Limited-ingredient diets: Limited-ingredient diets are designed to address health concerns like allergies, stomach sensitivities, and more.
2. Natural Pet Products
Natural products, both for pets and humans, continue to gain popularity. People are passionate about improving our planet's health, and they are wary of the toxicity of synthetic chemicals and harmful materials. To decrease their pets' carbon paw prints, pet parents choose natural pet products.
Top-selling natural pet products include:
Cat and dog food
Cat litter
Flea and tick repellents
Grooming products
Products for older pets
Toys
3. Pet Insurance
Pet health insurance is considered the best way for people to afford their pets' more costly and unexpected medical needs. According to Grand View Research, the global pet insurance market size was estimated at $3.8 billion in 2019 and is expected to reach $4.4 billion in 2020.
This trend continues to grow due to:
People treating their pets like family.
Pets living longer, needing more involved medical care.
Advancements in veterinary technology, generating more costly medical care.
4. Mobile Pet Grooming
Mobile pet grooming has seen substantial growth over the past few years, and with people spending more time at home, growth has continued to rise. Mobile pet grooming gives groomers the ability to perform a full range of services right outside the pet parent's door.
Mobile pet grooming is popular because:
It's convenient and fits into the pet owner's schedule.
It reduces stress for pets, making it ideal for anxious or aggressive pets.
It's safe for older people who have difficulty getting around.
The pet doesn't have to wait in a kennel or cage for hours.
It provides a safe alternative for people hesitant to venture out during the pandemic.
5. Pet-friendly Travel
Another rising trend due to people regarding their pets as family members is pet-friendly travel. Pet parents want to take their beloved furry family members with them on vacations, and therefore, they are planning vacations around their pets.
An increasing number of hotels, Airbnbs, and resorts welcome pets. Pet-friendly travel sites help pet parents plan where to stay and what to do with their pets on vacation.
Other Pet Industry Trends
6. Pet photography: Who doesn't want beautiful, professional photos of their animals?
7. Pet sitting: Pet sitting provides convenience and peace of mind when pet parents work and travel.
8. Upscale pet spas: Pet parents embrace premium, holistic pet services like pet acupuncture, pedicures, massages, facials, and spa treatments.
9. Self-service dog wash: Self-service dog washes make it easy for pet parents to wash their pets with high-quality products without making a mess at home.
10. Veterinary telehealth services: Not only are virtual veterinary services convenient with pet parents' busy schedules, but they also provide a safe alternative to visiting the vet's office during the pandemic.


These are just ten examples of pet industry trends to look out for in 2021. As pet parents are projected to spend even more on their pets year-over-year, there is ample opportunity to grow in the pet industry for various pet products and services.