When it comes to pet-care services, Pampered Pet Inn is legendary! This dog boarding, daycare and grooming facility has been serving families in the greater Houston area for over 40 years and has quite a loyal customer base. They even just added a 16,000 sq. ft. (yes, 16,000 sq. ft!) play area that has a doggie waterpark and sensory garden to their second location, Pampered Pet Recreation Center. Talk about pampered pets!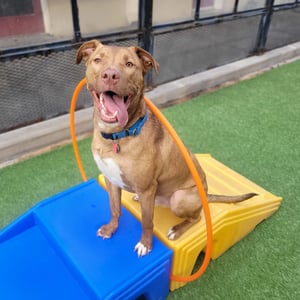 To say there are lots of moving parts to this expansive pet-care business is an understatement.
In addition to offering overnight boarding for dogs, cats, rabbits, hamsters, and even snakes, Pampered Pet has an array of special packages like senior dog specials, enrichment activity packages, and tons of customizable extras like brain games, bedtime stories, and day camps.
Managing all of the ins and outs of such a robust pet-care business isn't without its challenges, which is why Gingr's pet-care software is such a valuable tool for the business.
Kat Hayes, the marketing coordinator for Pampered Pet Inn, describes how vital Gingr is successfully juggling so many distinct business segments.
"Gingr has been a dream come true; it gives us an efficient way to manage our client base, reservations, client communication, and more.," says Kat. "There are so many wonderful features that Gingr has to offer. I feel like we are only using the tip of the iceberg when it comes to utilizing its features to optimize our business practices!"
Kat's client communication strategy is built around instilling a sense of trust between clients and the company. One way she does this is by sending each pup parent a personalized e-postcard while their furbaby is away at day camp. She then supports interactions like these with email and SMS text messages.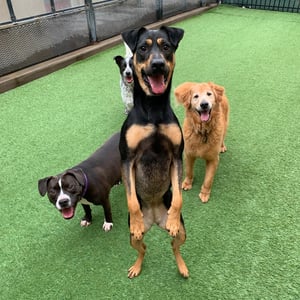 "My favorite feature of Gingr is that we are able to send e-postcards with photos to our pampered pet parents! They always love receiving updates about what their pet is up to during their visit," says Kat. "We also use the automatic email feature and the client text feature! All of these features make it so much easier to communicate with our clients and be sure that they know how their pup is doing, when their reservations are confirmed, and when their groomed pet is ready for pick up!"
Kat is absolutely thrilled with the way Gingr supports Pampered Pet's business needs by allowing her to constantly improve the way she communicates with the hundreds of clients in the company's network. But that's not all this pet-care software has done to improve operations.
The more the team uses Gingr, the more tricks they discover to leverage the power of the software's features; it's even helped them solve a few unique scheduling problems.
"We use the special service scheduling feature for our doggie day camp parties, and it's made our lives so much easier!" Kat says. "It allows us to schedule a special service for one day only so that pampered pet parents can add on their pet's ticket to our parties through their client portal. Before we discovered this feature, our staff had to apply the ticket manually to the reservations for the day of the party to prevent clients from accidentally purchasing a ticket for a reservation on the wrong day!"
Simplifying the needs of your mid-to-large-sized pet-services business while saving staff time, and resources, and making the customers' life easier, is what Gingr is all about!