Jean Chesterman, owner of Pawsitive Pet Services, has been offering Iowa pet owners services like daycare, boarding, grooming, and training since 2019.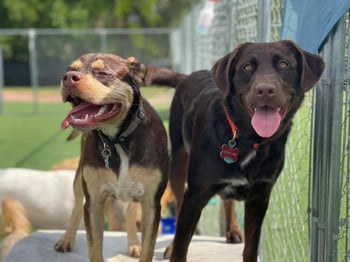 Jean initially selected Gingr's pet business software for its affordability. But once she started using the software, Jean discovered that it delivered so much more than an affordable kennel software solution, especially for facilities that provide multiple services, like Pawsitive Pet Services.
"I love the customizable colors for the schedule and reservations," says Jean. "I also love the facility calendar, and how a quick glance at the reservations and appointments listed gives you an instant overview."
To keep a business with so many segments running smoothly, pet-care business owners like Jean depend on customizable features to create their own specialized systems that allow them to understand trends within the business at-a-glance, rather than digging through data.
Like a lot of small businesses, Pawsitive Pet Services has a small, but hardworking team, so any of Gingr's software features that help them to pre-plan customer incentives, price changes, or launches saves valuable time and resources.
Features like these proved especially useful when it came time to update their extensive price lists.
"When we updated our pricing," explains Jean, "we were able to input the prices ahead of time, and set the date when we would launch the new prices."
Because the team could pre-enter the necessary data when their schedules allowed, all they needed to do when the time came to launch the new price structure was click a button. It was that easy! For businesses that use time and date-specific pricing, around the holidays, for example, having this information pre-set and ready to go is a huge help.
According to Jean, the best part about Gingr's pet business software? "Once you learn the software, it does everything for you."
But, in the event Jean ever does have a question about her Gingr kennel software, she knows customer support is always there to answer all of her questions.
"Customer support via chat or email is always timely and responsive," she says.