From Salon Manager to Business Owner
The 2020 pandemic changed all of our lives, but for Milk & Honey Paw Spa owner Hallie Beilig, it gave her the push to open her own grooming salon.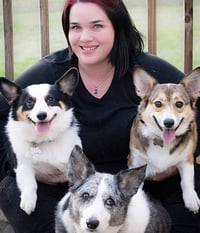 "I managed a busy salon at a luxury boarding facility, but found myself needing to take leave to care for my kids when the schools shut down," said Hallie. "When it was time to return to work, we decided to take the leap into going into business ourselves. It's been a great adventure!"
Hallie is no stranger to grooming. With nearly twenty years of experience, Hallie managed a luxury grooming salon and taught grooming education prior to opening Milk & Honey Paw Spa.
"If I had a specialty, I'd have to say its doodles," Hallie said. "Somewhere along the line I created a doodle styling that seems to capture the doodle personality, and doesn't 'poodle the doodle.'
Hallie opened Milk & Honey Paw Spa as a mobile grooming salon in the summer of 2020 and transitioned to a brick-and-mortar location in March of 2021. With two employees, the spa is located in the hip and historic district of Dickson, Tennessee.
Pet-Care Software That Makes a Difference

While deciding how to manage appointments and client records, Hallie chose Gingr. "I used Gingr in the past, and I've seen the improvements to the grooming features over the years," said Hallie. "The constant improvements plus the agility to manage clients, keep detailed records, and manage inventory put Gingr ahead of other options."
Gingr saves Hallie time by allowing customers to register online and comes with a ton of features to help Hallie manage her grooming salon.
"I like the groom card, so we can enter, record, contact, and book all in one place. And, two-way texting makes booking appointments so much easier! The software helps me make sure customers get reminder texts, and that is huge for grooming," Hallie said.
And, if Hallie ever has a question, Gingr's support team is there in a snap. Hallie said the support team has helped her solve many problems quickly. Gingr's mission is to support our pet-care businesses with quick, helpful, and reliable customer service. Our goal is for you to worry less about the paperwork, and focus on what you love.
"I love finding solutions for dogs who struggle with fear and then seeing them be happy while being groomed," Hallie said. "But my favorite aspect of my job is puppy kisses!"
We have to agree with Hallie on that one. 🐶
Want to learn how Gingr can help your pet-care business? Get in touch!