When pet parents leave their furry children in the care of Kathy Cipriani, owner of Doogie's Doggie Daycare & Spa, they know their pets won't just be well taken care of, they'll be completely pampered. After all, Kathy designed her pet business with the goal of creating the ideal doggie daycare environment for her dog Doogie and his furry friends. For Kathy, and Doogie, that meant offering services like nose-to-tail grooming, interactive training and agility sessions, indoor and outdoor play areas, and even doggie birthday parties!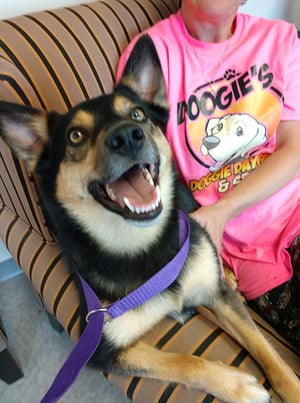 Because Doogie's offers so many distinct services and amenities to its four-legged clients, Kathy couldn't trust her business to just any software, she needed a specialized software ecosystem designed with the needs of pet businesses in mind. To keep her operations running smoothly, Kathy turned to Gingr.
"It's able to handle everything we do with one app," explained Kathy. "It literally can do anything we need from grooming to boarding to retail and even timekeeping."
With Gingr, Kathy can integrate her QuickBooks account, sync her staff scheduling with grooming and boarding bookings, and track retail trends. With an array of convenient tools all in one place, managing day-to-day operations is easy!
Doogie's Doggie Daycare and Spa has a lot of moving parts. Small business owners like Kathy have smaller staffs, rely on good time management, and need the ability to communicate with clients on the go. In order to do all of this, Kathy must understand what's happening on the ground at her business, even when she's not in the building.
Gingr's cloud-based software gives her the flexibility to quickly make decisions no matter where she is, or what she's doing. With Gingr, she can simply open the app on her phone, analyze the data, and make informed operational decisions about every aspect of her business.
"Gingr makes it easy for clients to communicate their needs. It helps us keep track of EVERYTHING! I love that I can do it all on my phone!" said Kathy.
When asked about the impact Gingr has had on her business, Kathy said, "We have always had Gingr and I can't imagine running a pet-care business with all of the services we offer without it. We are looking forward to adding boarding in the future!"
With Gingr managing the data and the details at Doogie's Doggie Daycare and Spa, Kathy is free to dream up new services and features to enrich the lives of pets and their people!