Whether you're an aspiring canine professional seeking to open a dog training business or an established practitioner looking to further solidify your reputation, choosing the right certification is a critical decision. This choice can significantly influence your credibility, market positioning, and ability to deliver effective and humane training to the dogs under your care. In this post, we'll explore how to choose the right dog training certification, with a special focus on the Professional Animal Care Certification Council (PACCC) as an exemplary option.
Understanding the Importance of Certification
Certification ensures that a dog trainer has met a minimum standard of knowledge and expertise. These certifications not only provide a benchmark for your skills but also offer reassurance to clients that their pets are in capable, educated hands. They also provide a valuable point of differentiation in a competitive market.
What to Consider When Choosing a Certification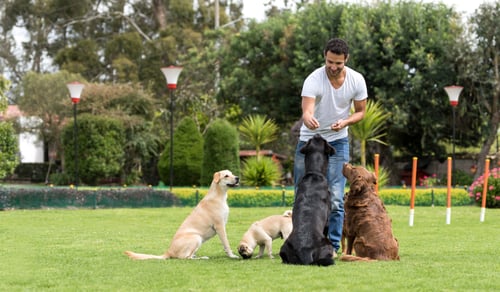 1. Accreditation and Recognition
The certification organization should be widely recognized and respected in the animal care industry. Top-tier certifications come from organizations that adhere to best practices in the field and are often accredited by respected third-party entities. For example, PACCC is highly regarded in the professional pet-care industry.
2. Comprehensive Course Content
The certification should cover a wide range of topics necessary for dog training and care, including dog behavior, learning theory, training methods, health and first aid, and business practices.
3. Evidence-Based Methods
The certification program should promote the use of scientifically proven, humane methods. For example, programs that emphasize positive reinforcement training, such as PACCC, are generally seen as more ethical and effective.
4. Continual Learning and Recertification
The certification program should require periodic recertification, ensuring that trainers stay up-to-date on the latest research and best practices in dog training.
Spotlight on the Professional Animal Care Certification Council (PACCC)
PACCC, a non-profit created by a group of industry experts, offers independent certification for pet-care professionals. Their goal is to help pet parents identify high-quality pet care providers, thus elevating the pet care industry's standards.
PACCC offers three levels of professional certification: Certified Professional Animal Care Provider (CPACP), Certified Professional Animal Care Manager (CPACM), and Certified Professional Animal Care Operator (CPACO). Each of these certifications covers vital areas of animal care, including health and wellness, animal behavior, customer service, and business operations. The rigorous examinations used by PACCC ensure that only qualified individuals achieve these prestigious certifications.
Moreover, PACCC advocates for positive reinforcement training methods, adhering to the latest scientific understanding of animal behavior. This humane approach not only promotes stronger bonds between dogs and their owners but also results in more effective training outcomes.
Finally, PACCC-certified professionals are required to continue their education and renew their certifications regularly. This commitment to ongoing learning ensures that PACCC-certified trainers remain at the forefront of the industry, always updated with the most recent advances in animal care and training.
Choosing the right certification for your dog training business is a significant step towards ensuring your services' quality and credibility. As shown by PACCC, a good certification will provide comprehensive, evidence-based training, encourage continuous learning, and maintain an emphasis on ethical, humane practices. Whether you opt for PACCC or another organization, make sure your chosen certification aligns with your personal values and professional aspirations. A solid grounding in knowledge and ethics can set you apart in a crowded market, helping your dog training business to thrive.
Want to take your dog training business to the next level? Stop wasting time and money — switch to Gingr!