Wendy McLahan and her husband, veterinarian Dr. Craig McLahan, opened Bridgeport Veterinary Hospital, a full-service veterinary hospital with pet boarding and dog daycare in Bridgeport, Pennsylvania in 2018, and have been an essential part of the community ever since.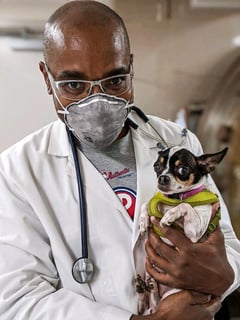 To say Bridgeport is a busy place is an understatement. This Black-owned business employs four full-time doctors and twelve support staff. Together, the team offers preventative care, vaccines, dental care, surgery, a pharmacy, and diagnostic work (phew!) to their furry clients. You might say that this team knows a thing or two about staying organized, managing logistics, and providing a great customer service experience - all at the same time!
So when the McLahan's wanted to expand and grow their pet resort-styled boarding facility and full-service doggie daycare, they turned to Gingr's pet care services software.
The McLahan's recognize that one of the pillars of securing repeat client business is providing great customer service. For businesses in the service industry, the customer relationship starts before the client ever walks in the door. It starts when they make their appointment.
Bridgeport decided to integrate Gingr's software into their operations because, according to Wendy, "Gingr was the most user-friendly system, and customers can do a lot for themselves."
Making it easy for customers to create a reservation is essential to Bridgeport growing its boarding and daycare business, and Gingr's time-saving online booking system is there to help them do just that. Not only is the Gingr app easy to navigate, but it can be done on the go - a necessity for pet parents juggling busy homework schedules.
Through the booking app, clients can sign paperwork, pay invoices, and receive photo and video updates of their fur babies while they're in the care of Bridgepoint. The ability to easily upload and share photos and videos with clients is especially useful at Bridgepoint because the staff encourages clients to ask for updates as often as they like!
The impact Gingr has had on Bridgeport's business hasn't gone unnoticed. Wendy says, "Gingr has made it easy for us to set up boarding and daycare. We've been growing, and we'd like to grow even further."
The team at Bridgeport Veterinary Hospital loves the animals they care for. Just ask Wendy. "The animals are definitely the best part of the job. There's nothing like cuddling with a daycare regular who loves to come in!" she says.
Gingr's pet services software gives Wendy's team the ability to do what they love: creating a healthy and happy environment for the dogs and cats in their care!