Pet lovers will do almost anything for their beloved animals. Consumers spent more than $95.7 billion on their pets in 2019 and that number is only expected to grow in the coming years. That's why pet businesses everywhere are looking for new ideas to wow customers and stand out from the crowd with offerings.
Our recommendation? Develop the best pet business merchandise to serve your community and interested customers. It serves the double purpose of earning additional revenue for your business and promoting your organization at the same time.
Why promote with merchandise?
As we mentioned, pet owners will do almost anything for their beloved furry friends. Does anyone you know dress their pets up in ugly holiday sweaters every year? Do they throw birthday parties for their pets? Does their poodle get their hair done more than the owner?
People are willing to go to any lengths for their pets and the statistics only support that idea:
When you have well-designed merchandise, your pet business can increase brand recognition, earn more funds, and make your customers smile with cute pictures and images.
In this guide, we'll walk through some of the best customizable pet business merchandise options that your business can use to wow your customers. Without further ado, let's dive in.
1. T-Shirts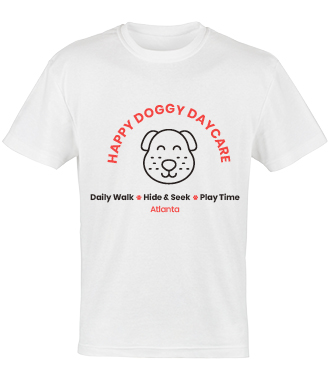 T-shirts are one of the most popular ways that businesses can promote their brand and earn some additional profit. Pet businesses have the unique opportunity to offer T-shirts for both humans and pets alike, even matching sets!
Make sure to incorporate your business's brand directly on your T-shirts. This means you should incorporate your logo somewhere on the material and use images and styles that align with the vibe of your business.
Consider offering more than just your standard one or two designs. You might create custom designs for events, for the type of pet (cats, dogs, fish, etc.), holidays (cats in Santa hats are always a winner!), and more. The design opportunities for T-shirts are only limited by the extent of your own creativity.
2. Face Masks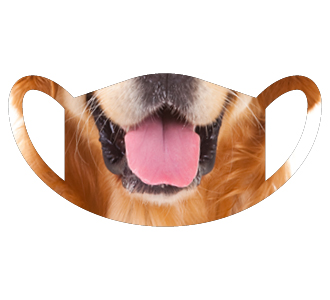 Face masks are becoming more and more prominent in daily life. They're currently mandated in 38 of the 50 states for public spaces. This requirement encourages more and more people to get creative with their face coverings, sporting fun and silly masks to highlight their personality.
Your business can provide these fun face masks with entertaining designs (and always featuring your company logo!). Consider adding cute designs of different types of animals. Or simply show a cat or dog snout so that people can walk around with humorous whiskers of their own.
Face masks, like T-shirts, are a great opportunity to get creative with your organization's design capabilities. You are only limited by your imagination!
3. Collars and Leashes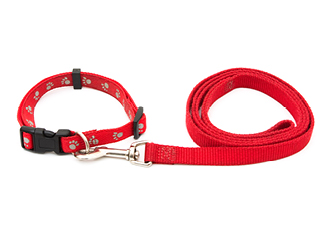 Remind your customers about your brand every time they take Fido out for a walk with custom-branded collars and leashes. While the space available for design is more limited on collars and leashes, it's ideal to include repeated words or the logo of your organization along with your brand colors.
Be sure, when you offer these pet business merchandise options, that you offer a variety of sizes, colors, and designs to choose from.
You may also consider offering a variety of leash types. For instance, you can brand the handle of a retractable leash or the length of a standard one. Or, you may offer harnesses in addition to collars for owners who prefer that option to walk their pets.
4. Frisbees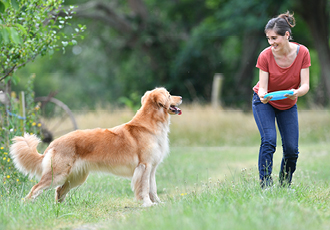 When the pandemic first began, people everywhere were looking for additional outdoor activities to do, driving the demand for sports equipment like frisbees through the roof. While this may have slowed slightly as the cold weather approached, customers interested in getting back outside when spring arrives will clamber over new opportunities to play with their pets, especially if the pandemic is still ongoing.
These classic dog toys can be easily branded to your pet business due to the large surface area on the top of the disk. Depending on owner preference and dog breed, different people may prefer to choose specific types of frisbees, from cloth to nylon to hard plastic.
If you're looking for a new way to engage your customers and encourage them to interact with your organization, you can run a competition amongst them for the chance to have their pet featured on a frisbee! Just ask people to submit potential winning shots of their dogs or cats. You can even offer a discount on the merchandise for everyone who submits a photo.
5. Tennis Balls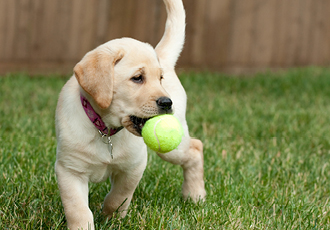 Similar to frisbees, tennis balls make a unique option for a well-designed toy to play outside with your beloved dogs. The surface area on a tennis ball is slightly smaller, but you can still brand the toy to your organization. Due to the limited space available, we recommend relying on a small design or simply your business's logo to customize the toy.
With this particular dog toy, you should also be careful with the colors that you choose to feature on the tennis ball. White or black designs will show up most prominently on most colored balls; but, if you choose to feature a different color, be sure there's enough contrast between the design and tennis ball color to be sure it'll show up. Also, be sure to limit the design to a single color to be sure it shows up.
Whether customers are bringing their rackets to a court or simply taking their dog to the local park, tennis balls will keep everyone entertained while spreading brand awareness for your business.
6. Mugs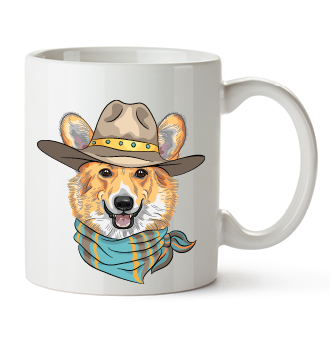 As the weather gets colder, there's nothing better than cozying up with a warm beverage. Now picture that you get to drink that beverage out of a mug that features your favorite furry friend. That's enough to make anyone smile!
Branding mugs with your business's logo and even images of furry friends is a great way to customize the pet merchandise while bringing smiles to your customers' faces.
Consider the different ways you can use the space on the mug wisely for the greatest effect. Then, design a mug to feature your brand or custom artwork. For instance, you may decide to rely on your logo for a simple design, or, ask a graphic designer to create an illustration of different animals at the shelter. As you're designing, don't forget about travel mugs! These can provide a fun alternative that will appeal to pet owners always on the go.
7. Pet Bakery Items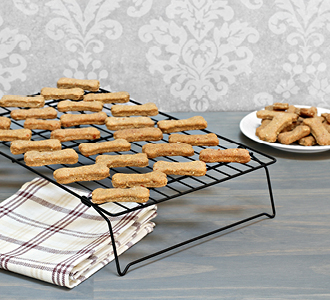 You'd go to a bakery to pick up a special treat for yourself, why wouldn't you do the same for your pet? When you have the option to cook up dog treats at a doggie bakery as a part of your pet business merchandise, you have the added benefit of being able to ensure these treats are healthier for animals than those created in factories.
Selling food for animals requires that you adhere to some special standards, which may differ depending on where you're located. Look up the federal, state, and local pet food and treat regulations for your area before you start selling.
While you can brand your treats themselves with decorative icing or prints, these will only last as long as the treat does. Be sure you have other ways to promote your brand when you sell these treats. For instance, you might offer them in a cookie tin that's branded to your pet business.
8. Toy Bags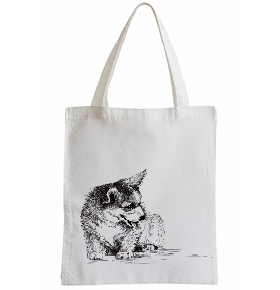 Dogs and cats aren't known for being the most organized of creatures. However, their owners appreciate it when everything is put back in the place where it belongs. Offering toy bags or baskets to carry and organize pet toys helps get your brand name out there while encouraging a more organized house. Owners might even train their pets to "tidy up" so that their toys are always put away!
While toy baskets might only have a small amount of interior fabric on which you can incorporate your business's brand, you'll have a lot more flexibility with a toy tote bag. Incorporate the same types of designs you use on your t-shirts, mugs, and other merchandise. Then, you can even offer a merchandise package where you put several toys, clothing articles, and other items into one of these bags for a discounted price.
This pet business merchandise idea is especially effective for pet boarding businesses where pets just can't leave home without their favorite stuffed animal. You can sell the bag with which the owner can cart the toys back and forth.
9. Bandanas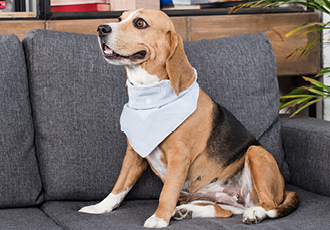 Bandanas are perfect pet business merchandise ideas that can be useful for both animals and humans alike. While humans may decide to sport these multi-functional articles on their heads or as a face mask, pets can sport them around their necks.
When you incorporate your brand on bandanas, be sure to keep in mind how they have the potential to be used. Generally, they're folded diagonally before they're sported, so you can use the largest part of the cloth corner to incorporate a picture or design that will capture your customers' attention or print them with several smaller logos or designs that repeat across the whole article of fabric.
When you have a winning design, offer matching pairs so that humans can match their pets in their choice of attire. Variations on cute phrases like "Who's walking whom?" or "Meet my adopted human." are always winners for these simple merchandise designs.
10. Branded Pet Carriers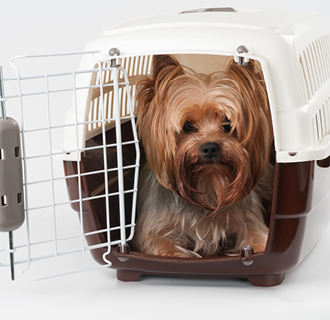 Have you ever seen someone out walking with their dog or cat in a carrier rather than a leash? Small dogs and cats might not be able to walk the same distance as their larger relatives, but they still enjoy the fresh air!
Including branded pet carriers as a part of your pet business merchandise strategy can enable your smaller furry friends to get the fresh air they crave without exhausting their poor little legs.
Just like toy bags, branded pet carriers are a great option for pet boarding companies where owners need to carry their animals in and out regularly. To take this idea up a notch, embroider your brand in the corner of the carrier and offer to embroider the name of the pet on the carrier as well for added personalization.
11. Animal Coloring Books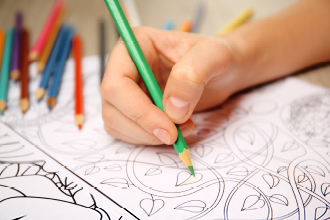 Do you own an adult coloring book? They've gained a lot of popularity in recent years as a relaxing way to unwind after a stressful day. Animal coloring books have the added benefit of bringing a smile to your face as you color a dog or cat that reminds you of the one you have at home.
Take your coloring book to the next level by adding some additional personalization to the book. Transform images of your customers' pets into coloring book pages using tools like ReallyColor or other providers. You can even caption each image with the name of the pet so that owners can see their pets' names in print.
This is also a great idea for organizations that offer pets for adoption because you can include all of the adoption information in the book itself, encouraging more adoptions while providing a relaxing pastime for your customers.
12. Pet Photo Shoots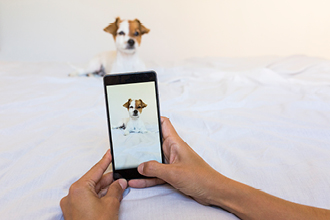 If your social media is like ours, it's probably full of different photos of pets and animals of all sorts. People love taking photos of their adorable animals, so offer to do it for them! Offer a professional photoshoot where people can bring their pets in to have some nice photos taken with their humans.
After you've taken the photos, sell the prints back to your customers. You can either include the logo of your business in the bottom corner of the photos themselves or offer frames or photo books that have your logo available on them.
Pet photoshoots are the perfect pet business merchandise idea for a dog grooming business. After you've washed, dried, and styled pets, you can take their photo. This not only provides a branded product for your customers but also serves as a reminder of the amazing job you did in styling their fur.
13. Lint Rollers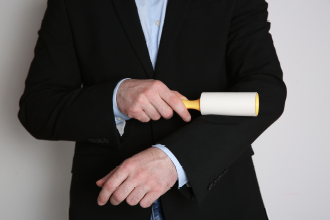 Unless you have very specific breeds, one of the most common complaints about pets is that they shed their fur everywhere. Shedding is one of the occupational hazards of owning and loving a pet. Because of this, many pet owners end up carrying lint rollers around in their pockets.
Branded lint rollers are one of the most practical merchandise options for pet businesses. You may decide to offer these useful tools in single or multi-packs so that owners can keep them in their cars, at their homes, and in their purses. They should always be handy whenever you find you need one!
When you're incorporating your branding on these useful tools, be sure to include it on the handle rather than on the sticky roller itself. That way, supporters will see your logo every time they reach for the roller and it'll never be disposed of.
14. Waste Pickup Bags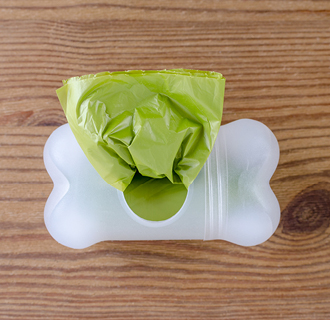 Another practical option for pet business merchandise is a waste pickup bag, more affectionately known as "poo bags." While you may not want your organization associated with "poo," this merchandise idea would be guaranteed to be seen by your customers during their daily walks with their pets.
Be sure to brand the container holding the waste pickup bags. That way when supporters are going through the checklist of everything they need on their walk (leash, treats, waste bags), they'll be sure to see your brand before they even walk out the door.
If you brand the container, you can also offer bag refills so that customers can continue using the container even after they've run out of their first round of bags.
15. Stuffed Animals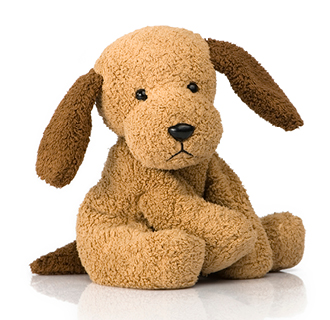 Do you have a dog that carries a favorite stuffed animal around the house? Or maybe a cat that cuddles up with one to take naps? By providing stuffed animals as a pet business merchandise idea, you can provide a new favorite pet for your animal friends.
You can offer generic stuffed animals with concealed squeakers that make a variety of noises to entertain furry friends. Or, you might choose to offer customized stuffed animals to match the pets themselves!
When incorporating your brand for this merchandise, it might look funny to include your company's logo directly on the stuffed animal itself. Instead, you can incorporate it in the form of custom t-shirts, bandanas, hats, or collars for the stuffed animal to wear. To take this idea to the next level, try offering matching accessories for the pets too so they can match their favorite toy.
Wrapping Up
Your pet business is an important part of your community. It allows you and your customers to care for and love furry friends! Getting the word out about the opportunities you offer and building a brand name that people can trust is never an easy feat, but branded pet business merchandise can help.
The list above is only a starting point. You can get as creative as you want when it comes to choosing your merchandise items, designing them, and promoting your business to the public. Plus, in the wake of COVID-19, a little extra revenue from merchandise sales can go a long way.
If you're looking for other opportunities to take your pet business up a notch, check out these helpful resources: